BLANCMANGE came to prominence in 1982 towards the end of the second generation of Synth Britannia.
Mute Records' Daniel Miller affectionately referred to them as "the maiden aunts of electronic music".
Comprising of Lancastrian singer/guitarist Neil Arthur and synthesist/programmer Stephen Luscombe from Middlesex, they met at Harrow College where the pair had played in various bands separately.
They developed a mutual admiration for each other's artistic sensibilities including a shared interest in KRAFTWERK. Luscombe had previously been a member of the PORTSMOUTH SINFONIA, an orchestral combo who were noted for not actually having had formal training to play their instruments. One of its former members was BRIAN ENO who invited them to play on the lovely 'Put A Straw Under Baby' from his second solo album 'Taking Tiger Mountain (By Strategy)'.
The fruit of Arthur and Luscombe's first collaboration was the instrumental Sad Day. The duo released their first EP 'Irene & Mavis' on Blaah Music in 1980 before 'Sad Day' was chosen by Futurist DJ Stevo for inclusion on his influential 'Some Bizzare Album' which also showcased DEPECHE MODE, SOFT CELL, THE THE and B-MOVIE in early 1981. Following support slots with JAPAN, GRACE JONES, DEPECHE MODE and NASH THE SLASH, they were signed to London Records which allowed them to make their first synth purchase, a Roland Jupiter 8.
In Autumn 1982, they released their now classic album 'Happy Families' which featured the Middle Eastern tinged hit single 'Living On The Ceiling'. Fusing the rhythmic dash of TALKING HEADS with the intensity of JOY DIVISION plus the melodic framework of OMD and YAZOO on top, Arthur and Luscombe won critical admiration and respectable sales for their debut. 'I Can't Explain' remains one of the most blistering album openers of the era!
Further success came with the singles 'Blind Vision' and 'Don't Tell Me' from the brilliantly titled second album 'Mange Tout' which became their biggest seller. Although never a pure synthesizer act from the beginning, with PETER GABRIEL and JAPAN guitarist David Rhodes often featuring prominently, 'Mange Tout' found BLANCMANGE experimenting with brass, strings and even acapella.
However, it was the Indian influences of Pandit Dinesh on tablas and Deepak Khazauchi on sitar who had both given 'Living On The Ceiling' its alluring flavour that came furthest to the fore. Another surprise came with their brilliant cover of ABBA's 'The Day Before You Came'. This was considered an odd but daring decision in 1984 as the Super Swedes had not yet possessed the gravitas they would eventually acquire.
In that respect, BLANCMANGE's 'Mange Tout' was a cultural prophecy… modern contemporary pop is now full of both the ABBA and 'Bollywood' sound! Despite this, the lukewarm reception for third album 'Believe You Me' in 1985 led to BLANCMANGE calling it a day in 1986.
In 1989, Luscombe released the album 'From New Demons' under the name THE WEST INDIA COMPANY collaborating with a variety of guest musicians while Arthur released a solo album 'Suitcase' in 1994.
Both have since continued in careers working on film and TV soundtracks.
Since 2006, with their back catalogue being reissued and with their synthfluence being acknowledged by acts like LA ROUX and HOT CHIP, Neil Arthur and Stephen Luscombe have been steadily gearing up for BLANCMANGE's return.
With their profile enhanced in 2010 by FAITHLESS' reworking of 'Feel Me', their brand new album 'Blanc Burn' is released this March and supported by a British tour. The new songs see Arthur and Luscombe retain their quirkily poetic eccentricity, but within a modern setting.
While 'The Western' features elements that represent what some will consider the sound of classic BLANCMANGE, 'Blanc Burn' sees some much darker electronic overtones as Arthur reflects on a range of unusual subjects such as drinking coffee, waiting for public transport outside Woolworths and dentures. ELECTRICITYCLUB.CO.UK spent a thoroughly entertaining hour chatting to Neil Arthur in his studio during a break in rehearsals about BLANCMANGE's imminent come back and their musical legacy.
How are the rehearsals going?
Rehearsals are going fine like preparation and sorting sounds out, remembering lines! It's been quite funny because I wanted to find out a couple of the keyboards we used, so somebody suggested we googled and we ended up watching one of our performances which was quite interesting Anyway, we got to the bit where we saw the keyboard I needed to reference! *laughs*
What was the catalyst for you to record a new album as BLANCMANGE?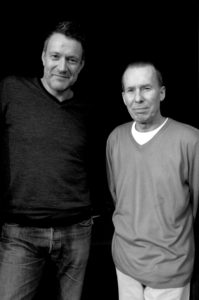 We remained friends all the way through. We did our last gig at the Royal Albert Hall and I didn't want to carry on doing what we were doing. And Stephen didn't either. To retain a friendship, we had to split up really because friendship was more important than what was going on for us in the band.
We kept in contact through the years and from time to time, we were asked about getting back together. We've always said "no" but we never really asked each other either if we wanted to do it. A few years ago, we were in the same room and we asked the question… and we both said "yes" when it came to whether we should write some more stuff together. We never really rushed into it but we started doing stuff.
We both do film/TV stuff so in between, Stephen would come round to my studio and we put down some ideas. That gathered momentum and we finished more than an album but we chose 11 songs for it. Whether the others will see the light of day, I don't know but we have 11 that we decided to include on an album and there's a spare track which will be going on iTunes.
Your brand new album 'Blanc Burn' appears to be a much darker proposition than how perhaps some people would remember you from BLANCMANGE's hit singles. How would you describe the sound of it?
Light and fluffy *laughs*
No, just I don't know whether it's dark. The thing is, once something becomes commercially successful, it crosses a line. I mean, 'God's Kitchen' isn't exactly a light song, 'I've Seen The Word' isn't exactly light… "I've seen people laughing in churchyards, screaming and shouting in my backyard"! Those were the two sides of our first single. 'Feel Me' isn't exactly the lightest… "Feel Me now, feel the pain"! I think what happens because of exposure, the songs start to change and the commercial success gives them a slightly different perspective on them. For example, on 'Mange Tout', the opening track of the B-side is called 'Murder'!
There's no formula to the way we go about it, a lot of it is hit and miss. Some of the stuff sticks and we go with it. I write the lyrics anyway and we do the music largely together and it's interesting how stuff comes out. Some days, a song will come out like 'I'm Having A Coffee'. That comes across as a light song, a description of a mundane day not doing anything but what it is about is a guy who is very frustrated; it might be about sex for example or he might be thinking about a relationship that's not right but he's doing all these other things. But as for it being dark, to me it's no lighter than anything that's been before like 'God's Kitchen' yet the record company at the time decided "what a great idea for a single"… fine, thanks very much! *laughs*
We been rehearsing and I've been trying particularly to get my head round the lyrics of 'I Can't Explain'… the song was written way before we had a record deal and it's quite interesting singing it now. Many years later, I'm 52 now and I can't still bloody explain! *laughs*
Every day you learn something and every day I know a little bit less. I'm absolutely certain of that!
And how has your songwriting approach differed this time round? Are you still using guitar or are you composing with a computer?

It varies but I still, here you go… *kerrangs guitar*, that is absolutely everywhere with me! It's a Yamaha I bought off a mate and I strum that all the time. I'm not very good on it, I just love playing it! I don't think anybody else likes hearing it but best to get it out the system *laughs*
I don't consider myself to be a musician in that sense, but I can bash a few chords out on guitar and I know enough chords, possibly three in a sequence, to be able to get my head round structuring a song. Because of the way Stephen and I did our music together starting off with tape loops, Tupperware for drums, home-made bits and pieces of noise making machines, I've just continued that really but obviously adopted a way that allows me to express myself.
My tool has also incorporated computerisation of music and I love it. I always have a computer here or start messing around with a keyboard plugged into it, I use Logic now. I might start around with a melody that I've carried in my head while I've been out on a run or a walk with the dog. I have a notepad, an iPhone I can sing ideas into, sometimes they come out sounding like the monster in 'Young Frankenstein'!
Your vocal style has changed. There's less of the bellowing voice of the past or the "Cash meets Presley in cyber-space" as Stephen described it. And there's electronic voice treatments like on the ENO-esque 'Radio Therapy'?
25 years have passed, but I quite liked the idea of understated and I thought that might be an interesting way to approach some of the vocals. That was a conscious decision to understate. If the lyric is carrying it and the melody is enough, I don't need to ram it home anymore. I've done the full-on 'Blind Vision' and 'That's Love, That It Is' screaming years ago and I didn't really want to do that. The nearest I come to it is possibly on 'The Western' and I did one on another song 'Don't Let These Days'. I did a very hard vocal on that and I decided I actually wanted the understated one. That is an area where obviously I ask Stephen and he'll listen to the performance and everything but he trusts me on that as I trust him very much on other things.
I've had a hysterical day, I'm doing some music for a film and there's been all these other things going on. I thought I'd take a break today and practice on my own and I couldn't remember one of the lyrics. So I went to look at it and on this new album 'Blanc Burn', for the first time in the booklet, all the lyrics are there. So I thought I'd look at the lyrics and one of the lyrics is wrong… and that's my fault! There's a line missing! It's this song 'Drive Me' that we're going to be doing live and I was wondering why there was five lines in the first verse and four in the second one. I thought "that's wrong"! Of course I came to a blanc stop, as opposed to a blanc mange, and I'd missed out them lyrics on it!
'Starf*cker' is the most striking track on the album, you sound almost like Shaun Ryder and quite sinister. What's the background behind this one?
I almost went for a straight blast at singing but I quite like the distortion we put on it. I just treated the voice like it was another instrument. It's just a series of observations really and I wonder from time to time whether we know more about what goes on in the virtual world than we do in the real world. There are outpourings of grief for people who we don't know anything about apart from what information was said. We watch soap operas and they can be great entertainment but people know more about what's going on in a soap opera that what's going on in their street.
The poor old lady up the street or the person down the road that needs a bit of a helping hand, people don't know each other anymore and I was just thinking about the breakdown since Thatcher really; the breakdown of our society, that community. And then I looked at it as a personal thing imagining a scenario where somebody cared more about people they didn't know and how they were kind of awe struck. And there seems to be an awful lot of that going on. I'm sure we'll need one of those 'parental guidance' things now which I think from BLANCMANGE is quite funny considering what the cover's like!
So, like many people, I write a story based on imagination; where can we go with that, like 'Do Androids Dream Of Electric Sheep?' by Philip K Dick… I only have to do it for a little while as it's only a short song. But I'd been thinking about this idea for a while and I put all these ideas down of one person not really noticing the strength of friendship.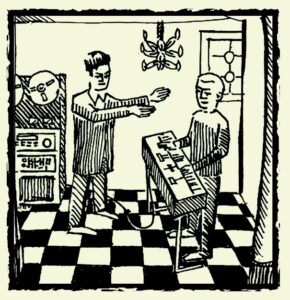 You famously announced "I've just been shopping" on 'Kind' and 'Blanc Burn' starts with a track called 'By The Bus Stop @ Woolies'. Are you the sort of person that's always in need of retail therapy?
No! Two separate things actually. 'Kind', which funnily enough was going to be a single at one point and then we went with 'Waves' and we scrapped the idea of taking another single off the album, I used to come into the studio and no matter where we were, I'd always have a plastic bag with me. I might just have a sandwich in it, I might have brought something from home but I never really had a bag like some people might have a manbag. So one day I came in to do my lyrics and in my plastic bag, there would have been a banana, some water and my lyrics. I could see the others looking in there and I just said "I've just been shopping"! It was no more and no less than that really! It was a bit of an ad lib. Stevie Lange and Joy Yates did those marvellous backing vocals.
Are there any interesting stories behind any of the other songs?
We started writing all these bits and pieces, and we had this track which we couldn't figure out where it was going to go… at one point it was called 'Right To The Top'. I thought "no, we can't have that" and it remained instrumental for a long time and kept getting put to the back.
And then I was thinking about all the things we used to do and the weird thing is, I don't particularly like harking back, I really like the idea of looking forward.
But as you move on in years, you're absolutely aware that you end up having a little bit more behind you than you have in front! *laughs*
So there is a lot to kind of gather from. I think you can get some of that and propel yourself forward because everything seems to be recycled. There's a massive resurgence and interest in electronic music from an era we were involved in. I went to see LA ROUX as a guest and I went backstage to say hello and they were like "we really like this song, we really like that song… can you tell us what you used on this one?" I'm there with my lad and a mate, and after he said "I thought when you went backstage, you were meant to tell them how much you like them but they were saying they liked your stuff!" *laughs*
That was really lovely and I take it as a compliment. They like some of that music from period and we're one of them.
And like with FAITHLESS, they contacted us and said "we'd love to do a re-recording of Feel Me". And off they went, they sent us the rough mixes and asked if they decided to use the original vocal, where they could get it from. Again, very flattered and they did a fantastic job of it.
We ended up with this track 'Right To The Top' but I started writing these lyrics for 'Drive Me'. I was just reminiscing, images that conjured up words that meant a lot to me and immediately this image came to my head of this guy who was into David Bowie. There used to be clubs for appreciators of ROXY MUSIC and Bowie, I used to go round there.
People used to dress like the person they liked so you'd get five Bryan Ferry's smoking St Moritz in the white tuxedo! And then on the other side of the room, you'd get three Bowies of different stages… you'd have Ziggy, Thin White Duke etc. I thought this was fantastic and I started thinking these things and I just wanted imagery. This idea of "Did you do this? Did you do that?", the line I'd missed today went "Did you really meet him? Does he have a moustache?" because one of the guys who was dressed as David Bowie had all the make-up on but being a true Northerner, kept his moustache! *laughs*
In the second verse, I remember nights out in Blackburn running the gauntlet of what was called The Barbary Coast. It meant an awful lot to me but it was a terrifying place. It was a time of fast learning, you had to be fast on your feet. And the idea of the precinct after dark and the girls with the Alabaster legs on concrete, I just got into this whole thing. And the curry in the pint glass, the lyrics were from the alternative name which was 'Pint Of Curry'. So I moved on immediately and go back to nights out where you've got sodium lights, and they're not working properly and the bizarre light that they don't give.
It's been really nice to get these things down and references to restaurants that don't exist anymore, it's a clear reference to ROXY MUSIC… you know where Quaglino's Place or Mable's is from don't you? *sings* "DO THE STRAND LOVE"! I've changed it slightly but I'm sure there's no copyright on using the name of a restaurant in a song! *laughs*
'Sad Day' was the first BLANCMANGE composition and it featured on the 'Some Bizzare Album'? Did you borrow the bassline from BRIAN ENO's 'Fat Lady Of Limbourg'.
No! I know it very well that song, but it never even crossed my mind actually. Yeah, I can… the bassline starts in A I think! *plays synth*
I played the bass and the slide guitar, Stephen did the keys. The bass is a Wasp synthesizer! It was the thing we borrowed the most because it was portable and you could run it on batteries. We begged, stealed, borrowed and made!
Anyway, I can remember the 'Some Bizzare Album' got lovely reviews and we got a special mention for this instrumental track. We were just completely gobsmacked to have a track on an album and people said the melody sounded like an ambient version of 'Ode To Joy' and I was like "what?", it never even crossed my mind, it was just a melody *laughs*
Along the way, you met Martyn Ware. How important was he in helping you out in the early days?
He was absolutely fantastic, he was brilliant. He put us up in Sheffield, we recorded four songs over a weekend. Our publisher Cherry Red financed us to give us a leg up and Martyn helped us out. He produced the demos which helped us get the deal with London.
It still took a while but we got there eventually, so thank you very much to Martyn Ware. While we were there, he played us 'Fascist Groove Thang' and I can remember him waxing lyrical about this sophisticated guitar playing. That was quite interesting.
Like with HEAVEN 17, one of the things that defined the earlier BLANCMANGE sound was the way you used the Linn Drum Computer… it was very busy, frantic and dynamic. How did you discover it?
Simply, it was there and there were quite a few buttons you could press! On the original 'Sad Day', the rhythm unit is a Minipops through an echo delay and when we re-recorded it, and I've got to say I prefer the version on the 'Some Bizzare Album', there was an opportunity to use slightly more sophisticated technology.
'Happy Families' producer Mike Howlett introduced us to the Linn Drum so we just learned how to use it.
It was a bit of a beast really, but it offered a larger range of sounds than a lot of programmable drum machines. It wasn't long before we got the Roland TR808 on stuff as well, I've still got it!
What influenced your programmed percussion template particularly? Was it TALKING HEADS' 'Remain In Light'?
I'm aware of that reference. Stephen and I do like TALKING HEADS but there wasn't a conscious effort to emulate anything. I love 'Remain In Light' but it's programming by non-drummers! So some of the bits and noises we've got going in there, they're programmed by us two. I think for example if you'd worked with a drummer at that time, they may have programmed drums slightly differently. We just went "well, whatever… if we detune, let's do this to it"! We used the Linn Drum for many things. We could also use it for triggering the pulse on, for example, 'I've Seen The Word'… we had the output and connected it to a Korg MS20 and I doubled it with a guitar.
'Happy Families' is a great debut album, how do you personally think it stands up now?
I don't sit around and listen to it, but I'm quite proud of it. But I would have been proud if we had only had 'God's Kitchen' out and they hadn't given us the album deal! *laughs*
But one person who didn't like it was Julian Cope. What did you think when he said it was hearing 'Happy Families' that set him off on his rant against the music industry and his period of madness?
He did, yes! You're entitled to your opinion, I thought it was quite funny actually. I also remember some of the return comments in letters pages of the music press. Funnily enough, I really liked THE TEARDROP EXPLODES and I used to go and see them a lot. It's nice to have people like your music but better than sitting on the fence! I liked all that skating around the floor he did! Funny thing is, we ended up being managed by the same company for a while, so we did used to bump into each other! And I'm a bit bigger than him! *laughs*
You had even greater success with Mange Tout. You were working a lot with New York dance producer John Luongo but already moving away from that synth duo sound with the acapella, brass and strings plus more tablas and sitar. What was the critical pressure like on an act such as yourselves who only could have come into being with the advances in technology?
It's interesting that because that acapella track 'See The Train' was 23 of my voices I think it was. That was initially done on a little Tascam 4 track where I kept bouncing everything down just like we used to do in the old days but technology allowed me to do it more and more with losing as much quality… mind you, for some people it might have been better if I'd lost it. We were really allowed to do what we wanted on the album I've got say. But there were a time when it was mentioned that us playing in America where we might have to play behind a cage if we carried on not using a drummer! *laughs*
But no, when it came to the album, it was our decision. John introduced us to The Uptown Horns; when you hear them and you combine that with, for example on 'Blind Vision', the Roland JX-8P brass that's on it as well, that's a nice combination.
I wouldn't have thought of putting slap bass on it, John said "you've got a nice bass on it, what about offsetting it with this?"… we said "oh, lets have a go at it, let's have a listen".
With Dinesh Pandit and Deepak Khazauchi, we did a recording of 'Living On The Ceiling' without tablas or sitar and our manager said he'd been working with these Indian musicians. We'd always had an interest in Indian music and I know Stephen used to listen to a lot of local radio when he was living out in West London. It was a genuine interest in what was going on. It was such an exotic sound, it was just better for me than playing guitar when I heard Deepak and Dinesh.
So we went in the studio, they added sitar over my guitar part and we added percussion, it was just fantastic and absolutely brilliant! Dinesh is coming on tour with us, he's worked with Stephen on all the film and TV stuff too.
There was lots of pressure but I don't recall pressure to conform or make ourselves into a more conventional band. On 'Mange Tout', we had a fantastic time putting that album together. It was such a good time… with the third album Believe You Me, it wasn't!
You were also one of the first to publically embrace ABBA with your cover of 'The Day Before You Came'.
It was an ABBA cover for ABBA *laughs*
Can you remember why it was a comparatively more recent ABBA track you chose, rather than one of the older ones? And did Bjorn and Benny ever tell you what they thought of it?
They loved it and sent us a letter to confirm their feelings about it. They gave us the rights to use all their video footage, anything… and we did when we made the video. And one of the reasons we chose the song initially was it wasn't a 'Waterloo' or a 'Mamma Mia'… I mean it wasn't a particularly successful song in terms of ABBA. It didn't matter to us whether it was successful to us and we loved the song.
We liked the idea of me singing these lyrics which are obviously from a woman's point of view. And I turned it round a bit, changed a few lyrics and added a bit of 'Coronation Street' where there was meant to be a 'Dallas' reference, we had a bit of fun with it. A lot of people have done covers of ABBA since then, I don't know if anyone did one before? I've always loved ABBA and Stephen would say the same thing. ABBA gets played at lot in our house now… just down the road from CAPTAIN BEEFHEART! *laughs*
Do you ever feel like you were cultural prophets now all this Bollywood and ABBA influence is everywhere in popular culture?
Nope! I can talk for a long time, but I'll just say no to that! *chuckles*
How do you feel about the new generation of electropop acts like LA ROUX, HOT CHIP and VILLA NAH who have elements of the BLANCMANGE sound?
Oh, VILLA NAH… fantastic! Yes, I love them! If they are referencing us, and those that I know have, I'm very flattered. Things come round and they've all added massively to it.
Are there any of the newer acts that you particularly like?
I could name so many acts, I love electronic music! I would say James Yuill is absolutely wonderful, I love his work; DAMIAN LAZARUS, absolutely fantastic, I really enjoy his stuff; there's ROYKSOPP with the angle they're coming in at; MATTHEW DEAR; CASIOTONE FOR THE PAINFULLY ALONE; PHOENIX; I love some of GOLD PANDA's stuff at the moment… you're gonna have to stop me here, I absorb it and love listening to it!
It excites me and gives me ideas. And they'll move on and do something completely new. I'm all excited for in a very difficult world, there's some very exciting music around. I'm forever listening.
What are your hopes and plans for this next phase of BLANCMANGE?
Hope to get through the tour! *laughs*
We'll see how it goes with the album really. I'm quite happy doing what I do. It's lovely having a chat with you and that people are interested in what we've done. I don't expect for one minute to change anything. It's nice to be able to express yourself and maybe do another one. And carry on listening… I mean, the other thing is, what influences you? That whole thing! Everyday, it doesn't matter. It's not just to do with just music, it's everything! Some of it you can't help being influenced because you can't get away from certain things that you don't particularly want to see, but they still have an influence. Absorbing is quite an interesting thing, so to get some of that stuff out of your system, it's nice as well isn't it? *laughs*
---
ELECTRICITYCLUB.CO.UK gives its warmest thanks to Neil Arthur
Special thanks to Stuart Kirkham at 9PR
BLANCMANGE 'Blanc Burn'
is released on 7th March 2011 by Proper Records
BLANCMANGE's 2011 UK tour dates include: Glasgow 02 ABC (6th March), Manchester Academy 2 (7th March), Sheffield 02 Academy 2 (8th March), Liverpool 02 Academy (10th March), Birmingham 02 Academy 2 (11th March), Brighton Concorde 2 (12th March), Cambridge Junction (14th March), London Koko (15th March)
https://www.facebook.com/BlancmangeMusic/
---
Text and Interview by Chi Ming Lai
12th February 2011