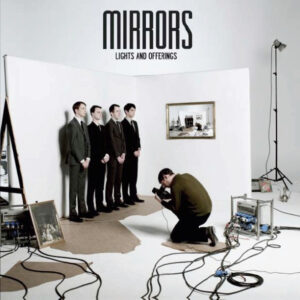 The Science Of Our Love…
MIRROR: a pattern for imitation; exemplar: a man who was the mirror of fashion. Something worthy of imitation.
MIRRORS reflect their surroundings and flaunt their artistic integrity. "We like that whole idea that your art is your life – you are what you make" says singer James New.
Following the philosophy of the Bauhaus movement's founder Walter Gropius, MIRRORS' modernism is a unity of art and technology.
Whilst their aesthetic may point towards KRAFTWERK and their Gilbert & George inspired sartorial style, the eerily uncomfortable and gloomy social environment that spawned JOY DIVISION, XTC, THROBBING GRISTLE and PUBLIC IMAGE LIMITED over thirty years ago which also exists today is just as relevant.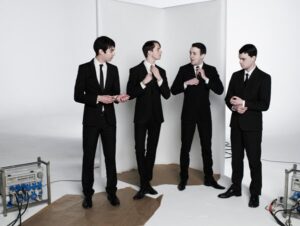 Protestations in some quarters that MIRRORS are merely an OMD tribute band are ignorantly lazy and uninformed.
As a current musical act resonating the hopes and fears of rational youth, MIRRORS could appeal as much to followers of WHITE LIES, EDITORS (note absence of the definite article in all three!) or even THE XX as much as anyone who may have grown up admiring the pioneering sounds of Synth Britannia. In a recession, people seek value and that is apparent with 'Lights & Offerings'
.
This young Brighton quartet consisting of James New (lead vocals and synths), Ally Young (synths and backing vocals), James 'Tate' Arguile (synths) and Josef Page (electronic percussion) have quite simply delivered one of the best debut albums by a British band for many years.
Recorded and self produced in a rural Sussex farmhouse before being mixed in New York by Jonathan Kreinik, 'Lights & Offerings' possesses an intelligent balance between precise technologically driven beats and emotive vintage synthesizer melodies. This fresh, artful and lively approach permeates throughout this cohesive, seamless body of work. It all begins with the superb sonic pulsar of 'Fear Of Drowning'. Full of the dramatic overtures of young manhood, it marvellously sets the scene for the rest of the album.
Their debut single 'Look At Me' has been reworked with its original digital drum patterns now replaced by a grittier snap. But its moody, layered textures keep it wistful and evocative. With a debut album, there is only one chance to make a good first impression, so MIRRORS have done the sensible thing by including all of their acclaimed singles.
And none come much better than 'Into The Heart' which is a beautiful slice of melancholic pop with a glorious soaring chorus to match. Add in its detuned shimmering tones and powerful humanity, it successfully captures the spirit of prime ORCHESTRAL MANOEUVRES IN THE DARK.
'Write Through The Night' acts as a steadfast interregnum before leading into the mutant electronic disco of 'Ways To An End'. Driven rhythmically by two parts TALKING HEADS and one part HUMAN LEAGUE, 'Ways To An End' is the most immediate example of MIRRORS' chilling pop noir.
The following 'Hide & Seek' exposes some endearing soul searching and is almost choir boy like with its lyrically naive but playful intent. James New's altering tonality in his majestic vocals compliment the discerning harmonious stylings in what is a very English take on modern pop. In fact, he comes over like an electro friendly MORRISSEY. In that respect, MIRRORS are one of those electronic bands who could break down the barriers of the real music purist, purely because they write and produce proper songs.
The outstanding 'Somewhere Strange' takes the listener on the most euphoric and roaring trip since NEW ORDER's 'Temptation'. The synthetic assault simply hypnotises with propulsive blips and cacophonies of percussive noise.
After such frenzied action, MIRRORS then reveal an interesting musical diversion with a haunting cover of a rootsy country number originally recorded by Karen Dalton and written by the late Dino Valenti of psychedelic rockers QUICKSILVER MESSENGER SERVICE. Entitled 'Something On Your Mind', this touching ballad takes the pace down with some tearful yearning before screeching into the frantically uptempo DEPECHE MODE led synthpop of 'Searching In The Wilderness'.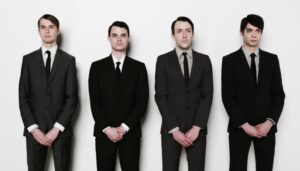 With the epic final track 'Secrets', its echoing Kling Klang octave bass riff is accompanied by an intense percussive march. Almost 11 minutes in length and split into three parts, the ambient interlude of the second section consists of an aural sculpture that plays with the mind.
Fooling the listener into thinking the album has ended, it suddenly all restarts with a piercing and dynamic military tattoo for the third and final movement.
When ELECTRICITYCLUB.CO.UK first asked James New to describe 'Lights and Offerings' last Autumn, he said: "really great pop songs… but it's very densely produced, heavily layered, emotional, soulful electronic music. If those words mean anything to you, then you're going to love our record."
ELECTRICITYCLUB.CO.UK is pleased to say it does and so will you…
---
Special thanks to Debbie Ball at Create Spark
'Lights & Offerings'
is released in the UK by Skint Records on 28th February 2011
The 'Lights & Offerings' Launch Party takes place at The Green Door Store, Trafalgar Arches, Brighton BN1 4FQ on Thursday 24th February 2011. Doors open at 8.00pm, with MIRRORS performing their live showcase at around 10.00pm. Entry is free.
MIRRORS will also be performing on the same bill as Gary Numan and John Foxx at Back To The Phuture which takes place at London's Troxy on Saturday 2nd April 2011.
https://www.facebook.com/theworldofmirrors/
http://theworldofmirrors.blogspot.com/
https://mirrorsofficial.bandcamp.com/
---
Text by Chi Ming Lai
14th February 2011, updated 20th February 2021