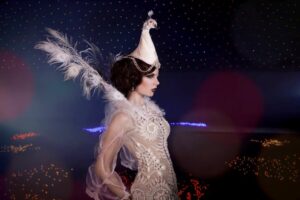 QUEEN OF HEARTS is an enigmatic young lady who likes impossibly high shoes, cocktails, cats and French accents.
Her song 'Freestyle' offers some of the whispery chill of GOLDFRAPP and attaches it to a dream laden synthetic backing track of mesmeric proportions, taking its leaf from the Giorgio Moroder-influenced KYLIE album closer 'Light Years',
It pleasingly thrusts itself to a galaxy far, far away as QUEEN OF HEARTS gravitates towards being modern electropop's own Queen Amidala. Produced by the equally mysterious DREAMTRAK, it's time for the revenge of the synth!
Brought up to the sound of the synthesizer and learning to dance to the beat of electronic drums, QUEEN OF HEARTS grew up on a strict diet of A-HA, DEPECHE MODE, YAZOO and THE HUMAN LEAGUE thanks to her dear Queen Mother.
Following in the footsteps of LITTLE BOOTS and SUNDAY GIRL, she writes songs that have one foot in the future and one in the past. Among her other studio collaborators on this exciting new adventure are DIAMOND CUT, FEAR OF TIGERS, BRIGHT LIGHT BRIGHT LIGHT and JOHAN AGEBJORN who has previously worked with SALLY SHAPIRO.
QUEEN OF HEARTS writes songs about the important things in life – love, loss, heartbreak, betrayal – and thinks that the best pop songs should make you dance and shed a tear or two. Pleasures remain…
---
https://www.facebook.com/QOHofficial
https://twitter.com/iamqueenofheart
---
Text by Chi Ming Lai
17th February 2011