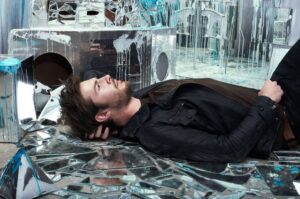 BRIGHT LIGHT BRIGHT LIGHT is the talented Welsh singer/songwriter Rod Thomas whose self-confessed guilty pleasure is ACE OF BASE.
His debut single 'A New Word To Say' recalled the melodic electronic funk of 'Desire', a great lost single from 1983 by ENDGAMES. Meanwhile the brilliant follow-up 'Love Part II' took NEW ORDER's disco music for lager louts back to its more profound Italo roots.
Its B-side 'Cry at Films' was a soaring slice of reflective pop and a good indicator of the BRIGHT LIGHT BRIGHT LIGHT sound. Combining the compositional aesthetic of PET SHOP BOYS with the stylistic enigma of 'Twin Peaks', Rod has even recorded a cover of the latter's main theme 'Falling'.
Latest offering 'How To Make A Heart' is a superbly sensitive but optimistic number driven by backing that helps it come over like a techno enhanced version of HURTS. The superb CGI video which shows that even robots have feelings was directed by Gavin Leisfield.
Having supported ELLIE GOULDING and THE SOUND OF ARROWS, Rod has been in demand and has recently collaborated with SUNDAY GIRL and QUEEN OF HEARTS.
With an impressive collection of songs already and working with Andy Chatterley whose credits have included KYLIE MINOGUE, all looks promising for the forthcoming BRIGHT LIGHT BRIGHT LIGHT album 'Make Me Believe In Hope'.
---
'A New Word To Say', 'Love Part II' and 'How To Make A Heart' are released by Aztec Records
https://www.facebook.com/brightlightx2/
---
Text by Chi Ming Lai
21st February 2011