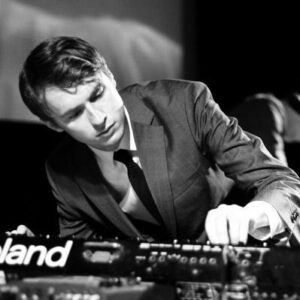 MIRRORS have successfully captured that retro-futuristic desideratum of post-punk bands like OMD and JOY DIVISION but for the 21st Century.
With echoes of DEPECHE MODE's Dave Gahan fused with XTC's Andy Partridge apparent in lead vocalist James New's altering tonality, this is complimented by a dense but fine melodic drama created in a style that could be best described as a very English take on modern pop.
Despite the obvious reference points, MIRRORS' approach remains fresh, artful and lively. Also featuring Ally Young on synthesizers and backing vocals, James 'Tate' Arguile on synthesizers and Josef Page on electronic percussion (not drums… ELECTRICITYCLUB.CO.UK recognises this as an important distinction!), MIRRORS' pop noir sound will soon be heard in electronic music's spiritual homeland of Germany where they will play as special guests to OMD on their forthcoming tour of Europe.
Wearing their intelligence on their sleeves, MIRRORS are likely to baffle OMD's more casual audience but are certain to be embraced by those who understand the lush legacy of Humphreys and McCluskey's innovative years.
A brilliant new single 'Ways To An End' has just been released to formally launch MIRRORS into the wider public consciousness. Prior to one of their many London gigs this summer, James New talked about MIRRORS and their vehicle for refraction.
How did the synthesizer first get into the heart of MIRRORS?
The synthesizer, when did that happen? Me and one of the other members were in a band before which was not an electronic band, more of a traditional rock band. We started moving into synthesizers mostly because we were finding ourselves bored of tradition. We felt like we'd done enough of that kind of music. What naturally happened as with most people who get into electronic music, we found a couple of KRAFTWERK records.
Admittedly, I hold my hand up and say I was quite late to get into it, maybe 19-20 years old. But from that moment, it became a really important thing to us, especially those electronic artists that combined soul or that human element to electronic music… that really interested us. So it was a gradual thing and we moved to Brighton as well which really helped. It opened our minds up to new things, new club nights. It just socially made more sense to us.
Brighton has a reputation for being a hedonistic party capital, so is your pop noir sound a reaction to your surroundings?
That's interesting you should say that… if it is, then it's sub-conscientiously. I've never thought of it in that way because we pride ourselves in making something very human, warm and quite soulful. I don't know if it's meant to be but what we were trying to do was put ourselves in a bubble outside of things that we saw around us. So in that respect, then possibility it was because we were trying to do something that was the antithesis to what we'd been seeing in the music industry over the last five years. We felt that a band hadn't done what we keep being told is a pretentious thing… I don't think it's pretentious, I think it's having ideas personally!
We wanted to do something that was considered from the ground up. That was something that we'd thought about and talked about before we'd even written any music. I think in that sense, we were trying to avoid being anything that we'd seen around us. Obviously, being part of Brighton culture, maybe we were.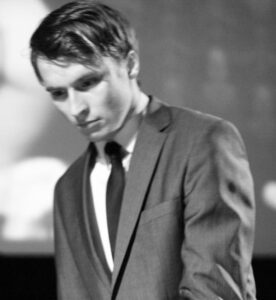 So what would you say to those people who may consider MIRRORS to be aloof or pretentious?
I think this country particularly, we've always had this 'thing' when an artist comes along and has ideas for themselves and tries to do something a bit different, especially since the times of OASIS, THE LIBERTINES and ARCTIC MONKEYS.
And I can go on, they were great bands at the time… I certainly jumped on my bed listening to 'Definitely Maybe'! I'm sure pretty much every kid of my age did! But what we wanted to do something that was interactive and exciting for people.
It isn't about being pretentious, it's about making something… all we genuinely want to do is make something that is still a pop band, still great music but that's thinking a little bit out of the box, especially when it comes to live shows and what we can achieve.
Who are your influences that maybe electronic music connoisseurs wouldn't expect?
We're really big fans of a lot of post-punk which I think you can hear, and obviously Krautrock elements as well. We're into '70s' electronic music as well because we're always being called the '80s' band and…it's a horrible term!
We've actually banned our writers from using the term '80s' on ELECTRICITYCLUB.CO.UK
Oh really? Excellent!! That's a brilliant thing! *laughs*
I think we have more '70s' reference points in all honesty, I genuinely do. All of us have different areas. Josef for instance is a massive hip-hop fan and it definitely has an influence… his beats, he can't help himself! He has to put a bit of WU TANG CLAN in!!
Your look and presentation has strong elements of European Modernism, how important is this aspect of MIRRORS?
It was the first thing we talked about. We were fed up with how everything looked around us and we were definitely fed up with this celebration of scruffy indie rock music. And now, two or three years later, it does feel out of date to everyone. At the time, it still wasn't totally over saturating itself.
We thought the opposite of that. A lot of the time, we say it references GILBERT & GEORGE. The idea that we wanted was something that represented us in our lives… a lifestyle choice. The suits, it's a great idea. It disciplines you to work a little bit… we didn't have jobs but it was 'our job'! And it was that idea of living your life as four characters in a little bubble. *laughs*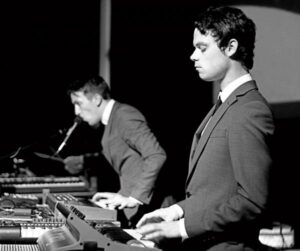 Your set-up includes some vintage synths. Do you have any opinions about how the music should be constructed in relation to the use of new and old technology?
Oh, it's difficult! Obviously this is something that we've been trying to balance with the making of our debut record. I think for me in terms of synthesizers, you can't beat the sound of old analogue synthesizers, most producers will tell you that!
But there are techniques in production that certainly we've learnt because we've used different producers, we used Richard X, Ed Bueller… we went through some big producers as we were considering making quite a modern sounding record. I'd like to think we've still made quite a contemporary sounding record through the compressors and the microphones that we use; we use Protools instead of tape reel etc.
There's definitely a balance that we have but in terms of synthesizers, always buy analogue. Don't tour them though 'cause they go the f*** out of tune all the time!! My favourite synth is the Dave Smith Prophet that we use live; it seems to do a bit of everything. It sounds like an old Moog and it's part digital so it doesn't go ridiculously out of tune!
Can you briefly describe the dynamic in MIRRORS with regards songwriting and playing live?
Well actually, it's far more traditional. In terms of writing music, I write most of the melodies on piano and when I'm happy the melody sounds great, I take it to the band and we build the song from that point onwards. So it can take on several manifestations before we go "actually, that's the way the song should sound". But we build from the studio, we don't sit in a room and play together. It's "these are the key elements of the song, how do we build it?".
… it's a layering thing?
Absolutely… block-by-block-by-block-by-block! And then the lyrics become part of that block process.
Live, we always say it's like a conventional band and when we're explaining it to sound engineers in very simplified terms, there's Josef who plays drums, Tate does most of the bass, Ally does most of the lead lines and I'm sort of like the rhythm/vocalist.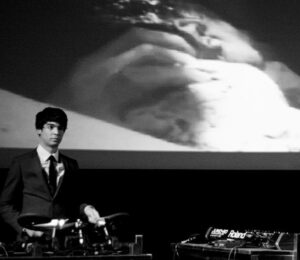 Josef is a standing sticksman in the Klingklang tradition thus adhering to the rhythmical aesthetic of MIRRORS. When you were conceiving the band, did he take much convincing to play electronic percussion?
He's not actually a drummer! Josef came to the band last, the three of us had made a few demos and knew we wanted to be a four-piece. Josef was into the right kind of things, he wasn't necessarily biggest into that sort of early '80s' vibe but he's a massive music fan.
And since then, he's become entirely part of this, so he gets every element of what we do. He's a great bass player and he has such a great sense of rhythm that it made sense to him instantly. So he now plays quite a lot, it's challenging what he's playing. In some senses, it's harder than playing a drum kit because he's got to keep it really tight with us.
We rehearsed a couple of actual drummers previous to Josef and they weren't as good frankly! He's also helped produced this record so he's a fourth of everything we do. We made it a few months ago, he was fully involved in the band by that point. In terms of making this record, he's entirely an equal.
Does the album have a title yet? How's it coming along and what does it sound like?
It's called 'Lights & Offerings', it's 95% complete and going to be mastered soon. Then it's officially finished. It's pretty much there, it's obviously our debut but if I was going to describe it, I'd say really great pop songs… but it's very densely produced, heavily layered, emotional, soulful electronic music. If those words mean anything to you, then you're going to love our record.
I would say it will be out early next year. It's not going to be around for the OMD tour, we're going to put out a little European EP as we go out there. But we're going to keep the album back until next year. Hopefully we'll be one of those much talked about 'Best of 2011' bands or whatever the hell they do!
You successfully supported DELPHIC last spring…
I don't know how you qualify "successfully"? *laughs*
People either click or they don't, it polarises (people) our live show. People will love it but there are people who genuinely don't love it!
Yes, I've seen that in some reviews and I'm a bit surprised but then again, people who write those kinds of reviews often don't understand electronic music…
Absolutely, we got a hilarious thing on YouTube that I saw the other day. There was some footage of us playing with DELPHIC and quite a young kid I assume just said "What the hell kind of show is this? No one's really moving, waste of money in my opinion!"… and I thought "that's the typical response to MIRRORS"! But you know what? If that's how you feel, you're never going to really understand this band and that's fine by me! *laughs*
So how are you looking forward to supporting OMD in Europe later this year?
It's going to be amazing. Obviously, they're a reference point of MIRRORS so it will be really exciting. And that they picked us out really means a lot to us, they're a band that we look up to. They're one of those bands who did something… great pop songs! But the difference I think between what they do and what we do is that our sound is much denser, it's much more epic and I think potentially more euphoric. But in terms of songwriting electronically, they're right up there!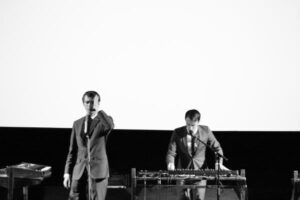 How do you like the challenge of basically selling electronic pop music to the Germans?
We'll have to up our game won't we? *laughs*
I don't know. It's going to be really interesting to see how Germany reacts to it. I have every hope that they're going to really like it. As I said, we do get compared to these bands but we have an awful lot of contemporary reference points as well…
Our drum sounds come from a more modern techno backdrop, production wise it's more like ANIMAL COLLECTIVE or THE HORRORS. Again, quite modern in the way we look at things. But with those little elements, especially in our attitude, those bands that put themselves on a pedestal, that's where we really take inspiration from those bands in the day!
Have you heard any of the other new electronic based acts like HURTS, VILLA NAH or THE SOUND OF ARROWS? Do you see them as rivals or comrades in arms?
Neither! What may have happened is bands like HURTS had a similar idea to us at the same time. It just triggered in their brains that things were a little bit boring, not just in music but everything! For us it came very naturally, and I'm sure for all those bands, it did as well.
But we like to think that it's our own world. It's why we put on our own club nights and when we play, we try to make it an experience that is very much that of MIRRORS and nothing else. So you know what, other electronic bands, they can go and I'm sure there'll be something that comes out that I like… I haven't heard it yet! *laughs*
You've done some great remixes for bands such WHITE LIES and AU REVOIR SIMONE.
The WHITE LIES one was our first remix actually, that's probably the one I like the least. We didn't really know what we were doing although it's still relatively decent. We're a lot better now. WHITE LIES are doing one for us now. I did AU REVOIR SIMONE in my bedroom in half a day.
That Un Autre Monde remix of 'Tell Me' was brilliant, you made those girls sound delectably suicidal!
That was the plan… sort of gothic disco I was going for there!
What approach do you take for reworking other people's tracks?
Artists love the idea of remixes if they can generally do it. There's no pressure on and you're effectively moulding someone else's music into something you like. But you're not going to be judged for it much at the end of the day… well, you will be but it's so much less pressure than making a record.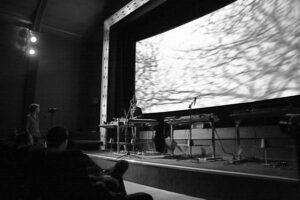 And what are your hopes and dreams for MIRRORS?
We'd like our record to do pretty well. We're not aspiring to be Radio1 fodder or anything like that. We want it to be a critically acclaimed record that does well. The interesting thing about where we are is that it feels like the only bands doing well are the ones that have a level of realness to them. THE XX are a good example of that, I don't really love THE XX but I do appreciate there's a band that's has real honesty. They produced it themselves; it's an honest minimal record. It just so easy these days to just hear the same sort of crap!
I'm hoping for us to make a record that's perceived as pretty good. And hopefully with our live shows, what we'd really like is to dent people's perception of what pop music can be… that's why we're doing this!
---
ELECTRICITYCLUB.CO.UK gives its warmest thanks to MIRRORS
Special thanks also to Debbie Ball at Create Spark
'Ways To An End' b/w 'Broken By Silence' is released by Skint Records and available now as a 7 inch vinyl single or a download EP
They also play following dates as special guests on OMD's 2010 European tour:
Cologne E-Werk (11th November), Hannover Capitol (12th November), Leipzig Haus Auensee (13th November), Stuttgart Theaterhaus (15th November), Munich Tonhalle (16th November), Berlin Tempodrom (18th November), Hamburg Docks (19th November), Luxembourg Den Atelier (21st November), Brussels Ancienne Belgique (22nd November), Amsterdam Paradiso (23rd November), Le Casino De Paris (25th November)
https://www.facebook.com/theworldofmirrors/
---
Text and Interview by Chi Ming Lai
4th September 2010