The Future, The Past, And Forever After
OMD launched their new album 'History Of Modern' at a lavish party hosted by Panasonic in London with a playback and special live performance by its founding duo Andy McCluskey and Paul Humphreys.
In a packed Club24, OMD delivered a short sharp set of the singles 'Electricity', 'Souvenir', 'Maid Of Orleans' and 'Enola Gay' in addition to some new songs including the wonderfully sublime Green and 'History of Modern (Part I)' which is set to become a live favourite of the future.
As with many of OMD's best songs, the fascination with technology's effect on life and death has long been a creative catalyst. Inspired by The Large Hadron Collider, the world's largest and highest-energy particle accelerator, Part I of the title track is all about the 'Big Bang Theory' and the inevitable end of the Universe. Its scaling detuned vibrato riff is the magnificently prominent element that provides a full spacey effect.
With echoes of their formative Eric's days, the pair were extremely confident on the tiny stage and highly appreciative of the crowd, even taking time out to thank particularly all the personnel from the various websites that have kept the OMD flame of hope burning over decades. Following this memorable live presentation, the gathered were then treated to a wonderful history lesson in danceable electronic pop, courtesy of DJ Mark Jones from Back To The Phuture.
'History of Modern' itself is the first collection of songs to be released under the OMD banner for 14 years. Andy McCluskey says of the album: "It basically sounds like OMD! If OMD can't sound like OMD, then who can? There's lots of analogue synth sounds! There's lots of drum machines sounds! There's lots of Mellotron sounds! There's even a few cheesy organ sounds in there as well!"
Following his exclusive interview earlier in the year, Paul Humphreys Paul Humphreys was kind enough to talk to ELECTRICITYCLUB.CO.UK again about several of the album's key tracks and the choice of support acts for the forthcoming tour.
Congratulations on the beautiful 'New Holy Ground'…
I'm really pleased with that one. I think Andy and I realised towards the end of making this album that we should have actually stayed in a room together and worked because I went up and spent a few weeks to kind of change things on the album and to write some new tracks.
We just decided we needed some extra tracks for B-sides so we thought we'd do a track in the spirit of 'The Avenue' because it's one of our favourite B-sides.
Andy became a member of this online sound effects website so you can download anything from it, it's made for film I think; it's an enormous library. So we went looking for something rhythmical and Andy had browsed before I got there and found a few things; we really liked the steps, there's this woman walking on a very hard floor but it was a bit random so we put it into the computer and got it in synch to make a beat.
What's great about it is she keeps coming towards you and going away again which is a bit disturbing! But we thought let's make that the drum track, just the girl walking.
So I got out a whole load of appropriate sounds on my synths; a virtual choir, a Prophet 5… basically all the instruments that I used to use in those days! The string part is a really out of tune Prophet which was one of my favourite sounds and a Roland bass. And off we went really! We wrote the song in three hours and I threw a whole load of ideas music wise onto the Protools whilst Andy just wrote a load of lyrics. Three hours later, we had a song. And we loved it so much we thought "Right, that's got to go on the album!"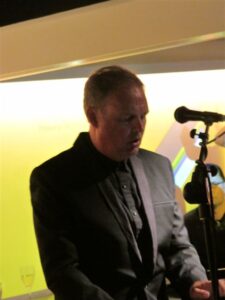 Is it your favourite from the selection?
Yeah, that and 'Green' I think.
So how did 'Green' come about because Stuart Kershaw had a part in that, is that right?
Yeah, it was a song Andy did many, many years ago with Stuart and I think it was done in the 90s. He played it to me and it sounded a bit like a rock ballad. I said "I think the vocal tune's great, but everything else has to go" *laughs*
I said "Give me the vocal stem and I'll do a whole new track for it" so I came to my studio and completely reworked it.
What was your inspiration for the way the bass comes in and how the rhythmic backbone almost stutters?
A little bit of 'Almost' actually because that was my reference point. There's this sort of white noise-like cymbal that goes in all the way. And I thought I'd do it in a very modern way with just a bass sequencer, electronic drums and some OMD-ish strings and choirs.
The lovely coda of 'Green' reminds me a lot of ROXY MUSIC's 'If There Is Something', is there any influence there possibly?
Yeah, maybe! No, it's just coincidence! *laughs*
What was the background to 'History of Modern (Part II)'?
That was a track that I actually wrote for ONETWO and one of those tracks we couldn't sort out, we couldn't finish it off. So I sent it to Andy and he came up with a new vocal for it. I worked on lots of bits of the album, replaying things and changing things.
What do you think of the two support acts that have been lined up for the 'History Of Modern' tour, VILLA NAH and MIRRORS?
VILLA NAH are brilliant, I love them. I think it's just great electronic pop with a dark touch to it. I'm looking forward to sharing a stage with them.
In Europe, we have MIRRORS. I went to see them in Camden at Proud. They're lovely blokes and I was absolutely blown away by them. It was like looking back in time, they were wearing shirts and ties and jackets – I'm going to bring a picture of me and Andy from the early 80s to show them that we looked exactly like them!
MIRRORS' singer James New in a strange way, is you and Andy's love child! Is there something you haven't told us?
I think that's a funny comment! We'll keep that to ourselves *laughs*
Their songs are brilliant and their whole stage presentation… James has got a little of Ian Curtis in him as well, this awkward persona on stage which I think is really appealing, I think he's great. I'm so happy, I can't wait to go on tour with them.
I think the Germans are going to love MIRRORS!
Yes, I think they are!
---
ELECTRICITYCLUB.CO.UK gives its warmest thanks to Paul Humphreys
Special thanks to Claudia Brücken
'History Of Modern'
is available now as a CD, vinyl LP and download
OMD's 'History Of Modern' tour includes:
UK – special guests VILLA NAH
Brighton Dome (Oct 29), Bristol Colston Hall (Oct 31), Nottingham Royal Centre (Nov 1), Glasgow Concert Hall (Nov 2), Liverpool Arena (Nov 4), Ipswich Regent (Nov 5), London Hammersmith Apollo (Nov 7), Birmingham Symphony Hall (Nov 8)
Europe – special guests MIRRORS
Cologne E-Werk (Nov 11), Hannover Capitol (Nov. 12), Leipzig Haus Auensee (Nov 13), Stuttgart Theaterhaus (Nov 15), Munich Tonhalle (Nov 16), Berlin Tempodrom (Nov 18), Hamburg Docks (Nov 19), Luxembourg Den Atelier (Nov 21), Brussels Ancienne Belgique (Nov 22), Amsterdam Paradiso (Nov 23), Le Casino De Paris (Nov 25)
---
Text and Interview by Chi Ming Lai
14th September 2010