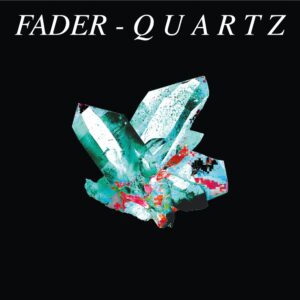 Having released the debut FADER album 'First Light' in 2017, Neil Arthur and Benge now present their third long player 'Quartz'.
As with previous FADER works, Benge worked alone on the instrumentation at his Memetune Studios complex in Cornwall while Neil Arthur did his lyrics and vocals at his home studio. 'Quartz' is an understated artistic statement inspired by incidental atmospheric music used in vintage TV shows. With minimalistic structures started by manipulating and sampling sounds used on Benge's past recordings, organic yet electronically derived textures provide a reflective and elegiac backdrop.
Benge had no titles for his compositions so sent them over to Arthur identified with names from various paint pots as he was also decorating his home. "I didn't expect Neil to use them as the basis for the song lyrics" the producer said, "but he is so good at letting his imagination go and he came up with all these amazing lyrics as a result". The end result is a series of vivid stories and fractured images from a partially obscured viewpoint to provide a dreamy aesthetic.
The icy waltz 'Serpentine' opens with its sparse keys like Gary Numan meeting Brian Eno and reminiscent of the former's 'Dance' album from 1981. 'Porcelain' retains this stripped down approached but is more sinister, Arthur given a monolithic pulpit for his impassioned semon. But 'Olympia' recalls the filmic textures of Ryuichi Sakamoto as the cerebral setting hauntingly sucks the listener in.
Upping the tempo slightly, 'Gargoyle' adds shuffling drum machine reinforced by a synthbass squelch as spacey counterpoints and electronic pulses complement the vocal expression. The more gothic 'Prussian' snaps along over its spacey atmospherics with Arthur "observing the night" as "all the stars are out!". A relative of 'Olympia', 'Mondo' continues the minimal stance while the funereal 'Manilla' cleverly uses the photocopying process as a metaphor for life, "A4, foolscap, manila…".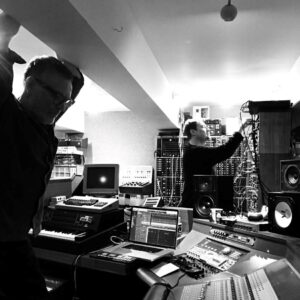 Utilising a number of spiralling sequences, the 'Quartz' title song bursts with mechanised rhythm and icy string machine. Then with a subtle gallop, 'Lazuli' dramatically announces rather prophetically "There's been a scene" with "all hell let loose" before "a final curtain" as the mournful closer 'Poison' poignantly confirms "we can't go back" and must "never return to where we came from".
'Quartz' is FADER's best album yet, shaped by the clockwork elegance of its title. With its subtlety in detail, it is strangely futuristic while projecting a distinctly timeless quality.
---
'Quartz' is released on 13th May 2022 by Blanc Check Records as a CD ad cassette, pre-order from https://fader.tmstor.es/
https://www.facebook.com/WeAreFader
https://twitter.com/WeAre_Fader
https://www.instagram.com/fader_2022/
---
Text by Chi Ming Lai
19th April 2022