Although their recorded output covered just five albums over a four year period, JAPAN are one of the most acclaimed bands from the flaboyant and colourful era which many came to know as New Romantic.
JAPAN's final two studio albums 'Gentlemen Take Polaroids'
and 'Tin Drum'
are being reissued as Abbey Road Half-Speed mastered 2LP gatefold vinyl editions with two tracks per side, running at 45RPM to maximise audio quality. Along with the pair's predecessor 'Quiet Life'
, they formed the Holy Trinity of JAPAN records on which the band's reputation was based.
The fact that Universal Music have considered there is sufficient demand for such product is an indication of the high regard JAPAN are held. In many social media discussions about bands which people wished they had seen live, JAPAN are invariably one of the acts that get mentioned.
As far as their legacy is concerned, if JAPAN had not led the way with their arty aspirational poise, DURAN DURAN would not have had a role model to inspire them to their subsequent success.
Le Bon & Co even used JAPAN's regular photographer Fin Costello to capture the cover image used on their self-titled debut album.
Thanks to JAPAN's flamboyant bassist Mick Karn who sadly passed away in January 2011, the sound of the fretless bass became ubiquitous in the mainstream for a number of years. It was a playing style that top session player Pino Palladino ultimately adopted and made his fortune from.
Meanwhile, enigmatic front man David Sylvian was the ultimate pin-up for that flamboyant period, but later progressed to becoming a highly regarded solo artist with a no-compromise approach in parallel to Scott Walker, proving that there is life after pretty boy pop stardom.
Today, drummer Steve Jansen and keyboardist Richard Barbieri continue to release solo albums of a primarily instrumental nature as well as working on collaborative projects, while guitarist Rob Dean is now an ornithologist specialising in Costa Rican birdlife.
Londoners David Sylvian, Mick Karn, Steve Jansen, Richard Barbieri and Rob Dean began their career as an aggressive funk laden glam rock outfit with a straggly image not dissimilar to NEW YORK DOLLS.
Looked after by future WHAM! manager Simon Napier-Bell, who had been drawn to the band by Sylvian's androgynous good looks which he described as "a cross between Mick Jagger and Brigitte Bardot", the debut JAPAN album 'Adolescent Sex'
was released in April 1978 by Ariola Hansa, the German label that had steered BONEY M to great success.
While the bizarre mix of rock, funk, glam and electronics achieved little impact in Britain, it was a surprise success with teenage girls in the country of Japan, resulting in the band playing to packed houses at big venues like Tokyo's Bukodan.
With a reggae element also thrown into the mix, a largely more rock 'n' roll flavoured second album 'Obscure Alternatives'
was released in October 1978; although it too was met with ambivalence, it proved to be a pivotal turning point for the band with the haunting closing instrumental 'The Tenant' a sign of things to come.
JAPAN's continued success in Japan exposed the band members to South East Asian culture and its fascination with modern technology. These experiences were reflected in the recording of 'Life In Tokyo' produced by Giorgio Moroder in April 1979, which was arranged at the behest of Ariola Hansa who felt JAPAN should attempt to crack the disco market.
Now acknowledged as the bridge between growly funk-rock JAPAN and the more familiar, mannered and artier version of the group recognised by most today, 'Life In Tokyo' was a key interim landmark in their career as a recording that all band members were happy with.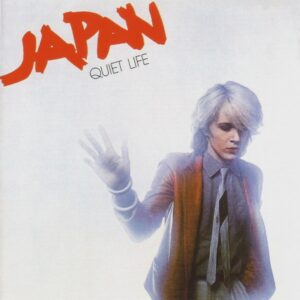 With the more mannered textures of ROXY MUSIC now emanating from their psyche, the electronically assisted template showcased on 'Life In Tokyo' was refined for their third album 'Quiet Life' released in January 1980.
Produced by John Punter who had worked on ROXY MUSIC's 'Country Life' album, JAPAN found a willing conspirator who truly believed in them.
JAPAN's look also changed with stylish suits, heavier make-up and shorter coiffured hair for an effeminate demeanour that was similar to the New Romantics who were now frequenting The Blitz Club.
The opening title track's resonant heart was a Roland System 700 driven by Barbieri's snappy eight step Oberheim Mini-sequencer. Complimented by Mick Karn's distinctively fluid fretless bass,and Sylvian's lyrical conclusion that the band were outsiders in the environment they were born into, it was a sure-fire hit… but not yet as Ariola Hansa didn't see fit to release 'Quiet Life' as a single in the UK at that point!
Also on 'Quiet Life', there was also an understated cover of 'All Tomorrow's Parties', understood to be Andy Warhol's favourite Lou Reed composition alongside more uptempo art rock numbers like 'Fall In Love With Me' and 'Halloween'. But the revelations of the 'Quiet Life' album were the tear-jerking epics 'In Vogue' and 'The Other Side Of Life' orchestrated by Ann O'Dell which premiered a very different aspect to JAPAN, one with an emotional centre.
Meanwhile, the gently mysterious 'Despair' was influenced by Erik Satie with its piano aesthetics. Crooned entirely in French, it no doubt took its lead from ROXY MUSIC's 'Song For Europe'. Highly cinematic, it was concluded with a glorious melodic ensemble of strings and choirs from an ARP Solina.
After their shaky start, the change in musical style and the more artful demeanour of 'Quiet Life' was pointing JAPAN in the right direction and towards Virgin Records. Again produced by John Punter, 'Gentlemen Take Polaroids' saw Richard Barbieri seriously getting into technology with the ARP Omni, Polymoog, Roland Jupiter 4 and Sequential Prophet 5 among the many synths used on the album along with his own Oberheim OBX, Micromoog and Roland System 700.
While wonderful melancholic songs such as the title track and 'My New Career' were a natural progression of the muzak which shaped the 'Quiet Life' album, the band were beginning to tire of this gentle wall of sound and aspiring to do something more dynamic.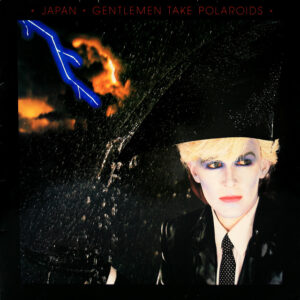 Indeed, the dropping of the more conventional sounding 'Some Kind Of Fool' for the more abstract Bowie / Eno influenced electronic mood piece 'Burning Bridges' at the last minute was a sign of that dilemma. In the studio, Sylvian in particular as the band's songwriter was seeking to take more control, leading to disagreements with individual band members as well as Punter with regards production.
With Sylvian now writing songs on keyboards, this artistically left little manoeuvre for Rob Dean's guitar despite his willingness to become more textural thanks to some Fripp inspired E-bowed embellishments.
Dean was absent from four of the album's eight tracks; Karn was also missing from two numbers. In their place came guest musicians such as Ryuichi Sakamoto on the exotic 'Taking Islands In Africa' and Bowie violinist Simon House who provided a solo to 'My New Career', beginning a pattern of collaboration that Sylvian would continue throughout his solo career.
Sylvian was aiming for a sparser sound and this was achieved with the mournful Satie-esque 'Nightporter'. Featuring just Sylvian and Barbieri with session musicians Barry Guy on string bass and Andrew Cauthery on oboe, it was one of the album's key tracks and a pointer of things to come for JAPAN's leader.
Despite the tensions, when all five band members were featuring, they were firing on cylinders. The terrific 'Swing' combined Sylvian's poetic travelogue with Richard Barbieri's Oriental synth textures. In addition, Rob Dean made a full contribution with some excellent six string work as the rhythm section of Karn and Jansen maintained an amazing bounce over the Compurhythm driven bossa nova.
Meanwhile on the magnificently jagged 'Methods Of Dance', the spine-tingling middle section saw Jansen contributing drums, marimba and percussive keyboard embellishments bookended by a sophisticated arrangement layers of distinct keyboard parts, Karn's sax, bursts of tense ringing guitar from Dean and the cry of a Japanese girl named Cyo.
But both of these songs were incredibly long and complex, formed of many distinct sections in a manner akin to progressive rock. Now while for anyone prepared to stick out these sub-seven minute tracks which formed half of the album, there would be ultimately be satisfaction and enlightenment, it was not going to prove easy to market such lengthy songs as 220 second edits to national and commercial radio. With Virgin promoting the album as "Music For Adults Only" and perhaps paradoxically with a key front cover for 'Smash Hits', it was close but no cigar.
Although 'Gentleman Take Polaroids' did not as yet yield a hit single, JAPAN were finally selling out concerts on home turf, notably a show at London's Lyceum to launch the long player. But cracks were already appearing within the quintet, with Rob Dean leaving after a May 1981 tour supporting 'The Art Of Parties' single which he had not actually played on.
However, momentum was building and one party that noticed was JAPAN's former label Ariola Hansa. In August 1981, they cashed-in with the release of 'Quiet Life' as a single which reached No17 in the UK singles charts. As a result, a new younger audience was becoming interested in JAPAN, one that was not only seeking something modern and stylish but with a depth of musicality too.
For JAPAN's fifth album released in November 1981, the band took the influences of the Far East even further with the Chinese flavoured 'Tin Drum'. The slimmed down band line-up was reflected in the music. A much more minimal album than any of the band's previous work, 'Tin Drum' had hardly any guitar while the synths used were restricted to an Oberheim OBX, Prophet 5 and occasionally the System 700, with the work split 55:45 between Barbieri and Sylvian. That Stockhausen derived minimalism with its sense of space was taken to its zenith with 'Ghosts' and its iconic chilling metallic intro.
Richard Barbieri told ELECTRICITYCLUB.CO.UK: "Not being a technically gifted player, the keys were of less importance to me than the actual controls. What I tried to do was to make more events happen from one note than playing 200 notes. The prime example to that is the intro to 'Ghosts' because it's just one triggered note on the System 700, but I'd programmed in this evolving series of movements with filters, LFOs and pitch frequency oscillation. I've never been able to quite get that sound again, but it caused havoc for the engineer because there were lots of peaks and it was quite difficult to record."
Exquisitely programmed as opposed to relying on effects, JAPAN were aiming for synth derived acoustic colours constructed using ring modulation as well as parallel tuning in fourths and fifths for sounds that possessed a dead echo. Produced by another Roxy cohort Steve Nye, the arrangements were simpler with repeating patterns, tight hand played sequences and clean rhythmic tones.
But it was no less sophisticated with the assortment of timbres within those parts providing the variation and the air of Brian Eno and David Byrne's 'My Life In The Bush Of Ghosts' looming. The wondrous 'Still Life In Mobile Homes' in particular saw East meeting West with Oriental vocal aesthetics and cleverly programmed organic synthesized sounds sitting next to state of the art digital technology such the Linn LM1 Drum Computer, all with the prowess of YELLOW MAGIC ORCHESTRA.
The lyrical themes of 'Tin Drum' flirted with Chinese Communism as Eno had done on 'Taking Tiger Mountain (By Strategy)'. Sylvian appeared to be taking inspiration from the Little Red Book of Chairman Mao, a point highlighted by the pentatonic polyrhythmic single 'Visions Of China' and its less frantic but similarly dida enhanced sister song 'Cantonese Boy'.
With co-writing credits on 'Visions Of China' and the traditional sounding instrumental 'Canton', Steve Jansen was playing an increasing role as well, but it was clear that his older brother still maintained overall control.
Jansen told ELECTRICITYCLUB.CO.UK: "That would have been put down to the fact that what I was doing rhythmically played a bigger part than usual in the inspiration and direction of the songs. But in reality I don't think it was the right way of doing it. I think all JAPAN's music was methodically arranged by each member and warranted some co-writing credit however small."
While Mick Karn was becoming slightly more isolated having not played on 'Ghosts', he still provided some memorable bass runs and got a co-writing credit for his dominant mantra and harmonics on the percussively brooding seven minute 'Sons Of Pioneers'.
But on the whole, the songs on 'Tin Drum' were shorter and sharper like 'Talking Drum', providing a degree of immediacy that had not been present before; the album became the band's biggest UK success, both commercially and critically.
However, all was not well within the band. Frustrations about publishing and personal differences came to a head with the now well-documented tensions between Sylvian and Karn tearing the band apart as they soldiered on with a British tour.
The individual band members spent 1982 undertaking their own projects while JAPAN was put on hiatus. Despite rumours of a split, JAPAN became chart regulars in 1982, notching up a further six Top 40 singles including a cover of Smokey Robinson's 'I Second That Emotion. However, the biggest surprise came when 'Ghosts' caught the mood of the moment with a Top 5 hit that April as the British Task Force was heading south towards the Falkland Islands.
An extensive Autumn tour of the UK, Europe and South East Asia was arranged by Napier-Bell to capitalise on their wider profile as he sought to buy time to keep his charges creatively together.
Although the majority of the dates were sold out, JAPAN called it a day at the height of their powers with a final performance in Nagoya, Japan on 16th December 1982.
Sylvian and Karn continued with solo careers as well as collaborating with Ryuichi Sakamoto and Midge Ure respectively, while Jansen and Barbieri worked with both of their former bandmates, as well together as THE DOLPHIN BROTHERS who released an album 'Catch The Fall' in 1987.
That same year, relations had thawed enough between Sylvian and Karn for them to jointly record two songs 'Buoy' and 'When Love Walks In' for the bassist's second solo album 'Dreams Of Reason Produce Monsters' which was co-produced by Jansen.
So in 1989, the quartet gathered at Studio Miraval in the south of France for what was considered to be a JAPAN reunion in all but name. But that episode in itself was a whole other story…
---
'Gentlemen Take Polaroids'
and 'Tin Drum'
are each released as Abbey Road Half-Speed Mastered gatefold 2LP 45RPM vinyl sets with download key by Virgin Records / Universal Music on 24th August 2018, both albums will also be available in a 180 gram single LP edition playing at the standard 33RPM
http://www.richardbarbieri.net
---
Text by Chi Ming Lai
19th July 2018