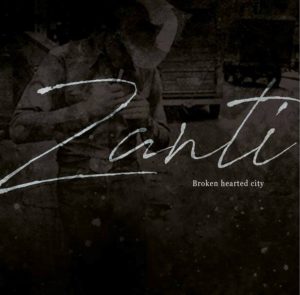 With Anni Hogan meeting Derek Forbes, one can only expect electrifying miracles.
Hogan, known for her collaborations with Marc Almond, Nick Cave, Barry Adamson,  Robin Rimbaud, Rusty Egan and Wolfgang Flür, shares more than the love for the sci-fi of 'The Zanti Misfits' with bassist Forbes, who worked with SIMPLE MINDS and PROPAGANDA, and has recently been the recipient of the prestigious Ivor Novello Award.
As the explosive twosome joined forces some eighteen months ago to create a cinematic gem of their own, here comes the debut long player 'Broken Hearted City'.
The album has been engineered by Ando Wright at Parr Street studios in Liverpool, with the writing, vocals and production shared equally between Hogan and Forbes. The resultant eight track LP is short and sweet, except it's not sweet at all.
The opening 'Scream Machine' bursts out with entangled guitar, gritty synth, gentle piano and pretty much everything else in between, floating away with shreds of sound, to enter the much more subdued 'Lonesome'.
The guitar is still the guiding light for the voices of Forbes' and Hogan's, creating an atmosphere of a Wild West ballad a la John Fryer's BLACK NEEDLE NOISE creations. As they walk together into the sunset, 'Will You Be Mine' takes over with the grizzly musical elements intertwined with futuristic beats and sprinkles of bossa nova for an electric ballad all sealed with a cinematic stamp.
Hogan takes the vocal reigns on 'Head Sounds'; a mid-tempo puzzler with background distorted vocals and simple melody.
'Planet Sweet' presents an easy listening duet, showcasing the intricacies of Forbes' vocal, and a radio friendly, uncomplicated structure. It's like a more grown up version of THE BEAUTIFUL SOUTH. Meanwhile, the title track changes the feel instantly with delicate piano, laced with high pitched guitar, both achieving a near Lynchian effect.
Hogan takes the singing reigns on 'Paris Vortex', with its luminous grace and magical soundscapes, while the SIMPLE MINDS legacy shines through on the closing titles with 'Universe Of Love'. This super chilled track has the power to relax and fulfil dream-like fantasies all at the same time. Its floaty textures ebb away with a single line "where do you go?" before it dissipates to nothingness.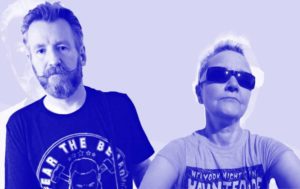 It's not surprising that ZANTi provides a plethora of musical knowhow, what with the pioneering legends' involvement from Hogan and Forbes.
'Broken Hearted City' is grown-up music for grown-up listeners, presented in a modestly served parcel that comes packed with some seriously good material. It is indeed an outstanding song collection, superb!
---
'Broken Hearted City' is released by Downwards Records in CD and digital formats, available direct from https://downwardsrecords.databeats.com/group/zanti-broken-hearted-city
https://www.facebook.com/Zantimusicofficial/
https://twitter.com/ZANTimusic
https://www.instagram.com/zantimusic/
---
Text by Monika Izabela Trigwell
21st July 2018