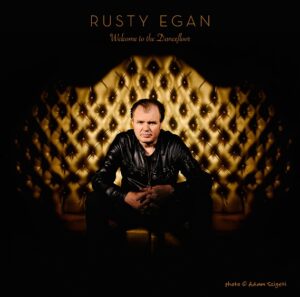 After many years of trials and tribulations, Rusty Egan finally presents 'Welcome To The Dancefloor'.
It's a collection of thirteen songs that explore a varied range of topics, from the euphoria of clubland to the celebration of musical heroes to personal bereavement. This could have formed the basis of the fourth VISAGE album had Egan not been constructively ousted by the then-puppet masters of the late Steve Strange during its recording; sensing a quick buck on the back of ULTRAVOX's 'Brilliant' but failing to understand anything about the music that made The Blitz Club collective a much loved act of the Synth Britannia-era, the end result was the very disappointing 'Hearts & Knives'.
Indeed, several of the songs included on 'Welcome To The Dancefloor' started off as recordings for the rebooted VISAGE. Chris Payne who co-wrote 'Fade To Grey' had submitted several compositions, but these great songs remained on the cutting room floor… until now. Also key to this album being fully realised is Nick Bitzenis, best known as NIKONN and one half of FOTONOVELA, the production duo behind MARSHEAUX.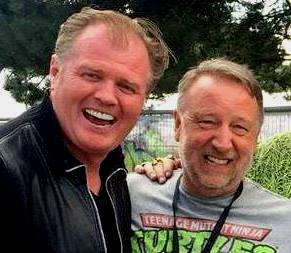 Contributing the album's opening salvo is Peter Hook with 'The Otherside'; comparisons with Hooky's previous band are perhaps inevitable and the song's melodic basslines again show how much his sound was a vital part of NEW ORDER.
Hooky's vocals are delivered passionately, but exude a vulnerability that will be loved by some and disliked by others.
Another artist firmly associated with his band is Tony Hadley; but the sublime 'Lonely Highway' sounds nothing like SPANDAU BALLET. A prime example of classic synthpop, it begs the question as to how the Islington quintet might have developed had they not been soul boys? The first of five Chris Payne co-writes, Tony Hadley's booming vocals are perfect for this catchy little tune.
The superb 'Hero' featuring the voice of Andy Huntley sees Egan exploiting a dancier groove, but is just a great song featuring the sort of memorable melodies and counter-melodies that are absent from much of today's music.
Erik Stein from post-punk balladeers CULT WITH NO NAME adds his voice to two numbers with the first 'Love Is Coming My Way' being a superb slice of machine pop.
Meanwhile, the second Stein voiced number 'Ballet Dancer' is a vocodered eulogy to Egan's late ex-wife, laced with the most beautiful Polymoog Vox Humana synth lines from Chris Payne.
The air is taken down further with 'Be The Man' featuring the voice of Kira Porter; this serene orchestrated ballad with its spacey synth solo could easily have come from Midge Ure's most recent long player 'Fragile'.
The pace ups considerably and heads towards clubland with the 'Welcome To The Dancefloor' title track. Dynamically uplifting, it comes over like GIORGIO MORODER meets DAFT PUNK via THE HUMAN LEAGUE with the track's root being an interpolation of TENEK's single 'Blinded By You' from their 2010 album 'On The Wire'.
With a new topline was co-written by Egan with Gerard O' Connell, The Blitz Club's legendary DJ said: "'Dancefloor' is an example of how I have always worked. TENEK had an amazing bassline with synth stabs that grabbed me, but what I could hear was an electro style uplifting track and I wrote this on the roof of the villa in Ibiza … I just looked and thought 'Welcome To The Dancefloor of THE WORLD'"
The slightly more rock flavoured 'Evermore' featuring NIGHT CLUB's Emily Kavanaugh is another co-write with Chris Payne and features former ULTRAVOX guitarist Robin Simon. The end result comes over feisty and frisky.
The following 'Dreamer' is a track originally written and recorded by Arno Carstens. Appropriated by VISAGE for 'Hearts & Knives', the song was initially discovered by Egan while listening Carstens' set at the Isle Of Wight Festival. But this improved reworking makes a misjudgement in keeping Carstens' voice; grouchy singer/songwriters do not go well with synthpop! However, a newly composed bridge features Andy Huntley and based on this evidence, he really should have sung the whole song.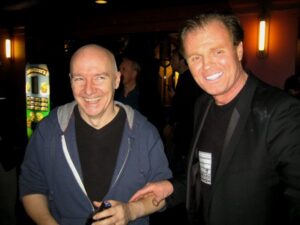 Chris Payne reunites with Midge Ure for 'Glorious' in a revisiting of the New European ethos that produced 'Fade To Grey'. Attached to a triplet percussive mantra and Ure's distinctive fret work, this is a seasoned anthem with gigantic choral pads and an honest vocal from the ULTRAVOX front man. To continue the mood, Anni Hogan contributes 'Love Can Conquer All' which includes a marvellously soulful vocal from Nicole Clarke and a cameo from Egan impersonating Dieter Meier from YELLO.
On the squelch fest of 'Wonderwerke', Egan reclaims some of his lost history. "I have re-recorded this fantastic electronica I first made in Germany on my trip to Zurich to meet YELLO. In 1982 I first discovered a sampler in the studios of Wonderwerke and away I went." he said of the track that was appropriated by TIME ZONE as 'The Wildstyle', "Now without the samples or the Afrika Bambaataa rap, it's a fantastic electro beat". Featuring Egan's voicing in robotic Deutsch with reprogrammed drums and electronics, the track serves a similar role to 'Falling Down' on JEAN-MICHEL JARRE's 'Electronica2'.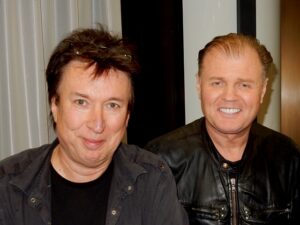 The wonderful closer 'Thank You' uses some 'Endless Endless' vocodered stylings and does what it says on the tin. Over layers of sweeping ambience à la MOBY and a gentle metronomic pulse, it is Egan's list of musical heroes and associated beneficiaries in no particular order. Egan's tone poem is a touching acknowledgement of that marvellous electronic music history. A simple yet highly effective idea, the beauty is in its realisation. Appropriately, it ends with a poignant "VISAGE… thank you".
As JEAN-MICHEL JARRE put it recently "Electronic music has a family, a legacy and a future…" and for anyone to think that new electronic acts pop-up out of nowhere without any link to the past is naïve and ignorant.
There are some outstanding songs on 'Welcome To The Dance Floor'
. But despite the title, this is NOT a dance record. To all intents and purposes, it is a SYNTHPOP album! Unfortunately the general public will not listen to electronic stuff unless it is labelled dance, so Egan probably feels this is the only way to sell his product. This is the situation that the club-focussed mainstream music media has sadly created.
But fans of classic synthpop need not worry. Even the album's club courting title track has its core root in synthpop, thus proving how much the genre is owed by the sniffy dance obsessed electronic music press…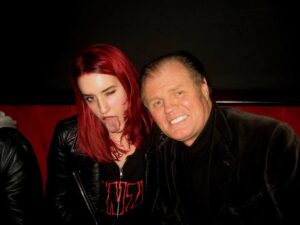 Rusty Egan has successfully united a range of talents to produce a highly enjoyable collection of work, like one of your favourite electronic music compilations, but curated with new(ish) songs. And in the veteran DJ / guest vocalist album stakes, 'Welcome To The Dancefloor' certainly beats GIORGIO MORODER's 2015 effort 'Déjà Vu' hands down.
Yes, despite 38 years since The Blitz Club, synthpop still rules!
---
'Welcome To The Dance Floor'
is released by Black Mosaic and available as a download from the usual digital retailers
Pre-order vinyl LP and CD variants plus more via Pledge Music at
http://www.pledgemusic.com/projects/rusty-egan-welcome-to-the-dancefloor
https://www.facebook.com/rusty.egan/
https://soundcloud.com/rusty-egan
https://twitter.com/DJRustyEgan
---
Text by Chi Ming Lai
26th November 2016, updated 4th March 2017