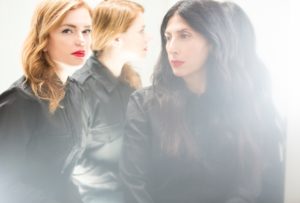 Originally from Thessaloniki, Marianthi Melitsi and Sophie Sarigiannidou moved to Athens and came together to further their appreciation of electronic pop music.
Brought up to the sound of the synthesizer and learning to dance to the beat of electronic drums, they lived on a healthy diet of DEPECHE MODE, HUMAN LEAGUE, OMD, SPARKS, SOFT CELL, DURAN DURAN and NEW ORDER.
With the moniker derived from the first syllable of the Greek pronunciation of the girls' first names, the first MARSHEAUX release was a cover of the early synthpop classic 'Popcorn' which emerged on the 'Nu-Romantix' electro compilation in 2003.
MARSHEAUX's irresistible mix of classic pop hooks and digi-analogue synthesis has seen the duo play prestigious support slots for OMD, ROISIN MURPHY, CLIENT and 30 SECONDS TO MARS… the latter's frontman Jared Leto is a big fan of Marianthi and Sophie!
As well as recording original material on Undo Records, MARSHEAUX have done numerous cover versions and remixed for other artists including DEPECHE MODE, KATY PERRY, THE HUMAN LEAGUE, OMD, MOBY, MYLÈNE FARMER, MESH, MIRRORS and ANDY BELL.
While popular amongst synthpop fans the world over, MARSHEAUX are still comparatively unknown outside of the cognoscenti. With a restriction of one track per project, this Beginner's Guide acts as an introduction to the varied portfolio of the Athens based synth maidens from 2003 to the present day…
---
MARSHEAUX Computer Love (2004)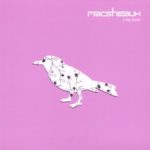 Of their beginnings, MARSHEAUX said in 2012: "we always thought that we would sound like ERASURE or YAZOO melodically, we would be romantic like OMD, have the aesthetics like PET SHOP BOYS and be clever like SPARKS". While 'E-Bay Queen' is a fairly typical debut album with tracks showing promise rather than being outright classics, the bouncy 'Computer Love' largely still remains in the MARSHEAUX live set with its feminised vocoder taking centre stage.
Available on the MARSHEAUX album 'E-Bay Queen'
via Undo Records
---
MARSHEAUX Dream Of A Disco (2006)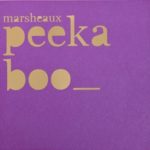 Is a cover or is it Memorex? This interpolation of 'Space Age Love Song' by A FLOCK OF SEAGULLS provided MARSHEAUX with their most immediate number yet and the parent album 'Peek-A-Boo' saw the 'E-Bay Queen' reach adulthood. One of the marketing masterstrokes came with the packaging which included a paper bag ghost mask. Purchasers of the CD wore the bag, took pictures and sent them to the girls… around 3,500 pictures were gathered. Its success secured a wider distribution deal for Undo Records with EMI Greece.
Available on the MARSHEAUX album 'Peek-A-Boo'
via Undo Records
---
MARSHEAUX Fischerprice (2007)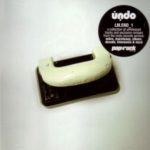 The ironically titled 'Fischerprice' was written in response to music critics who had considered MARSHEAUX's brand of synthpop to be childish and made with toys! Although the track was more of a studio experiment and unlikely to win any songwriters awards, it was good fun. It initially appeared on a CD compiled by Undo Records that was given away free with domestic music magazine 'Pop+Rock' in Spring 2007, alongside tracks by FOTONOVELA, NIKONN, IT95, ESTE and TECH SOIR.
Available on the MARSHEAUX album 'E-Bay Queen Is Dead'
 via Undo Records
---
MARSHEAUX Ghost (2008)
An art piece in the MARSHEAUX catalogue, 'Ghost' was initially an exclusive 7″ vinyl release that came in special award winning glow-in-the-dark outer cover! Coupled with the NEW ORDER inspired 'Bizarre Love Duo', the pairing of songs harked back to the early days of Factory Records where singles were not included on albums and acted as standalone platforms of artistic progress. However, pressure from their German label Out Of Line led to 'Ghost' being included on that edition of 'Lumineux Noir'.
Available on the MARSHEAUX album 'Odyssey' via Les Disques du Crépuscule
---
FOTONOVELA featuring MARSHEAUX So Strange (2008)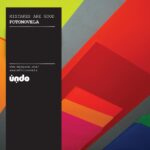 MARSHEAUX's production team FOTONOVELA had an acute understanding of the dancefloor which ensured their own debut album was filled with enticing electronic grooves. Perhaps a little less song orientated than MARSHEAUX's usual template, Marianthi added her sexy accented touch to the excellent 'So Strange'. With a 'Madame Hollywood' styled analogue pulse, some superb vibrato synth sent chills before the magnificent climax of a magnificent screaming ARP Odyssey based solo.
Available on the FOTONOVELA album 'Mistakes Are Good'
via Undo Records
---
MARSHEAUX Exit (2009)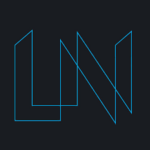 'Lumineux Noir' was a wondrous body of work where MARSHEAUX's wispy synthpop went up several notches. It led some observers to cite MARSHEAUX as the female DEPECHE MODE. Indeed, released at the same time as the Basildon Boys' lame 'Sounds Of The Universe', 'Lumineux Noir' was far superior too. 'Breakthrough' and 'Radial Emotion' put them with LADYTRON and LITTLE BOOTS respectively, while the tense drama of 'Exit' was possibly one of the best songs DEPECHE MODE never recorded.
Available on the MARSHEAUX album 'Lumineux Noir'
via Undo Records
---
TAREQ featuring MARSHEAUX Playboy (2010)
Greco Jordanian Tareq Souleiman was previously the lead singer of TECH SOIR and his vocal timbres made him electro's answer to INXS' Michael Hutchence, as his cover of 'Need You Tonight' proved. Part of the Undo stable, collaboration with MARSHEAUX was inevitable. While Marianthi and Sophie remixed 'Mosquito', the best track on TAREQ's debut album, he covered 'Playboy' from 'E-Bay Queen' in a more club-focused style and roped in the girls to sing on it too.
Available on the TAREQ album 'Cocoon' via Undo Records
---
MARSHEAUX Eyes Without A Face (2011)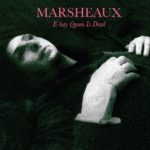 MARSHEAUX are known for their charmingly delightful covers which have included Synth Britannia staples such as 'New Life' and 'Empire State human'. Originally part of a Buffet Libre covers compilation 'Peace' in aid of Warchild, they took BILLY IDOL's 'Eyes Without A Face' into elegant synthpop territory away from its MTV friendly new wave roots. The "Les yeux sans visage" refrain was suitably seductive, while the lead vocals were more sophisticated compared with the former William Broad's pub singer antics.
Available on the MARSHEAUX album 'E-Bay Queen Is Dead'
via Undo Records
---
ROLLA SCAPE featuring MARSHEAUX Heaven Is Real (2011)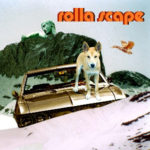 MARSHEAUX found themselves in funky disco mode on this guest appearance with Constantinos Barbopoulos aka ROLLA SCAPE, an Australian electronic musician based in Athens. While the wispy vocal tones of Marianthi Melitsi were unmistakable, the repetitive and sparse dance flavour of 'Heaven Is Real', augmented by rhythm guitar, was quite unlike anything else in the MARSHEAUX catalogue and an enjoyable diversion away from their more obvious synthpop template.
Available on the ROLLA SCAPE album 'Rolla Scape' via Undo Records
---
MARSHEAUX Do You Feel? (2012)
The interim rarities collection 'E-Bay Queen Is Dead' gathered covers and unreleased tracks from the MARSHEAUX archives. Although the artwork paid tribute to THE SMITHS' 'The Queen Is Dead', the concept probably had more in common with the Manchester foursome's 'Hatful Of Hollow'. 'Do You Feel?' had been recorded for their fourth album 'Inhale', but was ultimately not included and revealed the high standards of MARSHEAUX's output, even when it was passed over.
Available on the MARSHEAUX album 'E-Bay Queen Is Dead'
via Undo Records
---
SAORI YUKI Yoake No Scat – Marsheaux remix (2012)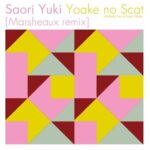 MARSHEAUX added to their vast remix portfolio with a terrific reworking of a track dating back to 1969 by veteran Japanese classic singer SAORI YUKI. Adding infectious melodic synth hooks and melancholic washes of sound to the more organic re-recording with PINK MARTINI from 2011, this brought Kayokyoku, a style of Japanese music that absorbed various Western styles like jazz and lounge, into the electro age with a 'Melody For a New Dawn'.
Available on the SAORI YUKI single 'Yoake No Scat'
via EMI Japan
---
MARSHEAUX When We Were Young (2012)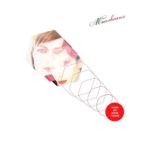 An Anglo-German collective of creative minds from various artistic fields, TWINS NATALIA's debut single 'When We Were Young' was declared by MARSHEAUX to be their favourite song of 2008. So the two parties got together for a special split 'AA' sided 7 inch single. Marianthi and Sophie sweetly covered 'When We Were Young' while in reciprocation, TWINS NATALIA added a more Teutonic demeanour and fiercer euro-rhythmics to their take on 'Radial Emotion' from 'Lumineux Noir'.
Available on the MARSHEAUX / TWINS NATALIA single 'When We Were Young' / 'Radial Emotion' via Undo Records / Anna Logue Records
---
MARSHEAUX Come On Now (2013)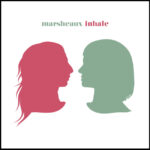 MARSHEAUX's fourth long player 'Inhale' had been a long time coming. And when it appeared, the Greek financial crisis had obviously loomed heavy over its making, resulting in more moodier, mid-tempo numbers taking centre stage. However, the feisty 'Come On Now' was as an enjoyable, fully realised cousin of BLONDIE's 'Call Me' that was the most immediate song on the album. By now, MARSHEAUX had become Undo Records' most prized asset, and 'Inhale' became the label's biggest seller to date.
Available on the MARSHEAUX album 'Inhale'
via Undo Records
---
FOTONOVELA featuring MARSHEAUX Close To Me (2013)
A new FOTONOVELA album would not have been complete without the voices of MARSHEAUX given how the two parties are joined at the hip. While one of the two featured tracks 'Big Black Hole' didn't veer too far from the usual MARSHEAUX formula, 'Close To Me' delivered some enigmatic pop in a surprisingly higher register than Marianthi and Sophie had reached before, recalling SANDRA's 'Maria Magdalena'. The excellent album also featured James New, Sarah Blackwood and Bethany Cassidy.
Available on the FOTONOVELA album 'A Ton Of Love'
via Undo Records
---
MARSHEAUX Full Attack (2014)
Appropriately, MARSHEAUX's career compilation 'Odyssey' traced their decade long journey between 2004 to 2014. Released on the prestigious Les Disques Du Crépuscule label and compiled by James Nice, 'Odyssey' included a previously unissued song 'Full Attack' which was held together by a percussive barrage that had not been present in the girls' work previously. "'Full Attack' is about people that use and manipulate others, and keep doing it till there is nothing left" they said.
Available on the MARSHEAUX album 'Odyssey'
via Les Disques du Crépuscule
---
MARSHEAUX My Secret Garden – Extended version (2015)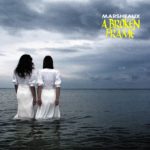 Having previously recorded 'New Life' for the 'Around The World & Back: A Greek Tribute To Depeche Mode' album released on Undo, a project covering the whole of 'A Broken Frame' was not entirely surprising. The stand-out track 'My Secret Garden' contained brilliant drum patterns and a fresh approach to the signature DM sounds. The tune came over as a LADYTRON-like extravaganza, filled with a sex appeal and sensuality that was quite unlike the original. The extended version was even better!
Available on the MARSHEAUX album 'A Broken Frame'
via Undo Records
---
MARSHEAUX Burning (2016)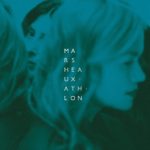 Recorded in London and Athens, a new approach saw MARSHEAUX's trademark wispiness blended in with a subtle tone of aggression. The opening song on their fifth album proper 'Burning' was a harsh, sexy and in your face, with clear references to darker electronica forms while still maintaining the essence of a good tune. The soft voices mesmerised within the heavier synth havoc and looming percussive mantras.
Available on the MARSHEAUX album 'Ath.Lon'
via Undo Records
---
MARSHEAUX Suffer The Children (2016)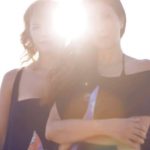 A cover of TEARS FOR FEARS' first single 'Suffer the Children', it was a song written by Roland Orzabal that reflected the Bath duo's interests in Arthur Janov's Primal Scream therapy to deal with the traumas of childhood. The mood of the innocent childlike vocal refrain in the bridge of the original was maintained throughout MARSHEAUX's version. The contrast of a wispy female lead vocal paradoxically added extra resonance to the weighty poetry of 'Suffer The Children'.
Available on the MARSHEAUX digital single 'Suffer The Children'
via Undo Records
---
MARSHEAUX play Epic Studios, 114 Magdalen Street, Norwich, Norfolk NR3 1JD on SATURDAY 5TH NOVEMBER 2016 – also appearing will be KID KASIO + RODNEY CROMWELL
---
Text by Chi Ming Lai
8th September 2016, updated 9th February 2021