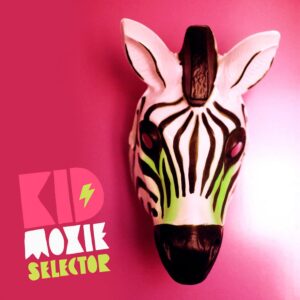 As KID MOXIE, Elena Charbila has been on a most interesting musical journey, one which has included collaborating with Angelo Badalamenti on an updated version of 'The Mysteries Of Love', the 'Blue Velvet' song best known in its original form voiced by Julee Cruise.
Her most recent release was the soundtrack to Greek film 'Not To Be Unpleasant, But We Need to Have a Serious Talk' which was released on the Grammy-nominated label Lakeshore Records, home to the physical editions of 'Drive' and 'Stranger Things'.
While KID MOXIE achieved a breakthrough with the '1888' album in 2014, it all started slightly less conspiciously. Having released a debut EP entitled 'Human Stereo' in 2007, a long playing statement was made in 2009 with 'Selector'. At the time of its making, KID MOXIE was a duo comprising of Elena Charbila and Erica Zabowski.
Elena Charbila kindly chatted about how her journey began on 'Selector' and may have led her down the artistic paths she follows today…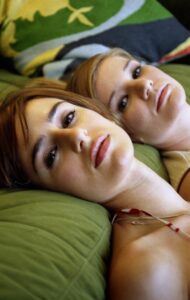 Despite 'Selector' being the debut KID MOXIE album, it sounds quite transitional now?
11 years have passed and I am a different person and that is reflected musically on this album. It's like growing up and seeing your development through your music, like a public diary. Any song you write, any album you make, there's a public diary of where you're at during each stage of your life.
So like reading your diary from high school, you cringe! But it also rings true to you because you remember how you feel and what you wanted to sound like. Looking back at 'Selector', I wasn't as honest and free with myself as I feel now. I was not as mature or savvy, instrumentation or production-wise *laughs*
When I was in my 20s, I was mostly going out for style rather than substance. I was thinking "I'm going to make an electropop record, it's supposed to sound like this and I'm supposed to sing it like Madonna in her early years etc!"… it was like Paris Hilton in the nid-2000s or whatever! *laughs*
So it was very nubile and adolescent, it was very immature, the way I sounded, the way I wrote! But there was something endearing because it's like looking at an old picture of yourself when you're a kid, so this album was more "Baby Moxie"!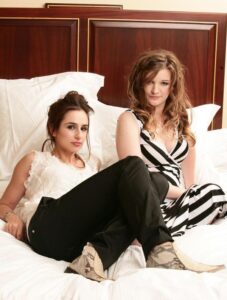 Creatively, what would have been the dynamic within KID MOXIE at this point?
I had just moved to my first apartment in LA and my roommate Erica who was a violinist and I found in the LA Times, we started KID MOXIE together, she was a big fan of electropop. We were composing and rehearsing in our living room but then, we were later evicted for making too much noise!
We had a garage space so we were practicing there. It was so hot in LA that summer that we even had naked practice days on Tuesdays, wearing bikinis! It was like a sauna in there, 110 degrees in that garage.
We had a producer walk by while he was getting coffee and he heard what we were doing. He thought we were interesting and fresh so invited us to record in his studio on the same block. So that's how the 'Selector' album started! We were practicing pretty much naked and doing this kind of obnoxious electropop and this producer saw something in that! *laughs*
At that point, I was writing most of the music and Erica was co-writing the lyrics with me. But even then, although I enjoyed being in the band set-up, I still knew that I was a bit of a Billy Corgan, I liked to do things my way and wanted full control. I was never comfortable sharing the creative experience of making music, minus having a producer to make things sound better sonically. So the process back then was very different because there were more people involved and you can hear it. We were very young and trying to get into the new scene in LA at the time, which was very bleepy and poppy and fun.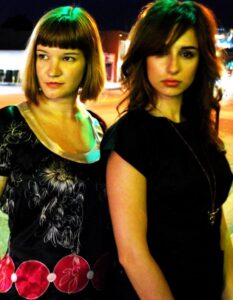 What sort of music would you have been listening to as inspiration?
I was always listening to a lot of GOLDFRAPP but by no means did I sound like that, but I loved that style. I also listened to BELLE & SEBASTIAN, French pop and a big fan of DAFT PUNK and AIR.
Plus just though my contacts in Greece, I loved MARSHEAUX and close to them as we were friends and I felt sonically that I belonged in this group. Inevitably, if you feel you belong somewhere, you emulate it. So the Undo Records crowd of the late 2000s was very much shaping my sound.
Around this time, you recorded a cover of Madonna' 'Burning Up' which is not on the album and has never been released, is this an indicator of your mindset during this stage of KID MOXIE?
For sure, I was listening to a lot of early Madonna… as she got older, her music got better I felt and her voice… she never had an excellent voice but the songs were great. But in the early 80s, stuff like 'Burning Up' and 'Borderline' was a massive influence, probably more than anybody. I was like "Hey! I think I can sound like that!", the spoilt girly type of thing, I thought I could do that…
One thing that has been a continuing artistic thread is vocalising en Francais which you did on 'French Disco In Space', had done before on 'Ma Romance D'Hiver' on your first EP and did later on 'Lacuna' from '1888'?
I studied French at school and got quite fluent; being Greek, you have to learn more than your own language. English is a given when you are in first grade, and most Greek kids take another language and it's either French or German.
I think it's the most beautiful language, I like the sound of it and it sounds great in a song format. It's so crisp and has such a beautiful ring to it. 'Ma Romance D'Hiver' and 'French Disco In Space' which actually has a French rap, both got on major TV shows.
'Ma Romance D'Hiver' was used in 'The L-Word' and 'French Disco In Space' got in the film 'Yoga Hosers' which was directed by Kevin Smith and produced by Johnny Depp, it stars their daughters. So these early songs, they got on big media productions.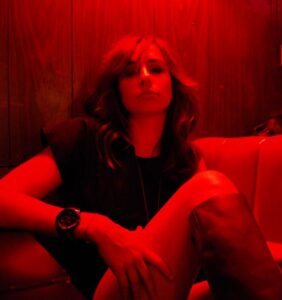 'What Kind Of Girl' is an interesting track and has a gothic resonance, like a girly IAMX in retrospect?
I was very happy with that song because even then, without really knowing it, there was composition… it had violins and things that go beyond a pop format, it intrigued me. I was feeling really good that I could write something that included real instruments and bring it into a pop format. I would explore this more years later, bringing me to this point where I'm doing a lot more scores and stuff for film and TV. So that was kind of like the seed in an odd way.
I love classical stuff, I come from a classical background having been trained on piano as a kid, so it was refreshing to have done this little something among all the bleepy girly attitude, it felt more redeeming.
The title song and 'Medium Pleasure' were quite poppy, but they ended up much better when remixed by FOTONOVELA and MARSHEAUX respectively, have you any thoughts on that?
They were… the original production was way better than I could have achieved but FOTONOVELA and MARSHEAUX put them both in a new light and better than the originals.
In my next album '1888', you can hear the different sonically because I introduced different producers for different tracks that made them sound so much more solid and crisp than on 'Selector', so I definitely learnt that lesson from these two remixes. Also 'Tsunami' was remixed by Serafim Tsotsonis and got a ton of airplay, and still gets played on the biggest Greek radio station as their "signal".
'Tsunami' was an attempt at the more atmospheric music with that 'Twin Peaks' feel that came later with KID MOXIE and the backing sounds like OMD. It's quite naïve but do you now see it as an indicator of where you were heading?
I think yes, you're spot on. Again as with 'What Kind Of Girl', 'Tsunami' is a favourite from this record as it create atmosphere with very few words. All the other songs were verse-chorus-verse-chorus, this one was ethereal vocals maybe for the first time and more sparse; it became my signature later on. It much more what I'm about now. I wrote it on my MicroKorg in my bedroom and it felt like an accomplishment at the time. It came out of a dream and I basically reiterated the dream. But that remix was much better and that's why it became a radio hit in Greece.
'Neon Tears' and 'Dream In Pale Blue' are moody tracks that also perhaps signal '1888'… it would appear that the rhythmic side needed work, it this as a result of limited equipment and experience?
I don't feel that was the case for 'Dream In Pale Blue'. Serafim Tsotsonis who remixed 'Tsunami' only worked on that one track and did the rhythm section, that still hits a chord with me, I am still feeling that one. But 'Neon Tears'? Absolutely, that's a very loose song, it could have been done way better like a lot of stuff on this album, I do cringe at a lot of aspects of 'Neon Tears'.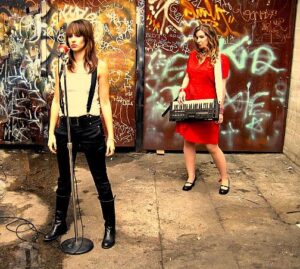 'Polytechnic' sees you sounding like THE B-52s, was this conscious?
Oh God! It might have been! It was just two chicks being arsey and wordy, giving attitude!
It had that 60s pop vibe going on and to me, it sounds so hollow right now, it's like my diary at 15! *laughs*
Were you're still figuring out how best to use your voice?
Yes, I was still working out what to do with my voice; I was working with a male producer and perhaps looking back subconsciously, there was some kind of male-pleasing aspect to my singing at the time although I wasn't about that. The dudes I was hanging around with liked that so I kind of went with it. The producer though the girly thing was very appealing. But honestly, I was trying to figure out my voice, but I don't I think I did during that album! I died trying! *laughs*
That airy continental vocal style you're known for now is nowhere on this album, so how did that eventually emerge?
There a tiny bit of it on 'Tsunami' as a precursor… I worked on a lot of different projects for various Greek producers; I tested myself on their tracks. That liberated me from fabricating this persona that I had in mind that I should be following or doing. So I decided I would follow their music and see how my voice translated onto other people's stuff. And eventually, I brought it into my own sound and crystallised it because it has sounded so good then. That other work shaped my new voice on '1888'.
So was 'The Bailor', which came a few years after 'Selector', the breakthrough song where you found your sound?
Yes, I love that tune, it still speaks to me. I'm proud of it and feel 'that's' my voice.
And here we are today, do you see 'Selector' as an important album to your development as an artist or would you have preferred it not to have been released in hindsight?
I'm going to reply to this in a very personal way! I look on this like any relationship I've had that I'm not happy with. I've made mistakes in my life and I'm not one of those people who is proud of everything I've done and wouldn't change a thing, like why? If I had the power to go back in time, I would have changed a few things. But it did feel right at the time…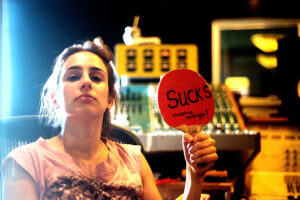 I wish it was sonically better, I wish I had found my voice earlier and done a different job with it. At the same time, I look on it endearingly (like at my teen diary) even though I cringe. It's like my first crush, my first time.
It was my first attack in a record and a production, I messed so many things up. I wish I could have changed them but I can't so I look as it now as an endearing time of my life.
---
ELECTRICITYCLUB.CO.UK gives its grateful thanks to Elena Charbila
'Selector' is available as a name your price download direct from https://kidmoxie.bandcamp.com/album/selector-2
http://www.facebook.com/kidmoxie
https://twitter.com/KIDMOXIEMUSIC
https://www.instagram.com/kid.moxie/
---
Text and Interview by Chi Ming Lai
30th May 2020