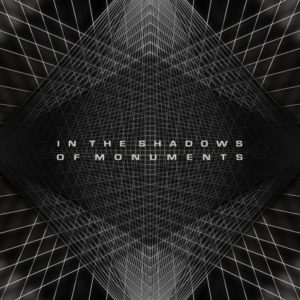 Larger than life on and off stage, the Hastings based duo VILE ELECTRODES are out to make it big with their second album 'In The Shadows Of Monuments'.
VILE ELECTRODES are the fabulously quirky, alternative fetish fashion lover Anais Neon, whose nonchalant vocals can drill holes in listeners' heads, joined by the self-confessed analogue synth geek Martin Swan, who is at his best while surrounded by a hundred vintage synthesisers. Having started their musical journey by supporting OMD on their German tour in 2013, as well as appearances alongside JOHN FOXX, MICHAEL ROTHER and MESH, VILE ELECTRODES managed to scoop two Schallwelle awards for their first opus 'The future through a lens'
.
Actively focusing on their craft, Martin and Anais have taken time to contribute on various BBC Radio3 recordings, as well as providing an impromptu performance using an advanced pre-release version of the new budget Deepmind12 analogue polysynth by Behringer at 'Modular Meets Leeds'.
Punctuating their growing prowess with carefully produced EPs and limiting their life performances during 2016, the pair have now unleashed the long awaited follow-up to their award winning debut.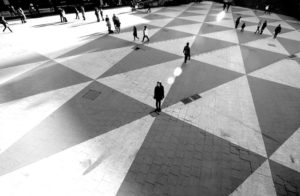 'In The Shadows Of Monuments Part One' opens the epic, with exquisite vocals by Neon, at times sounding like a younger, hungrier version of BJÖRK. A darker, less poppy than anything previously created, the song creates an art form à la GAZELLE TWIN.
Announcing the grown-up era for VILE ELECTRODES, it is a marvellous opening with immaculate analogue synths, stimulating a multitude of senses.
'The Red Bead' follows, accented by haunted vocals and a plethora of electronic soundscapes. 'As Gravity Ends', a sci-fi inspired track shifts the tension slightly, before 'Evidence' enters with an off-beat rhythm and urgency of the synthesis. Martin Swan's superiority of production beams through this mid-tempo track, sharply descending onto dramatic, heavily arpeggiated 'As We Turn To Rust'.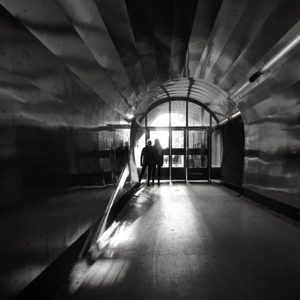 For those into their minimalism, 'Into Great Silence' offers the perfect solitary retreat, lyrically accented with religious connotations and loaded with peculiar-sounding effects, making the production unusually atmospheric, without being overpowering and brutal.
'Like Satellites' continues the stripped feel, proving that less is more and urging the listener to stretch their imagination, just like a good book would.
Strategically placed instrumentation and dainty sounds represent the greatness of this piece, which would lend itself beautifully as a film score.
The "sharp" 'Incision' injects tempo into proceeding, "sharpening your senses" to oblivion, incrementally inducing mantra like connotations. 'Stranger To Myself' follows its predecessors footsteps, including further feeling of necessity, leading onto 'Last Of The Lovers', where Anais Neon is joined by choirs and chants, with Martin Swan's provision of capable synth to break through the track's cathedral textures.
The closing 'The Vanished Past' wraps up the opus, with scarce lyrics underlying the monochromatic minimalist feel of the album. Calming electronica of cinematic quality cannot escape the drama of this piece. It's as soothing as it is alarming. "Not everything is as it seems" cries Neon, amongst the unnerving electronica of Swan's masterdom. As a forlorn stranger joins in, it all starts to sound like a lost OMD epic; but this is not entirely surprising when that stranger appears to be a certain George Andrew McCluskey!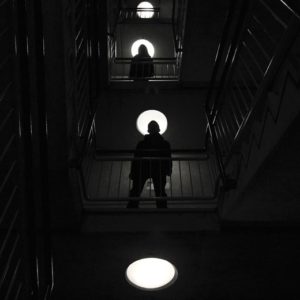 If having to take a break from gigging and concentrating on writing has meant achieving greatness, then VILE ELECTRODES have definitely done it with 'In The Shadows Of Monuments'
. The second album syndrome certainly doesn't apply here. Anais Neon and Martin Swan have elevated their band into an art form, which raises them well above the sea of mediocrity that is the UK's hit-and-miss electronica scene.
Any self-respecting (analogue) synth lover needs to have this piece in their collection. The only problem is that you may, simply, love it too much.
---
'In The Shadows Of Monuments'
is released as a 2CD set with tracks + remixes from the 'Captive In Symmetry', 'Stark White' and 'Black Light' EPs in regular and special edition hand cast concrete sleeved formats as well as a standard single CD, all available from http://vileelectrodes.bigcartel.com/
Download version available via http://vileelectrodes.bandcamp.com/album/in-the-shadows-of-monuments
http://www.vileelectrodes.com/
http://www.facebook.com/vileelectrodes
http://vileelectrodes.blogspot.com/
---
Text by Monika Izabela Trigwell
16th September 2016