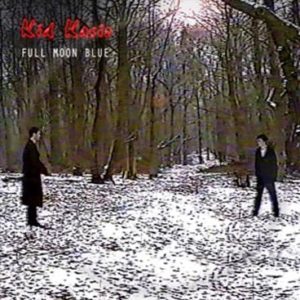 Formerly of THE MODERN and later MATINEE CLUB, Nathan Cooper debuted as KID KASIO with the long player 'Kasiotone' in 2012. And with his latest single 'Full Moon Blue', he simply couldn't get any Wilder…
Performing alongside MARSHEAUX and RODNEY CROMWELL on SATURDAY 5TH NOVEMBER 2016 in Norwich, Cooper is a man who is plainly honest about where his influences lie. His love of electronic acts such as HOWARD JONES and OMD permeates throughout his work. His most recent album 'Sit & Wait'
is a fine collection of playful synthpop that is unafraid to nails its colours to the mast in a totally unpretentious manner.
Now imagine if DEPECHE MODE were fronted by Nik Kershaw instead of Dave Gahan? With 'Full Moon Blue'
, this musical fantasy is fully realised with a clever interpolation of 'Two Minute Warning', one of the songwriting contributions from Alan Wilder on 'Construction Time Again'. The recording had originally started life as a cover version, but mutated into its own entity.
'Full Moon Blue' comes accompanied with a promo video sourced from home movie footage; "It's compiled from footage of an old VHS tape a friend found in a box in his mum's attic. It's a film we made on camcorder when we were 18. A kung fu film" said Cooper, "I've just kind of thrown it together, but it kind of works. It's certainly not a video I would have planned for the song, but I think that's better sometimes. I was keen not to spend 2 years making a video this time around, like I did with 'The Kodo Song' and this came with a ready-made back story, so I thought 'why not?'".
Having previously worked with the likes of Stephen Hague who produced ERASURE, NEW ORDER and PET SHOP BOYS, KID KASIO has a quality background.
He said to ELECTRICITYCLUB.CO.UK in 2015: "Whether I release it in 2013 or 2016, it's still going to sound like 1985!" – in the case of 'Full Moon Blue', KID KASIO parties like its 1983!
---
'Full Moon Blue'
is released as a download single and also available on the album 'Sit & Wait'
KID KASIO plays Epic Studios, 114 Magdalen Street, Norwich, Norfolk NR3 1JD on SATURDAY 5TH NOVEMBER 2016 at– also appearing will be MARSHEAUX + RODNEY CROMWELL with DJ James Nice of Les Disques du Crépuscule
https://www.facebook.com/kidkasio/
---
Text by Chi Ming Lai
15th September 2016