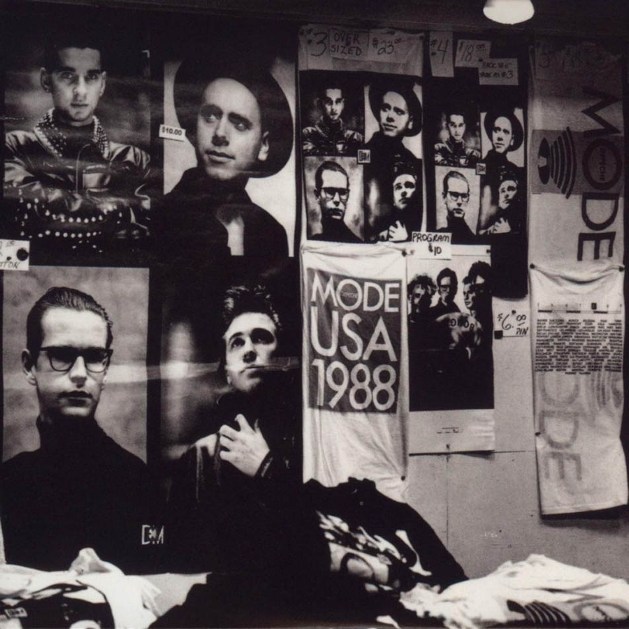 It was the document that put DEPECHE MODE into the big league. But while '101' affirmed the Basildon boys' status into Trans-Atlantic Stadium Monsters, it also symbolised the end of the synth wars…
The battle of Synth Britannia had now been won but with no fight left, the journey had come to an end. And at the post-Live Aid roundabout, DEPECHE MODE had to take a different course to survive and maintain their new found prosperity.
So they got rockier and bluesy to fatten the sound for those huge venues while Dave Gahan's stage gestures got more provocative and more physical as he had the cover the width of the stage. Even Fletch's arms aloft gestures became a key part of the bigger show. This ultimately culminated with the pseudo-rock explosion of 'Songs Of Faith & Devotion' and its corresponding self-destructive tour. But all that was to come later…
Released 25 years ago in the UK on 13th March 1989, the '101' double album and accompanying film directed by acclaimed filmmaker D A Pennebaker was aimed squarely at telling onlookers-at-large that DEPECHE MODE were no longer those fey synthpoppers in need of a good tailor, but a band with the potential to do battle with U2, who coincidentally had their own film 'Rattle & Hum' out in the same year.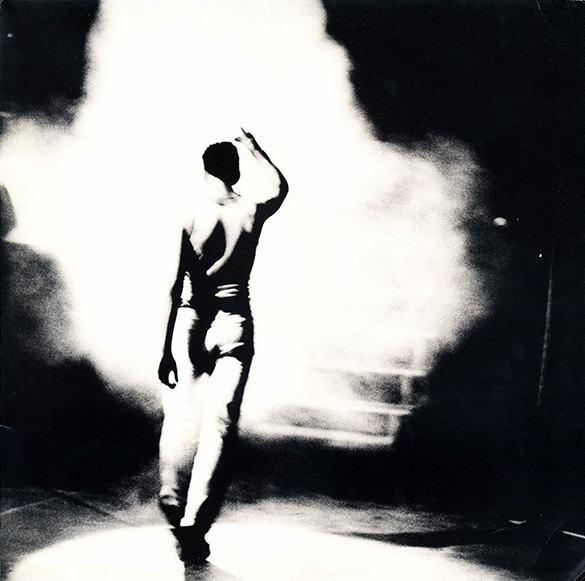 While a popular live draw stateside in 1988, DEPECHE MODE had only previously headlined arena sized venues on America's two coasts. The popularity of British post-punk acts among white American teenagers thanks to the Anglophile soundtracks of John Hughes films like 'The Breakfast Club', 'Pretty In Pink' and 'Some Kind Of Wonderful' was at an all time high. SIMPLE MINDS had nailed a US No1 with 'Don't You (Forget About Me)' from 'The Breakfast Club' while OMD had hit the Top5 with 'If You Leave' from 'Pretty In Pink'.
Indeed, Depeche's American label Sire had attempted to relaunch them in this Hollywood centred environment by having their B-side 'But Not Tonight' as the theme to a largely forgotten teen movie 'Modern Girls'. The song flopped which proved to be a blessing, especially when looking at the later career trajectories of SIMPLE MINDS and OMD following their initial post-John Hughes flushes of success…
To capitalise on the momentum of increasing US album sales of the album 'Music For The Masses' and their most successful American tour yet, they elected to play a 'Concert for The Masses' at the 70,000 capacity Pasadena Rose Bowl on 18th June 1988. The 101st and final show of their 'Music For The Masses' tour, it was a risky strategy at the time as the band had achieved only one Top 40 single 'People Are People' in the US.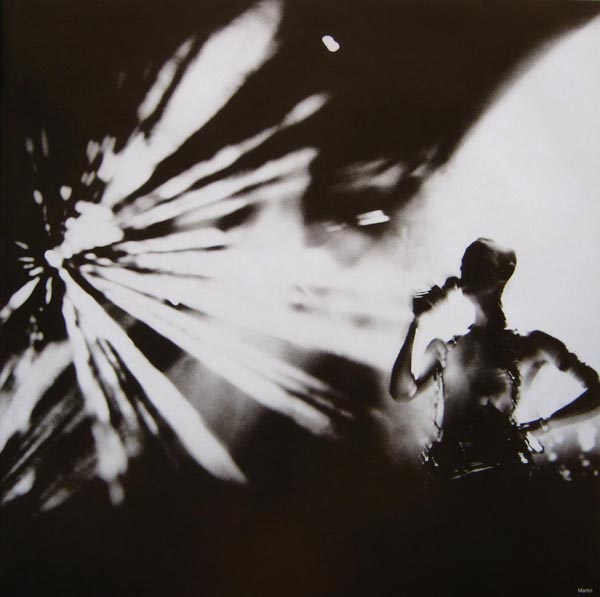 But the buzz around the band, especially from the listenership of the influential college friendly radio stations such as KROQ indicated that DM's newly Devoted American fanbase would make the special trip to witness what was effectively their own musical Superbowl.
Recorded around backstage antics and a road trip following a group of fans on their way to the show inter-dispersed with concert footage from various shows, it was to establish DEPECHE MODE as a credible worldwide force, particularly with dissenters in the UK press who had always been resistant and cynical to their worldwide success.
The result of the release of '101' was that even neutrals in the UK, who had bought the odd album or single in the past, were astonished to find synthpop classics such as 'Everything Counts' were now being aired to the masses in all the world's stadiums… at least that was the perception. Jim Kerr of SIMPLE MINDS was quite bemused at their newly acquired status, retrospectively commenting to Word Magazine in 2006: "Who would've thought Depeche Mode plink-plonking away would play in stadiums?"
As a profile building exercise for DEPECHE MODE, '101' was a big success but its legacy also had an effect on Mode's contemporaries. Rather than opening doors, '101' inadvertently shut them to others. Having been Vince Clarke's original inspiration to take up the synthesizer and eventually launch DEPECHE MODE, main support act OMD could only watch in awe as their apprentices wowed the massive crowds night after night.
It must have been demoralising to Andy McCluskey and Paul Humphreys despite their own, not unsubstantial success in Europe. But in the rush to break America, OMD may have had a Top 5 US single to their name, but they could not (and have never been able to) attract the Devoted loyalty which Messrs Gahan, Gore, Fletcher and Wilder had steadily built and enjoyed. They could only go one way after this and looking back, their split in 1989 was predictable!
Supporting proceedings that night in Pasadena was Thomas Dolby who also had to rethink his own artistic aspirations. Despite a Top5 US hit single to his name, he had his own struggles with pressure for more hits from his various record labels. As a solo act, he could not split with himself but after his 1992 album 'Astronauts & Heretics', he effectively retired from the music industry.
Working in Silicon Valley on music integration software for the brave new world of the internet with great success and developing the polyphonic ringtone engine for Nokia along the way, he only returned to music in 2006 and supported DEPECHE MODE again at London's Hyde Park that same year.
By the time of the more organic but still primarily electro album 'Violator', DEPECHE MODE had overtaken all their peers, and this symbolism was highlighted when they played at Dodgers Stadium in August 1990 to conclude the North American leg of the 'World Violation' tour. The support act were ELECTRONIC, a supergroup made up of refugees from NEW ORDER and THE SMITHS plus both PET SHOP BOYS thrown in for good measure! Messrs Gahan, Gore, Fletcher and Wilder had now become the UK independent scene's biggest post-punk success story.
One of the protagonists at the Pasadena Rose Bowl on 18th June 1988 was of course, Alan Wilder. In an exclusive interview for its 25th Anniversary, he kindly answered some questions about '101' and discussed its legacy…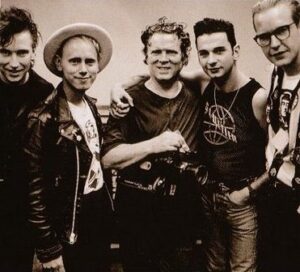 In hindsight, the '101' film, while good for DEPECHE MODE's profile at the time, appeared to focus on some of the wrong things ie there's too much footage of the fans on the bus, not enough actual music?
Even though Don Pennebaker had previously made music concert films (David Bowie at Hammersmith Odeon for example), he is primarily a documentary filmmaker.
This was appealing to us although it is debatable whether the pre-determined set-up of the group of bus people (collected and auditioned a la 'Big Brother') is not an inferior form, as opposed to entering an already existing situation and truly being a fly on the wall. After all, Reality television has little to do with reality.
Once commissioned and given a fairly free reign, Pennebaker looked at his options and decided to make a film about what he considered to be the most (perhaps the only) interesting factors of the DM phenomenon. The fact that Don had not really even heard of the group, let alone any of its music, gave him an outsider's perspective and he soon realised that he wasn't likely to glean any pearls of wisdom from the band members. As individuals, we were not deep-thinking angst-driven people with massive world insight. His decision to focus on the fans was probably the right one.
In its defence, it shouldn't be forgotten that we've all been saturated with the kind of voyeurism that Reality TV has spewed forth into our consciousness for more than two decades, but in 1987 this was an unusual and precarious approach. Nobody knew what would transpire or whether it would be of any interest at all.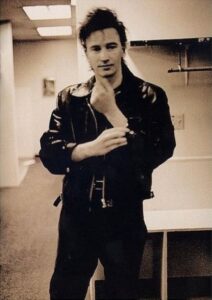 I'd go as far as to say the idea was somewhat groundbreaking as it clearly pre-dates all that MTV malarky which most people consider to be where the Reality craze got started. Also, the naivety and carefree exuberance with which the bus protagonists go about their adventures has a charm which could probably not be repeated today, given the knowing self-promoting instincts from most who take part in these ventures now, along with the predictable audience consumption, moral judgements and salacious anticipation of all things about to fall apart.
This kind of format has not only become hugely popular but also the centre of heated discussions about tabloidisation, media ethics, privacy and the representation of the real. At the time, I felt short-changed by '101' as I wanted the band itself to be explored more profoundly, preferably by someone who had knowledgeable insight into the music, our working practices and what we (albeit sometimes clumsily and naively) were generally trying to do.
Pennebaker didn't pretend to understand the band at all – he made no bones about that fact – but, with hindsight, he did manage to make a piece which says something about the era and I think, allied to the fact that it holds no pretentions (unlike some rock docs of the period – err… hummm… 'Rattle and Hum'), it stands the test of time. Having said that, I find the film at best curious rather than 'deep'.
The fanbase connection with the band appeared to be what was trying to be highlighted on '101'. For example, the crowd has been mixed in very loudly on the live footage and audio whereas a good number of live albums of the time would neutralise the audience noise?
I feel to highlight the fanbase connection was fair enough. After all, this is the real crux of the DM fascination – how "four Walters from Basildon" (to quote an early single review) could form the source of nothing short of a worldwide phenomenon, the nature of which is quite perplexing, way out of proportion for a pop band – a strange, bizarre and enduring religion which has been demonstrated again more recently in Jeremy Deller's film 'The Posters Came From The Walls'.
Is that right about the crowd levels? I haven't listened for a long time to the album but the film soundtrack may be even more that way. Again, I haven't watched the film for many years and it's possible that the Pennebaker crew had some extra control over that music-to-crowd balance. My memory though is that we controlled the music mixes and so the album balance would have been the decision of those of us who mixed the tracks.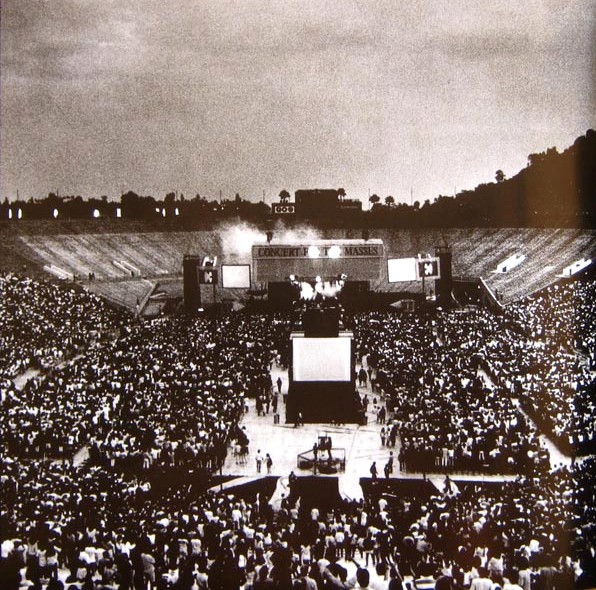 '101' symbolises DEPECHE MODE's entry to the wider international stage but perhaps also, the end of Synth Britannia as of those support acts who played that day in Pasadena, OMD split up soon after while Thomas Dolby retired from the music industry a few years later. It was as if DM had set a bar that their peers couldn't hope to reach… any thoughts on that?
I'm not sure that DM's 'success' would have had any negative bearing on other electronic artists. If anything, the expectation of positive reverberations and opening of doors would have been more likely. A lot of it was luck for DM though, coupled with plenty of donkey work touring in the US leading up to the big (and unexpected to such a degree) explosion. It seems the timing was right for that kind of music where genres were being choked by mainstream rock radio as a huge cult level of other music listeners were being shafted.
We benefited from a kind of breaking of the dam which finally gave way, resulting in those stations almost being forced into recognising and playing the newer UK artists of the time – such as The Cure, The Smiths, New Order, DM and many other groups which had been, up until then, considered 'alternative' or 'cult' in the states. I can't hazard a guess about the examples you cite or speculate as to why some acts may have failed to capitalise. I do know that there is never a correlation which one should assume between the quality of a band / artist compared to the amount of people who turn up to their concerts. It's a funny old game…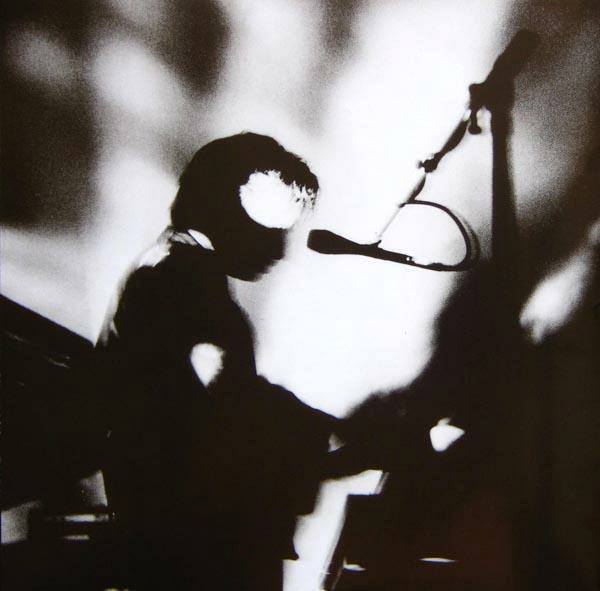 With that in mind and with DEPECHE MODE established publically with '101' as a 'stadium act', had the development into a more organic, rock / bluesy sound to suit those types of venues been a conscious move in order for DM to maintain that position with 'Violator' and 'Songs Of Faith & Devotion'?
Subconsciously there may be an element due to the nature of the venues and larger (more distant) crowds needing to be serviced. Dave, I'm sure, would have welcomed the more 'rocky' approach to release and enhance his own stage performances. But 'Violator' is still a very electronic album when you listen to it now, and its less electronic elements, rather than derived from stadium experiences, were mainly influenced by the wave of hip hop and rap music which permeated the scene at that time. The methods of those artists employing more left-field sampling techniques left a significant mark on both myself and Flood.
We were attracted to the inherent feel of played drum loops for example rather than precisely programmed rhythm from machines or individual drum samples. This 'looping' was taken much further with 'SOFAD' of course – an album style conceived mainly because we didn't want to just repeat 'Violator' despite its success. That would have been seen as stagnation and some of us at least were very wary of that.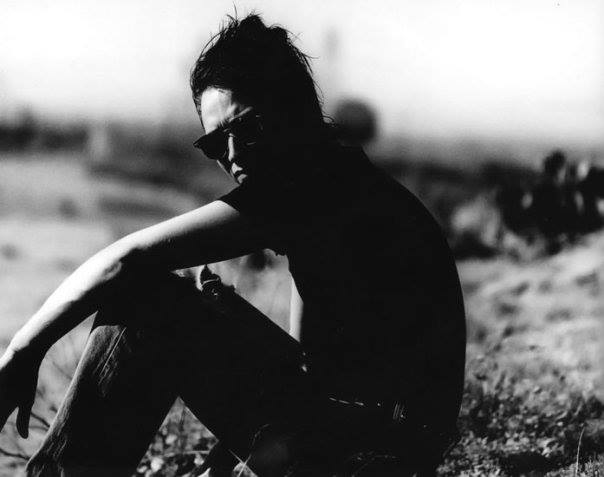 You did not appear in the interviews or commentary for the bonus features on the '101' DVD reissue, why was that?
A surprising amount of pressure was put on me to take part in the 'director's commentary' idea, mainly from Daniel Miller and Pennebaker himself. But I didn't feel I had some exciting anecdotes or anything particularly insightful to add for the reissue. I've never enjoyed the commentary concept – frequently empty and often unnecessarily demystifying (I like to retain something for the imagination). The '101' film is not exactly complicated and doesn't contain any technical issues which needed explaining either. It speaks for itself.
Even though, on paper, the idea of a group and director 'talkover' maybe could have worked – i.e. jogging each other's memories etc – I just knew that putting four rock band members together in a room to randomly comment would result in silly giggling, talking over each other and the spouting of mainly nonsense. And that filled me with dread.
---
ELECTRICITYCLUB.CO.UK gives its sincerest thanks to Alan Wilder
The DEPECHE MODE '101'
 film and uninterrupted Pasadena Rose Bowl concert highlights are available as a 2DVD package via Mute Records. The '101' 2CD live album is still available
For information on Alan Wilder's RECOIL and his other projects, please visit http://blog.recoil.co.uk/
DEPECHE MODE's own recollections of that June day in Pasadena can be found at http://archives.depechemode.com/specials/june_18_1988.html
---
Text and Interview by Chi Ming Lai
Photos by Anton Corbijn
13th March 2014