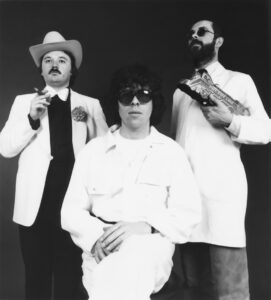 On paper it shouldn't have worked; a funereal paced reworking of the song that heralded the birth of rock 'n' roll smothered in vocoder. But TELEX always had an eccentric sense of irony about them.
Their cover of 'Rock Around The Clock' caused much head scratching when it entered the UK Top 40 singles chart in the summer of 1979, although one person listening was undoubtedly Daniel Miller who borrowed the concept for SILICON TEENS and their only album 'Music For Parties'. So it is no big surprise that the Belgian trio are to have their back catalogue reissued by Mute Records, beginning with a compilation 'This Is TELEX'
which bizarrely omits their biggest UK hit!
TELEX began their account in 1978 with another rock 'n' roll cover in 'Twist a Saint Tropez' made famous by LES CHATS SAUVAGES fronted by French singer Dick Rivers; their manifesto stated their intent of "making something really European, different from rock, without guitar". With their embracement of synths and a tongue-in-cheek championing of pop and disco, TELEX enjoyed baiting the ideologically-rigid rock press, especially with their cover versions.
This continued on their debut album 'Looking For Saint Tropez' released on Vogue Records. It included a KRAFTWERK styled reinterpretation of 'Ça Plane Pour Moi' by Belgian faux punk Plastic Bertrand who Lacksman had provided all the synth instrumentation for on his electro-disco favourite 'Tout Petit La Planète'. Other highlights on 'Looking for Saint Tropez' included the hypnotic 'Pakmowäst' with its treated robotic vocals and 'Something To Say' which didn't sound unlike one of YELLOW MAGIC ORCHESTRA's vocal tracks.
Like YELLOW MAGIC ORCHESTRA, TELEX were already experienced hands by the time of their formation; Marc Moulin was a jazz musician with two albums to his name and the boss of the Belgian FM radio station Radio Cité, while vocalist Michel Moers had been a member of prog folkies NUIT CALINE A LA VILLA MON REVE.
The most electronic inclined of the trio, Dan Lacksman was a noted studio engineer who had recorded three solo long players using his Moog IIIP modular system and provided the Roland System 100 sequence programming to the huge worldwide disco hit 'Born To Be Alive' by Patrick Hernandez, with whom a young Madonna was once a backing vocalist for.
But TELEX's wider breakthrough came via The Blitz Club and its resident DJ Rusty Egan who played the self-penned 'Looking For Saint Tropez' opener 'Moscow Diskow' alongside KRAFTWERK, YELLOW MAGIC ORCHESTRA and SPARKS to signal a new phase in electronic dance music that had been seeded by the Giorgio Moroder produced 'I Feel Love' in 1977.
Taking the Trans-Siberian Express to Moscow and adding a funkier groove compared with KRAFTWERK's 'Trans Europe Express' excursion, the track became a cult international club favourite and proved that TELEX were more than just a novelty covers act.
The second TELEX album 'Neurovision' in 1980 continued with the deadpan electronic covers and a gloriously metronomic take on 'Dance To The Music' showcased the trio's irreverent humour and penchant for mischievous subversion. But this mischief came to its head with their lampooning number 'Euro-Vision', which they actually entered for 1980 Eurovision Song Contest!
A bouncy electropop tune, 'Euro-Vision' had deliberately banal lyrics about the whole charade itself. With Lacksman's Moog modular behind them, the trio had even choreographed swaying and clap movements while Moulin cheekily mimed his MicroMoog polyphonically. The Situationist performance concluded with Moers stoically taking a photo of the bemused audience in The Hague.
With the sole intention of coming last, TELEX were sitting in that very position with just four juries to vote. But Portugal awarded "dix points" and TELEX ended up 17th out of 19 entries ahead of Morocco and Finland!
Featuring a song called 'Tour De France' three years before KRAFTWERK and a pulsing jazz tinged Schaffel in 'En Route Vers De Nouvelles Aventures', 'Neurovision' saw TELEX's profile raised although they declined to perform live. However, their sophisticated electronic sound would have been very difficult to replicate at the time, a situation which also saw SPARKS unable to perform their Giorgio Moroder produced albums 'No1 In Heaven' and 'Terminal Jive' in a concert setting.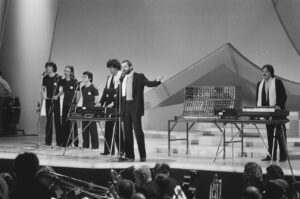 With many things in common, for TELEX's third album 'Sex' released on Ariola in 1981, the Mael brothers were invited to contribute lyrics to all of its nine tracks and begin a fruitful friendship.
Experiments in swing on 'Sigmund Freud's Party' displayed a sophisticated vintage musicality and the brilliant 'Haven't We Met Somewhere Before?' was the hit single that never was.
Meanwhile, like KRAFTWERK meeting YELLOW MAGIC ORCHESTRA, 'Brainwash' was quite obviously the blueprint for LCD SOUNDSYSTEM's 'Get Innocuous!' and 'Drama, Drama' reinterpreted the latent funk of Bowie's 'Fame' in synthesizer form.
However, the tracklisting was considerably revamped for the UK release in 1982 as 'Birds & Bees' with new material; one of these numbers 'L' Amour Toujours' was a wonderful exploration of latter day ROXY MUSIC if Bryan Ferry had opted to venture into electronic pop. However, 'Holiday Holiday' amusingly sounded like a synthy Chris De Burgh on holiday in the French Riviera!
But 'Birds & Bees' confused the TELEX story and a remixed 'L' Amour Toujours' ended up also opening the fourth TELEX album 'Wonderful World' which only came out in Germany and France despite a new deal with Warners.
Despite its vibrant title song, the album sank without trace but TELEX were still in demand and  signed by Atlantic Records for the 1988 album 'Looney Tunes'. From it, 'Beautiful Li(f)e' was an oddball sampling experiment akin to YELLO that showed Moulin, Moers and Lacksman were still willing to explore the possibilities of new digital technology, despite electronic pop being out of vogue and the public seemingly preferring house and techno.
With TELEX going into hiatus, Michel Moers released a solo album 'Fishing Le Kiss' in 1990 before becoming a video director and photographer. However, Marc Moulin and Dan Lacksman had maintained parallel production careers during TELEX. Working together in the studio, the pair had scored several domestic hits including 'Amoureux Solitaires' and 'Le Banana Split' with the sexy Belgian starlet Lio.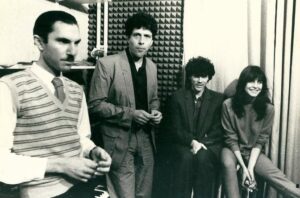 SPARKS continued their association with TELEX and wrote English lyrics for the Canadian edition of Lio's 'Suite Sixtine' album and in return, Moulin and Lacksman did a 12 inch remix of 'Music That You Can Dance To'.
Meanwhile, Lacksman engineered SPARKS' 'In Outer Space' LP which spawned the Jane Wiedlin duet 'Cool Places' that became the Mael brothers' biggest US hit and Thomas Dolby's second album 'The Flat Earth'.
Although Moulin produced several tracks on the self-titled debut of Anna Domino released on the Belgian boutique label Les Disques Du Crépuscule, it was Lacksman who was to have the most lucrative post-TELEX career as a producer, notably working with CAMOUFLAGE on their 'Methods Of Silence' and 'Bodega Bohemia' albums, as well as producing French ethnic electronica project DEEP FOREST who had a worldwide smash hit with 'Sweet Lullaby'.
TELEX reunited in 2006 for the 'How Do You Dance?' album on Virgin Records; it featured five cover versions including a downtempo take on the Mexican folk standard 'La Bamba', a vocodered 'On The Road Again' which appeared to replicate ROCKETS' 1978 version and in tribute to their old mates SPARKS, a superb deadpan interpretation of 'No1 Song In Heaven'. Welcomed back by the artists who had they had helped lay the electronic foundations for, TELEX did remixes for DEPECHE MODE and PET SHOP BOYS.
Sadly Marc Moulin passed away in 2008 and TELEX was retired. Since then, Michel Moers returned to music in 2013 to provide his Gallic nonchalance on 'Will I Get to Your Heart?' for Danish musician NATTEFROST and has been recording solo material. In 2015, Dan Lacksman collaborated with the late Florian Schneider on 'Stop Plastic Pollution' to highlight the issue of ocean environment conservation as part of the campaign Parley For The Oceans and continues his studio career.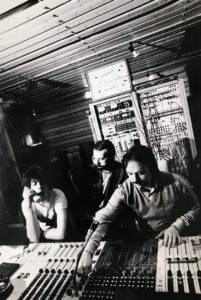 TELEX have certainly left an impressive legacy linking them with some of the biggest names in electronic music. Their time to be discovered by a new generation and established music fans who may have missed them first time round comes via this new partnership with Mute.
While 'This Is TELEX' does not include 'Rock Around The Clock' or 'Haven't We Met Somewhere Before?', it does feature a good selection of their career highlights. Long-standing TELEX enthusiasts will be tempted by the new mixes from Lacksman and Moers, although as the former explained "We simplify, we take away, to create something more efficient, more TELEX." while Moers added "We're so glad to have signed with Mute. We couldn't have done better."
"Beaux messieurs, belles dames: musique au programme…"
---
In memory of Marc Moulin 1942- 2008
'This Is TELEX'
is released by Mute Artists on 30th April 2021 in CD, double shrimp pink or fern green coloured vinyl LP, cassette and digital formats
https://www.facebook.com/TELEX-312492439327342
https://mutebank.co.uk/collections/telex
https://www.facebook.com/danlacksmanmusic
https://www.facebook.com/explusguests
---
Text by Chi Ming Lai
25th January 2021