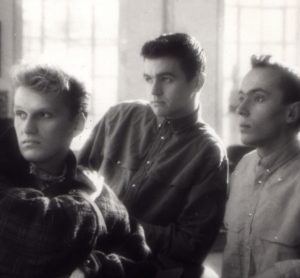 BOYTRONIC began as a duo and honed their musical craft at sex shows in Hamburg's red light district on the Reeperbahn.
Led by vocalist Holger Wobker, BOYTRONIC hit the big time when they scored a No10 German hit with 'You'.
With their charged energetic synth-led sound, there were hit albums too with 1983's 'The Working Model' and 1985's 'The Continental'. The latter long player included 'A Man In A Uniform' produced by Bobby Orlando who had worked with PET SHOP BOYS and DIVINE.
However success led to friction with BOYTRONIC's management claiming ownership of their name and a new line-up continued without Wobker who had performed under the alias of Bryllyant Berger. He returned for a stint between 2002-2008 but the tensions remained.
Now after a ten year hiatus, Wobker returns with former BOYTRONIC frontman James Knights to release a new album entitled 'The Robot Treatment'.
Holger Wobker discussed the return of the original BOYTRONIC and gave his side of the story…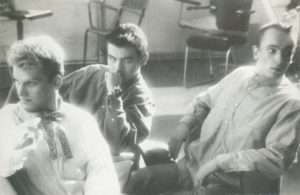 For those who may not be aware, what was your involvement originally in BOYTRONIC?
I was the founder along with Peter Sawatski back in 1983. We wrote the songs together and I provided the vocals.
Do you have some favourite BOYTRONIC songs from that time?
'You're The One Who Stays'; I didn't sing this one, as it didn't work with my voice so well, but I think that's natural and most people don't like the sound of their own voices anyway.
What for you was your proudest moment when BOYTRONIC became a success?
When I went to the club I usually went to, and they played BOYTRONIC without begging the DJ to do it. Everybody went to the dance floor, jumped around and screamed. I think that was one of my happiest moments!
But then, the story of BOYTRONIC becomes complicated? What happened?
It's a harsh story and it's a bit traumatic, but I will try to explain. In those days we weren't signed to a record company directly. We signed to a small production company and they had the deal with the record company. We only had an initial contract for one album.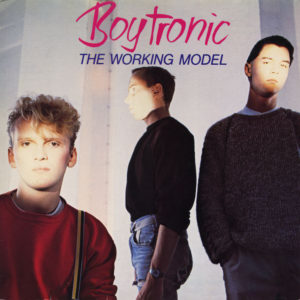 First it seemed we would be not that successful, but then we had some TV shows and it exploded. The week after the first appearance we went top ten in Germany, and this was exactly the day the production company registered BOYTRONIC as their own trademark. We didn't know about that at the time. We didn't even know that it's possible to do that!
Soon after we wanted to leave the company cause we weren't so happy with them. We had offers from Warner and EMI London, and we really wanted to move, but we couldn't now the company owned the name. After nearly two years in court, the question was "Who invented the name?"
In the end, all the owners of the company witnessed they did it together as a team (which was lies). But we were f*cked. German law was like this at that time. These days they would have no chance.
Peter left immediately after that and didn't want to go on. He wouldn't be forced to carry on with people who would do this. I tried for half a year or so before quitting too. After that ,the company had the name but no band!
They then took three new people and presented a brand new BOYTRONIC, but this had nothing to do with us.
Years later, I got a call from one of them and was asked me to do another BOYTRONIC LP. So we made 'Autotunes' together in 2002. I couldn't work in this way again, but it's something I had to try at that time.
The most recent BOYTRONIC album 'Jewel' came out in 2017 without your involvement, what were your feelings about this? What did you think of this album?
What do you think? I was p*ssed off. At first I didn't know about this at all. Then I saw a new video on YouTube and an announcement for live shows. I thought to myself… this is the last time! To make it short, I went to a lawyer and fought to get the name back. Yes, the lawyer made some money along the way, but it was worth it in the end. They are allowed to use the name until 07.02.2019. So that will be the next time I'll get drunk!
I can't say anything about the musical quality of 'Jewel'. Let the people decide. When you hear the first 5 seconds of 'The Robot Treatment', you will know who is BOYTRONIC.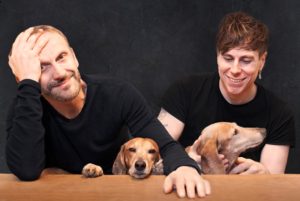 In an interesting twist, you've teamed up with 'Jewel' vocalist James Knights of KNIGHT$ for the new BOYTRONIC album 'The Robot Treatment'… now this would be like John Foxx and Midge Ure teaming up to do a new ULTRAVOX album, or even David Lee Roth and Sammy Hagar coming together to be VAN HALEN, how is your collaborative partnership coming along so far?
We spoke last year and he was anxious with how it was panning out, and where it was going. I liked him and suggested we could do something together. It wasn't meant so serious. He was back with KNIGHT$ in Germany months on, so I played him ideas that I had, and we began to work on them.
It's early days, but what is the creative dynamic between you two so far?
James understands exactly what BOYTRONIC is about. I don't have to say much when we're communicating ideas, it all comes naturally. Even when I'm drifting away, he puts me on the right track. We both have a vision how it's got to be, and that's great. It's almost like working with Peter, but he's more friendly!
How would you describe the sort of songs you are producing?
We want to be authentic! That's why we will use no digital plug-ins except if absolutely necessary. We work with analogue synths to create a full and groovy electronic sound. That's what we both like. The songs are catchy melodic pop songs with a huge Italo touch, and plenty of drama! Like BOYTRONIC should be.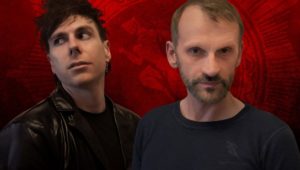 What are your hopes and fears in this real relaunch of BOYTRONIC?
I hope people like what we do. People may be confused because they don't know the full story, but most of the fans do by now. I'm not really afraid of anything. I had so much trouble with BOYTRONIC in the past… in that case I'm unsinkable! I hope I can go on for a long time yet…
Are you interested in performing live again?
Sure, yes. We will do that next year when the record comes out. Maybe a few dates before. This is our bread, sure we will perform live, it makes no sense otherwise.
---
ELECTRICITYCLUB.CO.UK gives its warmest thanks to Holger Wobker
Special thanks to Mirror Man Agency
A selection of BOYTRONIC releases are available at https://boytronic01.bandcamp.com/
https://www.facebook.com/BoytronicOriginal/
https://twitter.com/boytronicorigi1
https://www.instagram.com/boytronicoriginal/
---
Text and Interview by Chi Ming Lai
27th August 2018, updated 19th May 2019