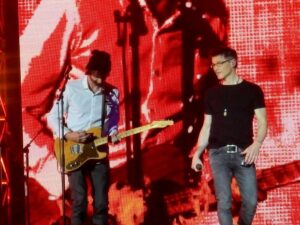 When it was announced in March 2015 that A-HA would be returning with their tenth studio album 'Cast In Steel', it was somewhat unexpected.
The Norwegian trio had made a high-profile statement that they were disbanding and played their farewell concert at the Oslo Spektrum in December 2010.
It was a fitting end, following the artistic high of their 2009 long player 'Foot Of The Mountain'
.
But like many of their peers such as ULTRAVOX, DURAN DURAN and SPANDAU BALLET, the sum proved to be greater than the individual parts. So with no contractual pressures or touring commitments, Morten Harket, Paul Waaktaar-Savoy and Magne Furuholmen quietly reunited and recorded new material.
A-HA's collective strength over the years has been to produce great melancholic pop in that classic Nordic tradition, but also add a contrasting glorious optimism for that vital all-embracing lift.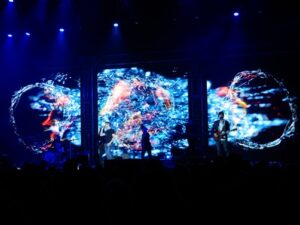 Although often tagged as a teenybopper band in the UK, A-HA always had a darker edge compared with DURAN DURAN and even their only British No1 'The Sun Always Shines On TV' was shaded in gloom.
This demeanour was reflected in the opening numbers at the O2 Arena, 'I've Been Losing You' and 'Cry Wolf', the latter's pop angst amusingly accompanied by an animation of a bopping wolf! The beautiful 'Stay On The Roads' got the evening's first mobiles-in-the-air moment.
Meanwhile the first of only three songs from the new album came in the shape of the wonderful 'Cast In Steel' title track. The duet of 'Crying In The Rain' with backing singer Anneli Drecker provided another sensitive focal point, but the rhythmical DEPECHE MODE pulse of 'Mother Nature Goes To Heaven' and Waaktaar-Savoy's rock out on 'Sycamore Leaves' provided some artistic diversity.
Morten Harket himself provided an interesting case study as a front man. Still blessed with great cheek bones and a fine voice, something had to be missing and it was his interaction (or rather the lack of it) with the audience. Indeed, it was Furuholmen who acted as Master of Ceremonies from behind his keyboards while Harket appeared to be like a lost teenager at Specsavers, unable to decide on his choice of eyewear, swapping between shades, standard specs and nothing at all!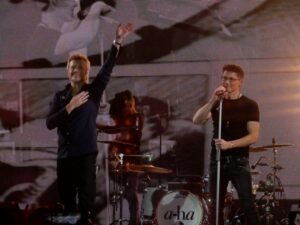 And while Harket's crying falsetto was present and correct, the muted sustain on some numbers was an indication that age was beginning to take its toll on his voice.
As if to substantiate the point, after 'We're Looking For The Whales', Harket walked off stage to leave Paul Waaktaar-Savoy to take the lead on 'Velvet'; now while his vocal was good, Magne Furuholmen's star turn on 'Lifelines' was less impressive, the keyboardist even coming clean on his capabilities during his introduction.
It was an interesting diversion and they might have gotten away with it on 2005's 'Analogue' tour. But on a final tour with not much change from a hundred pounds for a ticket, this was an odd decision. To prompt even more head scratching, Anneli Drecker then took the lead vocal for a surprise rendition of 'Here I Stand & Face the Rain' from the 'Hunting High & Low'
album. And while she gave a worthwhile performance, there was a feeling among those present that it was Morten Harket who they really wanted to sing it.
Harket did return and from the new album, he went straight into 'She's Humming A Tune' which dropped hints of 'Scoundrel Days' in a lower key with bursts of bottle neck guitar from Waaktaar-Savoy. 'Scoundrel Days' itself appeared as a magnificent climax to the main section of the show following excellent, emotive performances of 'Foot Of The Mountain' and 'Hunting High & Low',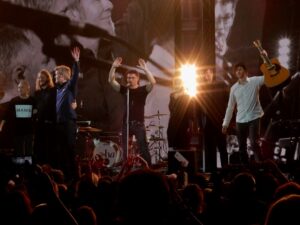 Beginning the encore with the marvellous U2 influencing 'The Sun Always Shines On TV', the creepy projection of violin playing mannequins added to the atmosphere before disappointingly, 'Under The Makeup' made its appearance, stripped of the Bond Theme elements that made the recorded version so enjoyable.
But a powerful rendition of 'The Living Daylights' made up for it, before a rousing 'Take On Me' completed an enjoyable evening.
The performance affirmed why A-HA have been able continue their career into the 21st Century. But with cracks beginning to show, the time is maybe now right to finally call it a day. They have nothing more to prove and even now, they have more great songs on 'Cast In Steel'
than many bands manage in an entire career.
---
'Time & Again: The Ultimate A-HA'
is released by Universal Music Catalogue
https://www.facebook.com/officialaha
---
Text and Photos by Chi Ming Lai
30th March 2016