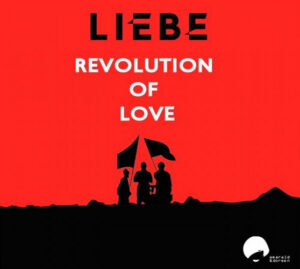 LIEBE are the Greek electro disco duo comprising of George Begas and Dimos Zachariadis.
Hailing from Thessaloniki, they released their 2010 debut album 'Club Royal' on Planetworks; their second long player 'Somewhere In Time' came out on Undo Records in 2012.
Sitting on that difficult bridge between pastiche and post-modern, their romantic disco friendly sound mines Italo and synthpop. But whatever retrospective tendencies LIEBE may have, they do it with panache and style.
The sexy video for 'I Believe In You' from LIEBE's third album 'Airport' is a good example of this and gained traction on MTV Europe in 2014.Their fourth album 'Revolution Of Love'
develops on the sunny, synth assisted holiday vibe of 'Airport'.
While it generally has a dance friendly momentum, it opens steadily with a very authentic, Jarvis Cocker afflicted droll from Begas on 'Meet The Stars'. The groovy dance template of 'Reasons' ups the tempo and comes over like a collaboration between PET SHOP BOYS and PULP, while things head slightly Trans-Atlantic with the Moroder-esque rock disco of the title track; it's a path that 'This Way' also follows.
The more house laden 'Sound of The Moments' amusingly and enjoyably imagines Jarvis Cocker guesting for THE GRID and even adds a trumpet solo from Kostas Katsaros to authentic things further. The classic European synth melodies on 'Vienna's Dreams' give the song some widescreen drama while unsurprisingly, 'Riviera' conjures up images open top cars along the Mediterranean coast.
'Orlando' brings some soppiness and flautist textures to proceedings, but this comparative lull is countered by the magnificent JEAN-MICHEL JARRE goes Italo disco of 'The Box'. Then there's a total surprise with 'Skyline', an incongruous but fun clashing of CHINA CRISIS with SOUL II SOUL, before the electric Latin bounce of instrumental 'Date3'.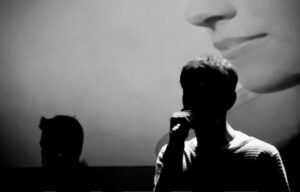 With the presence of a deep Italiano voice sample, it acts as a Hellenic answer to NEW ORDER's 'Tutti Frutti' to close proceedings.
A good and optimistic pop album, 'Revolution Of Love' is wonderfully escapist, something everyone needs at this moment in our turbulent times. LIEBE may not have strayed from their sound too much, but why should they? They are very good at what they do… ΥΓΕΙΑ!
---
With thanks to Thanos Avratoglou
'Revolution Of Love'
is released by Emerald & Doreen Recordings, available from the usual digital retailers
https://www.facebook.com/pages/LIEBE-official-page/257440579094
http://emerald-and-doreen.com/2016/03/20/what-we-need-revolution-of-love/
---
Text by Chi Ming Lai
29th March 2016, updated 23rd April 2016