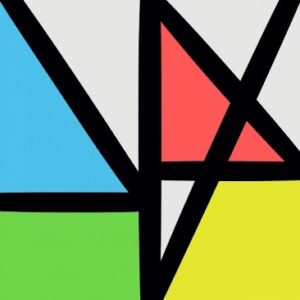 Band break-ups, although always problematic, can have a polarising, but often surprisingly positive musical effect on those involved.
The well-documented HUMAN LEAGUE Mark I split, where Martyn Ware was effectively fired from his own band, motivated him, Ian Craig Marsh and new vocalist Glenn Gregory to strive to make an album which was better than the one Philip Oakey's new version of the band was creating. Although arguably in terms of sales and critical acclaim they didn't, it still set HEAVEN 17 on their way and certainly didn't harm their future success.
The troubles in the NEW ORDER camp and the acrimony between Peter Hook and his ex-bandmates have managed to rack up plenty of column inches, reaching a nadir with Hook describing returning keyboard player Gillian Gilbert as a "wonky table leg", to which she rather more subtly and rightly retorted "I'm on all the best records aren't I?". What the split has done though, is allow Hook to tour pretty constantly for the last five years, showcasing a mixture of JOY DIVISION and NEW ORDER material which to his frustration, the band (when he was in it) seldom played.
So now with a new record deal with Mute, it's an ideal opportunity for Bernard Sumner and his colleagues (old and new) to prove that after a couple of "so-so" albums, that they still have some creative fire left in them and are able to function without their founder member and bassist.
The lead-off single and album opener 'Restless' certainly didn't bode too optimistically for 'Music Complete', although in the context of the album is certainly more of a grower and takes a few listens to appreciate its charms. Next up is THE CHEMICAL BROTHERS' Tom Rowlands produced 'Singularity', whose sequencers recall 'Temptation' and also features some welcome KRAFTWERK-ian percussion sounds and unhinged resonant synth squeals throughout. The melodic synths and half-time drum patterns used are refreshing for a track which doesn't try to pander to any particular genre.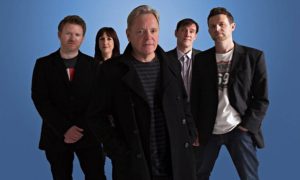 'Plastic', which features Elly Jackson aka LA ROUX, revolves around some even more prominent Moroder-ish sequencing with the sort of girly backing vocals which first made an appearance on 'Crystal'. A Hooky soundalike bassline by replacement Tom Chapman makes an appearance midway which is sure to wind up the ex-bassist and an extended electronic middle section showcases the first significant programmed drum machine work on the album.
'Tutti Frutti', with its pitched down Italian vocal, initially recalls 'Fine Time' from 'Technique' and once the song skips past its jaunty 'Relax'-style intro, proves itself to be a classic NEW ORDER song. This time, Elly Jackson's guest vocals compliment Sumner's perfectly, whose own phrasing during the song's verse sections showcases a previously unheard lazy vocal delivery from the frontman and includes the classic line "where every scholar means a dollar". The song's middle section and ending features a wonderfully orchestrated string section, throws in an acid house drum pattern for good measure and at its climax, some more additional low pitched vocals (sampled from a very suspect Italian game show) which unfortunately could prove the deal breaker for some.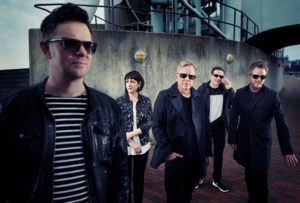 'People On The High Line' with its ultra-funky bass and guitar combination, starts rather worryingly like 'Club Tropicana' by WHAM! before descending into a rather forgettable 'dad house' piano track – Elly Jackson again guests here. 'Stray Dog' is one long IGGY POP monologue which is based upon a poem that Sumner constructed and is surely a wasted opportunity – a sung vocal performance would certainly have proved more intriguing.
'Academic' showcases the band-style NEW ORDER sound and is a highlight of 'Music Complete'; it effortlessly glides past and features some classically direct Sumner guitar which is missed elsewhere on the album. 'Music Complete' closer, 'Superheated' is a Stuart Price production and features Brandon Flowers from THE KILLERS on vocals – it's a rather lightweight uptempo conclusion and features more string orchestration. Yet again, like other songs here, it seems to miss Sumner's trademark guitar.
What this album DOES have in its favour is that it doesn't try overly hard to win you over. Whereas the recent DURAN DURAN album (with its myriad of guest vocalists and producers) was the musical equivalent of a tired old dog trying to hump your leg to get your attention, 'Music Complete' is a far more subtle proposition and is far better for it.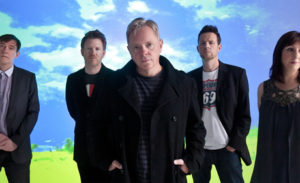 Although very electronic in places, there is still a real band dynamic here, especially with the use of Stephen Morris' drumming and the implementation of producers, which has generally helped rather than hinder the creative process. Though not a classic in comparison with 'Low-Life' or 'Power, Corruption & Lies', 'Music Complete' does in places provide some compelling listening and in many respects is a revitalised, if flawed piece of work.
At the end of the day, what proves ultimately enlightening, is that by the end of the album, Peter Hook's presence isn't overly missed. Tom Chapman ably replicates his sound (albeit mixed slightly lower in the songs here) and although hardcore fans will perpetually scream "No Hooky, no New Order!", 'Music Complete' is a complete and musically coherent enough product without him.
---
'Music Complete'
is released by Mute Artists in CD, clear vinyl LP, vinyl box set and download formats
https://www.facebook.com/NewOrderOfficial
http://mute.com/artists/new-order
https://newordertracks.wordpress.com
---
Text by Paul Boddy
28th September 2015