In many respects, John Foxx's musical career has had many parallels with Brian Eno.
Both were members of innovative bands, both departed before their respective bands went global and both explored ambient music as part of their subsequent and varied solo careers.
At the start of his solo endeavours, John foxx had ventured into instrumental territory with 'Film One', Mr No' and Swimmer', but only the 'No-One Driving' B-side 'Glimmer' got close to the ambient tradition.
Retiring from music in 1986, when the former Dennis Leigh returned in 1997, he made an artistic statement by releasing the first volume of his 'Cathedral Oceans' trilogy alongside 'Shifting City', his more conventional song based offering with Louis Gordon.
'Cathedral Oceans' saw Foxx immersing himself in religious choral musical forms like Gregorian Chants alongside gravitating electronic textures. While there were to be other instrumental soundtrack works like 'Tiny Colour Movies', 'DNA', 'B-Movie (Ballardian Video Neuronica)' and 'Evidence Of Time Travel' which recalled the Sci-Fi nature of his early B-sides, eventually Foxx's ambient work was to become his most dominant platform of expression; noted collaborators over the years have included Theo Travis, Robin Guthrie, Steve Jansen and Steve D'Agostino.
It was 'Translucence', 'Drift Music' and 'Nighthawks', his three albums with pianist Harold Budd in the period between 2003-2011 that took Foxx's ambient work to another level. Wonderfully placed in shimmering settings that entered a whole otherworldly sphere, the partnership recalled Budd's two collaborations with Eno, 'Plateaux Of Mirror' and 'The Pearl'. On this year's magnificent 'Codex' with Diana Yuka and Benge as GHOST HARMONIC, the tradition has been continued and points to Foxx's musical future as he approaches the twilight of his seventh decade.
'London Overgrown' is Foxx's first wholly solo ambient release since the 'Cathedral Oceans' trilogy. With the visual narrative of a derelict London where vines and shrubbery are allowed to grow unhindered throughout the city, the conceptual opus is a glorious ethereal synthesizer soundtrack.
'Through Gardens Overgrown' from the third instalment of 'Cathedral Oceans' appears to be a pivotal inspiration. But how 'London Overgrown' differs is the complete absence of vocals of any kind. This nullavox template is a crucial aspect of the work, as it then totally disconnects the listener from environmental human intervention.
Effectively a synthony in ten movements, the ambient caveat of no vocals and no rhythms has provided interesting compositional challenges. References to Foxx's previous ambient works with 'London Overgrown' are inevitable. It begins with 'Oceanic II', a more minimal progression of the 'Cathedral Oceans III' track and 'A Man, A Woman & A City', a pastoral cousin of the GHOST HARMONIC project.
With 'The Beautiful Ghost', as with William Orbit's take on 'Opus 132' from 'Pieces In A Modern Style', this is Beethoven reimagined for the 23rd Century with beautiful string synths placed in a cavernous reverb. Meanwhile, the deeper resonances of the title track and spacey overtones in 'Everything Is Illuminated' provide a number of spectrum variations.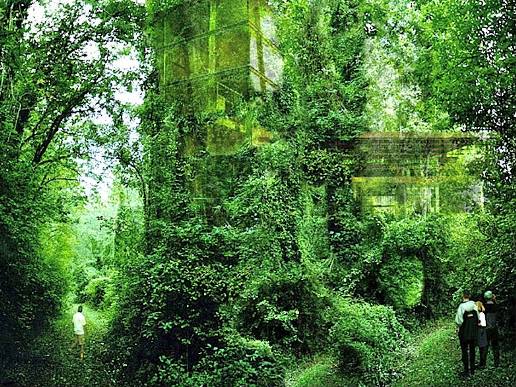 'A Small Revolving World' acts as a churchy interlude before continuing the lingering mood constructed in the first half. The flowing sweeps of 'Often Now, I Wake' recall the atmospheres of 'Drift Music' while 'Persistence Of Vision' is the most abstract of the album, with Eno's 'Neroli' being the most obvious reference point. Concluding 'London Overgrown', 'City Of Mirage' and 'Imaginary Music' both do what they say on the tin in a haze of aural sculptures and blurred soundscapes.
Brian Eno said that ambient music had to be interesting enough to be listened to, yet simultaneously unobtrusive enough to be ignored. A difficult feat to pull off, 'London Overgrown' achieves this is the best understated manner. Ambient is not for everyone and very much a cognoscenti pursuit. But like Eno's own 'Apollo – Soundtracks & Atmospheres', this is a fine entry point to begin an appreciation of a much under rated music form.
---
With thanks to Steve Malins at Random PR
'London Overgrown' is released on CD by Metamatic Records on 16th October 2015 and available through the usual outlets or the JOHN FOXX online shop at http://johnfoxx.tmstor.es/cart/product.php?id=24458
https://www.facebook.com/johnfoxxmetamatic
---
Text by Chi Ming Lai
London Overgrown Images by John Foxx
26th September 2015