It's interesting that the GHOST HARMONIC release 'Codex' is not the first instrumental album recorded by JOHN FOXX either as a solo or collective effort.
Yet still it had divided opinion amongst fans, many of whom are disappointed that the (almost) tandem releases of 'Codex' and 'London Overgrown' are not traditional song based albums.
These now seem to be the preserve of THE MATHS project and for many, this will be a useful differentiator.
It's interesting too in that a large percentage of his body of work is not only instrumental but also borders on the ambient / experimental in its tone. Given that Foxx is an artist, both in the musical and wider sense as a painter, photographer and film maker, it makes sense he covers a number of musical bases. Using THE MATHS as a mechanism to release songs means listeners can, if they wish, avoid the more challenging work in the Foxx canon, but with 'Codex' this is their loss.
GHOST HARMONIC consists of Foxx and long term collaborator Benge alongside violinist Diana Yukawa. Recorded at Benge's MemeTune studios in London's Shoreditch, the album evolved over the space of a couple of years. As Foxx says himself: "the underlying intention was we all wanted to see what might happen when a classically trained musician engaged with some of the possibilities a modern recording studio can offer…" What happened is a record that delivers a startling dynamic between Yukawa's heavily treated violin and the electronics usually associated with her two recording partners.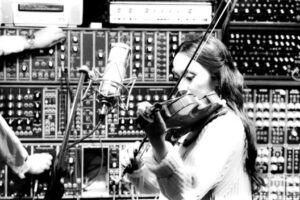 Presented as one continuous piece in five parts, 'Codex' explores not only musical forms but the space between the notes which are in places, enhanced due to the use of looping and heavy reverb. It was these spaces that inspired the collective's name. As Benge states: "The spaces in between the musical notes are often overlooked…It was these ideas we wanted to capture on this record. The 'ghosts' in the studio that we were listening to for inspiration. The name came out of that".
Foxx continues "I noticed an interesting effect when multi-tracking into long or complex reverbs – certain harmonics would be suppressed or enhanced and previously unheard ones would emerge from the miasma. This can be really beautiful and it's now what I most listen for – I know a piece is going somewhere new when this sort of thing begins to occur".
The pieces themselves are in turn dark and beautiful, and in places, dream like. Opener 'A Green Thought In A Green Place' evokes the feeling of sunlight through trees on a warm summer's day and asks the listener to drift along with the long tailed reverbs on the violin before the electronics come in.
'The Pleasure of Ruins continues the cycle with layered violin and bass drones carrying the listener through an empty city on a 13 minute plus journey. Across the album, Yukawa was encouraged to improvise and this is most apparent on the other long form piece 'When We Came To This Shore'. The treatments used in places give her playing an almost vocal quality as layers and loops rise and fall in the mix. This was an aspect that Foxx was keen to explore: "Bach wouldn't take any student who couldn't improvise over a given theme but things seem to have gone in reverse since then. Diana was a welcome revelation after all that. She picked up themes immediately and took them off in all directions. Very exhilarating".
Sandwiched between these two parts, 'Dispersed Memory' is the most atmospheric track on the album again with some quite beautifully fragile motifs rising through the mix especially in the last half. Closing track 'Codex' evokes some of the soundtrack work of Hans Zimmer around the release of 'Gladiator' in its tone and points the way to how the project may develop. It leaves the listener satisfied with the musical trip taken and wanting more. This may just happen, as Foxx says: "… there's still lots of territory to explore".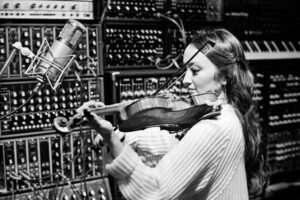 Many musicians look at releasing an instrumental album to in some way affirm their musical credentials when the results tend to sound like unformed demos of them just mucking about in the studio… yes Mr. Gore, pointing the finger at you!
In comparison, GHOST HARMONIC is a project on which you can hear the amount of work that has gone into crafting the end results into a whole.
John Foxx should be applauded for daring to make music like this in an increasingly challenging market and his fans should embrace the fact that after some almost 40 years in the business, he is still pushing himself and them.
---
GHOST HARMONIC 'Codex' is released on 25th May 2015 by Metamatic Records as a limited edition CD + hardback book package with artwork by Jonathan Barnbrook. It can be pre-ordered at http://johnfoxx.tmstor.es/cart/product.php?id=24689
http://myblogitsfullofstars.blogspot.co.uk/
---
Text by Ian Ferguson
9th May 2015