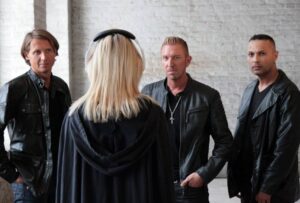 SYNTHDECADE formed in Frankfurt in October 2012, going straight into the studio with an idea to produce an album which would revolutionise the "Electronic Pop music sector".
Bred on the likes of DEPECHE MODE, CAMOUFLAGE and DE/VISION, and quoting those as their main influences, the trio promise to turn out pieces that will be difficult to resist, if what you like is the darker electronica.
They like to describe themselves as the Next Generation of Synth and define their production as modern, creative and melancholic, yet danceable. The band consists of Sean Dexter, who is in charge of programming and keyboards, Rick Pleasant on vocals and Marc Renard on keyboards. Signed up by 15c Avenue, two songs have been issued already with corresponding videos.
'Lighten Up The Darkness' was out on 12th January this year, featuring elements borrowed from DEPECHE MODE's 'Dream On' video, presenting the band clad in dark leather and looking beyond cool, as well as incorporating a beautiful, mysterious blonde. Musically, elements of CAMOUFLAGE's influence are clearly palpable, making this a rather engaging and striking tune.
The latest single 'Facing My Fears' was released on 24th April, and, again, opens with an elegant synth sequence and vocals resembling those of CAMOUFLAGE's Marcus Meyn. Like a quasi 'Enjoy The Silence', the stark video features a blackened background with marching soldiers in a scene reminiscent of 'People Are People' and creates a perfect background to this highly competent song.
The impressive production on both numbers stresses the studio skills of Sean Dexter and promises a rather inviting proposition to those who love the likes of DEPECHE MODE and CAMOUFLAGE. Hopefully the upcoming album 'Syndicator' will have innovative elements of its own, something which SYNTHDECADE are surely capable of.
---
'Facing My Fears' is released as a digital single by 15c Avenue
https://www.facebook.com/Synthdecade
---
Text by Monika Izabela Goss
9th May 2015