"Oceanic auralgasms" is how ethereal dream pop duo MURICIDAE describe their sound.
Yet another project from studio legend John Fryer, best known for his work with COCTEAU TWINS, NINE INCH NAILS, DEPECHE MODE and most recently SILVER GHOST SHIMMER, the musical template of MURICIDAE perhaps harks back to his work with THIS MOTRAL COIL, the 4AD art collective which at various times included DEAD CAN DANCE's Lisa Gerrard and COCTEAU TWINS' Elizabeth Fraser on vocals.
MURICIDAE though features the exquisite, angelic vocals of LA based song siren Louise Fraser, who incidentally is no relation to Elizabeth. She and Fryer apparently "met on the beach searching for mermaids"… the sea is very much the visual theme for their music, with Fryer cultivating "sonic sculptures to musically embody the exquisite Muricidae Shell itself".
The pair released their first EP 'Tales From A Silent Ocean' in April and a video for the five track collection's gorgeous lead track 'Away' has just been completed. The film features actress Sandy Akins as well as Louise Fraser and was filmed by Martin Curland and Kevin Bosl with John Fryer himself as editor and executive Director. It captures the tranquil piano laden soundscape with double vision oceanic imagery complimenting the echoes of Fraser's plaintive lament. As floating synths drift in, the images become more cerebral as her various memories intertwine.
With the other tracks from 'Tales From A Silent Ocean', 'Real Slow' is the spikiest and where "the jukebox is grinding". At times, it even sounds like JULEE CRUISE fronting 'Delta Machine' era DEPECHE MODE with its bluesy overtones and rugged guitar. 'Should I Stay' is gently driven by a scratchy electronic rhythm with Fraser's vocals beautifully layered on top. When the rhythm takes a breather for the middle eight, Fraser is left accompanied by some haunting ivories that further reveal an angelic fragility in her voice.
With synth strings, rolling percussion and halfway through, subtle arpeggios and deep squelches, 'Falling' is an epic cinematic number with Fraser sitting nicely within the orchestrated backing.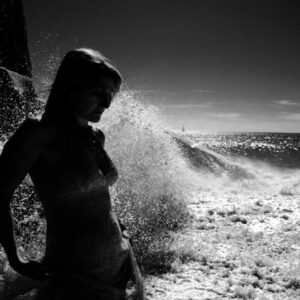 Together with John Fryer, they conspire to form an aesthetic that is greater than its sum of parts to produce a wonderful brooding cacophony of sound.
The EP is bookended by an 'S Version' of 'Away'. The 'S' probably means the lush strings which adorn this alternate version and it acts as a worthy, aurally pleasing companion to the sparser original.
If you have ever imagined how THIS MORTAL COIL might have handled curating the soundtrack to 'Twin Peaks', then look no further than MURICIDAE and this elegant body of work.
---
'Away' is from the 'Tales From A Silent Ocean' EP available now from the usual digital outlets including iTunes and Amazon
https://www.facebook.com/muricidaemusic/
https://www.facebook.com/John.Fryer.Official
---
Text by Chi Ming Lai
11th May 2015