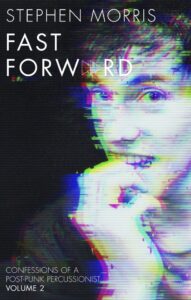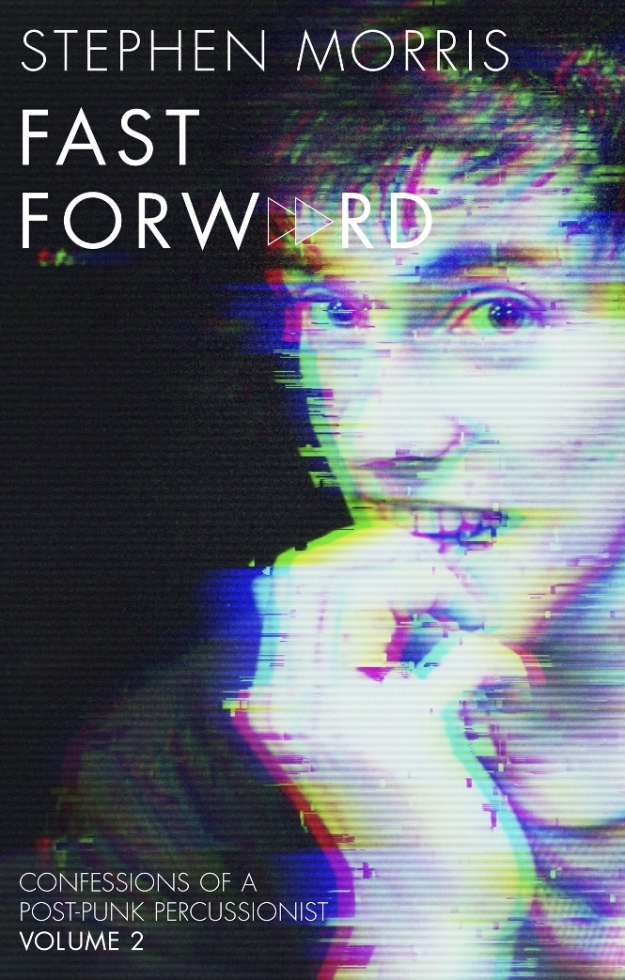 As the title suggests, 'Fast Forward: Confessions Of A Post-Punk Percussionist – Volume II' is the second book by Stephen Morris, best known as the drummer of JOY DIVISION and NEW ORDER.
Together with Ian Curtis, Peter Hook and Bernard Sumner, he co-founded JOY DIVISION. With the untimely death of Curtis in May 1980, the remaining trio continued as NEW ORDER with the addition of Morris' girlfriend and now-wife Gillian Gilbert.
Stephen Morris' first book 'Record Play Pause: Confessions of a Post-Punk Percussionist – Volume I' demonstrated his abilities as an engaging storyteller. While Peter Hook's 'Substance'
was an informative in-depth look inside NEW ORDER, it was not unsurprisingly tinged with bitterness and anger.
Meanwhile, Bernard Sumner's 'Chapter & Verse'
was a good read but the story was expressed in very straight manner, perhaps in an attempt not to upset anyone. Morris though laced his account with humour and entertaining dry wit, with his narrative of growing up in the North West of England being particularly amusing and relatable.
So when the human drum machine released an audio book of 'Record Play Pause: Confessions of a Post-Punk Percussionist – Volume I', it was like the story of JOY DIVISION being told on 'Jackanory', the BBC children's television series conceived to stimulate an interest in reading. Morris' eager-to-please if occasionally sarcastic manner was captured like a spoken word art piece.
ELECTRICITYCLUB.CO.UK interviewed Stephen Morris in March 2011 and many of the topics from that conversation are expanded on in 'Fast Forward: Confessions Of A Post-Punk Percussionist – Volume II', as well further observations on the politics behind being in a band and its inherent hierarchy that inevitably places the singer at the top.
Despite his own existential crisis and possibly doing himself out of a job with all the incumbent new technology that manifested itself into the evolving sound of NEW ORDER, it was Morris who ultimately had the patience to read the manuals and persevere as an early adopter of video, drum machines and computers.
There are trailblazing tales of grappling with the Powertran 1024 Note Composer home-built from a kit by Bernard Sumner and customised by the band's electronic boffin Martin Usher; first used on the 'Temptation' B-side 'Hurt', it had to be programmed and operated in hexadecimal! Morris also recalls his life changing experience watching Stevie Wonder demonstrate the Linn Drum Computer on 'Old Grey Whistle Test', before eventually plumping for the slightly cheaper Oberheim DMX.
But as he points out, "I always found the record and erase buttons a little too close together for comfort!". The original programme for the iconic digital drums on 'Blue Monday' were indeed wiped, but not as persists in legend, by Morris tripping on the DMX mains lead.
Meanwhile, describing his own factory setting as "dubious", Morris amusingly recalls how the Arthur Baker collaboration 'Confusion' was an apt title as the band set off to New York to record with the producer without any gear and without any ideas ready, not even a bassline.
'Movement' producer Martin Hannett fell out with Factory Records when the label and NEW ORDER opted to open The Haçienda club rather than buy a Fairlight, but the band did try out the computer music instrument for a week with mixed results. Although the session produced the seed of an idea that became 'Bizarre Love Triangle', the band instead opted to stick with their Yamaha sequencer, drum machine and rack mount combination.
NEW ORDER had something of a lucky escape not to be stuck with what quickly became a technological white elephant. However, the taxman along with the well-documented financial woes of Factory Records and The Haçienda were things that couldn't be escaped, with the cash mostly passing through NEW ORDER's band account like quicksilver almost as soon as it was earned.
The most cynical about the initial idea of The Haçienda in the first place, Morris felt a return ticket on the Titanic was a better bet and his fears were justified when he was initially declined entry on its opening night. It would take the drummer several years to even get a complimentary drink at the establishment he co-owned, while Gillian Gilbert's sister Kim was able to get on the guest list by pretending to be her! But Morris is an endearing character who accepts his lot, especially the joys of making music and being in a successful band.
However as NEW ORDER got bigger, he was still not being recognised despite his face being on the 'Low-Life'
album cover and the tour's corresponding AAA passes. Hilariously recounting being refused entry into venues that NEW ORDER were performing at, at Factory Records' Festival of the Tenth Summer with THE SMITHS at Manchester G-Mex, Morris only got into the former railway station by saying he was his near namesake Steven Morrissey!
Despite being a self-confessed man who sits on the fence and turns whichever way the wind blows, Morris is very honest in his frustration about his fellow band members. He recalls being particularly bemused by Peter Hook's solo project REVENGE which was supposed to be striking a blow for "real guitar music" as a reaction to NEW ORDER's "synthesized sequenced sh*t", but ended up sounding nothing like MOTÖRHEAD and instead used… yes, you've guessed it, synthesized sequenced sh*t!
Morris and Gilbert bought a 200 year old farm near Macclesfield and settled into domestic bliss with a home studio, doing TV soundtrack work and their own solo project THE OTHER TWO. And in this section, readers cannot help but laugh out loud when our hero discovers that the 10 mile shooting range of his newly acquired ex-British Army Abbot FV433 self-propelled gun will make Bernard Sumner's house in Alderley Edge an easy target!
NEW ORDER went into hiatus with the lukewarm 'Republic'
album in 1993, but against the odds, they reunited in 1998. There were triumphant shows at Manchester Apollo and Reading Festival in the summer, although the quartet were less than impressive at Manchester Arena for the 'Temptation' dance event before New Year's Eve.
But the death of long standing manager Rob Gretton in 1999 and the departure of Gillian Gilbert for family reasons changed the dynamic of NEW ORDER considerably. Ultimately, that left a power struggle between Bernard Sumner and Peter Hook to fester, with Morris stuck in the middle and unable to referee.
Perhaps surprisingly, 'Fast Forward: Confessions Of A Post-Punk Percussionist – Volume II' ends in 2007 just as Peter Hook announces to the world that NEW ORDER have split up, all while Bernard Sumner is in the middle of the Atlantic on his yacht. By this time though, Morris had more pressing things to worry about such as his wife's critical illness and the well-being of his family.
But in March 2011, ELECTRICITYCLUB.CO.UK asked Stephen Morris about the unsatisfactory manner in which NEW ORDER ended. His reply was surprising and in hindsight, gave clues as to what was to come. "I never say never really. I personally after 'Republic', I thought that was it, I really did" he quipped, "And then something happens and all of a sudden, you're back doing it again for another 10 years!"
Gillian Gilbert returned to the NEW ORDER fold for a well-received comeback concert in October 2011 at Le Bataclan in Paris and the band have been more or less on the road ever since. Signing to Mute Artists, the band's ninth album 'Music Complete'
in 2015 was a far better record than its two predecessors 'Get Ready' and 'Waiting For The Sirens' Call', re-establishing NEW ORDER as a credible creative force.
As Morris concludes, "the band that raised itself ashes from the ashes of JOY DIVISION raised itself from the ashes of NEW ORDER", but "that's a whole other book. Maybe one day…"
---
'Fast Forward: Confessions Of A Post-Punk Percussionist – Volume II'
is published in hardback by Constable
NEW ORDER play Manchester Heaton Park on 10th September 2021 and London O2 Arena on 6th November 2021
https://www.facebook.com/NewOrderOfficial
https://twitter.com/stephenpdmorris
https://www.instagram.com/neworderofficial/
---
Text by Chi Ming Lai
23rd December 2020