Together, Neil Arthur and Benge are FADER. While Arthur is front man of BLANCMANGE, Benge is best known for his work with WRANGLER, CREEP SHOW and JOHN FOXX &THE MATHS.
Following the critical acclaim for their 2017 debut long player 'First Light', a second FADER album entitled 'In Shadow' is about to be unleashed for public consumption at the end of October.
Perhaps musically more introspective than its predecessor, 'In Shadow'
however finds Neil Arthur expressing an understated frustration and anger with the world at large.
Neil Arthur and Benge kindly spoke bout their latest collaboration and its more minimal approach.
How do you look back on the making and reception of the debut FADER album 'First Light'?
Neil: The making was more or less the same approach, in terms of how we work. That is, initially remotely, exchanging files and a number of conversations online and by phone.
The reception seemed to be favourable, although it would have been good to sell a few more I guess. Creating the first album was an exciting step into the unknown, as we'd not worked together before, but after a couple of FADER and a brace of BLANCMANGE recordings, I'm constantly surprised, in a positive way, at Benge's approach and the results therein.
Benge: The first album was a bit of an anomaly for us both really. It came out of a very unusual situation, and the results took us both by surprise, which is always a good thing.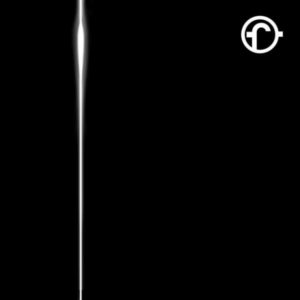 On that album, I had written 90% of the music beforehand, on a trip to LA a few years before I had met Neil. The tracks had been sitting on a hard drive waiting for someone to put vocals on them. I was lucky enough to meet Neil one day and the idea was suggested that we collaborate on an album project, and FADER was born.
The reception was really great to the debut – maybe because no one was expecting it, and maybe also because it had a fairly unique and original sound to it, which was the result of the unique process we had gone through to get it made.
The follow-up 'In Shadow' as the title suggests, appears to be darker and moodier in tone?
Neil: When Benge sent over his initial instrumental ideas, I thought the tracks were more melodic than those on 'First Light', which I thought would lead to a lighter tone and feel, but when it came to doing the lyrics, I just followed my noise and went down a moodier path!
Benge: The second album also came about in quite an odd way, because neither of us had sat down together and decided to write new material for it really. It was another case of me sending a whole bunch of tracks over to Neil, and him listening to them all and hearing a sonic theme and then working on the vocals and lyrics and responding to my tracks.
I have a way of working sometimes where I will set up a synth and a sequencer or drum machine in the corner of the studio and leave it there for a week or so, with a tape to record any little sketches I might come up with while I am exploring. After several months, I found I had a bunch of tracks that sounded like they might work as new FADER material, because they had a certain simple melodic structure to them that I thought Neil would get his head round and twist it all up with his vocals. So as I say, I sent them all over to him in a zip file and waited for a response. A few days later these amazing songs started popping up in my in box. It was really exciting for me.
Has insomnia been a factor and given more time for deeper thinking?
Neil: Well, for various reasons I don't sleep to well or when I do get some rest, I don't sleep for long. That does lead to some early morning mind wanderings.
Is the core of the creative dynamic to be in the same room for each song's conception, or is remote working the fastest, most practical method?
Neil: The practicals dictate on the whole how we work. That said, I like this method, at first working remotely, exchanging ideas, as the project starts to take its shape. It's like getting a musical present or surprise, each time I see a WeTransfer arrive from Benge. As I mentioned earlier, always a surprise!
But when you do get together at the MemeTune base in remote Cornwall, it must be a wonderful place to work with no city distractions?
Neil: It's a brilliant studio to work in and when the perspective is needed, there's always the dog to be walked up on Bodmin, the pub, the coast or a bike ride.
Benge: Yes, that's my favourite bit of the process, when you get together in the studio and you can hear an album take shape. It's a magical thing. The songs begin to make sense (if that's possible with Neil's lyrics!), and the things that need to be done on each song reveal themselves all of a sudden.
Sometimes it's a case of maybe adding a synth line, tweaking an arrangement, or maybe taking things away and simplifying the track as much as possible.
Is 'Always Suited Blue' fuelled by a dislike of politicians maybe?
Neil: I have a dislike for some politicians, the careerist, self-serving, bullying type, who are no use, to man nor beast, but no, it's not fuelled by that.
Some of the album's vocals are deeper than say the more recent BLANCMANGE work, like on 'What Did It Say' and 'Reporting'? The latter just captures a total air of resignation…
Neil: I think from memory, I did some of the vocals sitting down. That could have got me taking a more intimate and deeper tone. I've always had a pretty low voice, maybe it's breaking!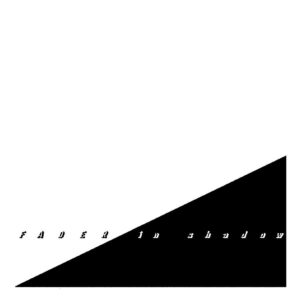 The approaches to 'Midnight Caller', 'What Did It Say?' and 'Whispering' are quite minimal?
Neil: Benge and I spend a lot of time editing out during the mix stage, to see how little is needed to complete the track. Sometimes there's a tendency to add layers, because you can and maybe there's an idea that seems to work with the one that's already there. But if the original sound, or part is standing up for itself, why add to it? So we don't, we save that idea for another song, another time.
'Enemy Fighter' pulls out a bit of drum n bass, but what might it be referring to, is it literal or metaphoric?
Neil: Lyrically, it centres on a characters moment of reflection, while in the heat of a battle and in a certain death situation. The tuned vocals seemed to fit.
What sort of instruments were you largely turning to for 'In Shadow', had there been any particular paint palette set behorehand?
Benge: The songs were each borne from a handful of monosynths and polysynths as I mentioned before, all of them being from the late 1970s or early 80s. If I remember correctly, the main ones were Korg DV800, Roland Jupiter 6, Oberheim Xpander, Roland SH101 and then some early digital drum machines, like the Casio RZ1, Korg DDD1 and Roland TR505.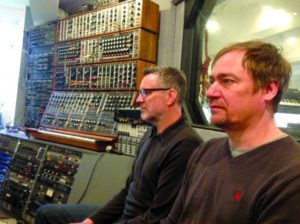 So what was this Butler 100 synth Neil was referring to in his last BLANCMANGE interview that Benge later commented didn't exist? *laughs*
Neil: Ha ha, I think when we did the interview you misheard. We had been using a Buchla synth.
It got Benge and I inventing imaginary synth names – the Jeeves 2000, Wooster V2. PG 808 etc.
Benge: My favourite synth of all time – the Lambert & Butler Sound Modulator 400
NEAR FUTURE have done and CREEP SHOW + KINCAID are going out live, would that be a possibility for FADER in the future?
Neil: We do talk about that. It would be great. How about the Minack theatre?
Benge: Or the Eden Project gift shop?
---
ELECTRICITYCLUB.CO.UK gives its sincerest thanks to FADER
Additional thanks to Steve Malins at Random Management
'In Shadow'
is released by Blanc Check Records on 25th October 2019 in CD and download formats, pre-order from https://fader.tmstor.es/
https://www.facebook.com/WeAreFader
https://twitter.com/WeAre_Fader
---
Text and Interview by Chi Ming Lai
30th September 2019