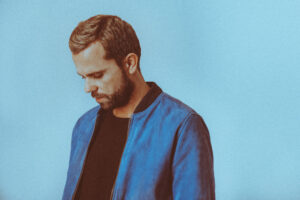 'DSVII' AKA 'Digital Shades Volume Two' is the 8th studio album by Anthony Gonzalez.
Originally a duo alongside Nicolas Fromageau, Gonzalez arguably peaked when his work 'Hurry Up, We're Dreaming'
was nominated for a Grammy in 2011. Previous high profile support slots saw M83 touring with DEPECHE MODE (on the 'Tour of the Universe' set of dates), KINGS OF LEON and THE KILLERS.
'DSVII'
primarily takes its inspiration from the soundtracks to classic adventure-based video games such as 'Final Fantasy', 'Dragon Quest' and 'The Legend of Zelda' and musically gives nods to ambient heavyweights TANGERINE DREAM and BRIAN ENO.
Gonzalez explained that the gestation of 'DSVII' started after some of the negative reaction to his album 'Junk'
: "I had a weird sensation that people didn't fully understand the direction of the record. Despite a very successful tour all over the world, I couldn't stop thinking that the fans were disappointed with 'Junk'. And a feeling of failure stayed with me for a very long time…"
To help promote the new release, 'DSVII' is preceded by three ludicrously arty promo videos directed by Bertrand Mandinko. The one accompanying the album's final track 'Temple of Sorrow' is a deliriously bonkers affair, with nothing musically happening for its first four minutes until the track eventually bursts into life at 4 minutes 45 seconds, coming across like classic AIR with visuals provided from a vintage BBC 'Blakes 7' episode.
'Lune de Fiel' is an interesting combo of latter day TANGERINE DREAM with live breakbeats and features characters from the previous promo and an equally surreal combination of yesterday's sci-fi imagery.
The final part of the trilogy 'Feelings' takes its visual cues from Italian Giallo director Dario Argento and when it comes to summing it up, ELECTRICITYCLUB.CO.UK can't beat one of the YouTube commenters who states "I switched to Pornhub when my grandma walked in 'cause it's easier to explain…" (!)
Album opener 'Hell Riders' is an odd mixture of muzak, acoustic guitar and synths and struggles to sustain its 9 minute running time. 'Goodbye Captain Lee' takes its musical cues from 'Forbidden Colours' with an arpeggiated synth riff which is almost identical to the one in David Sylvian and Ryuichi Sakamoto's classic piece from 'Merry Christmas Mr. Lawrence'.
Without a set of visuals to accompany them, many of the other tracks on 'DSVII' struggle to convince. With a running time of nearly an hour, this is an epic work but being completely instrumental (with occasional choral and wordless flourishes), it often struggles to hold the listener's attention. When it comes to re-creating early synth works, there is a fine line to be trod between being lovingly inspired by the era or descending into a sizable vat of fromage… unfortunately 'DSVII' falls into the latter category too many times.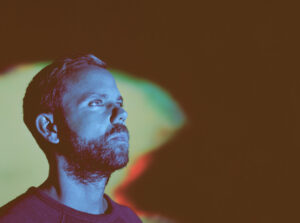 When listening to 'DVSII', ELECTRICITYCLUB.CO.UK can't help of thinking of the glorious ADULT SWIM pastiche 'Live at the Necropolis: Lords of Synth' which poked fun at the golden age of electronica with caricatures of WENDY CARLOS, GIORGIO MORODER and VANGELIS.
In places with 'DSVII', it's hard to tell whether Gonzalez has his tongue in his cheek or is actually being serious, although ELECTRICITYCLUB.CO.UK suspects it's the latter…
If you are a fan of throwback muzak, you may find some of 'DSVII' enjoyable, but many listeners will surely be digging out their copies of 'Moon Safari' and 'The Virgin Suicides' instead. Both of these works provide a masterclass in how to do this kind of stuff reverentially without becoming overly bland.
Maybe 'DSVII' would have functioned better as a soundtrack album rather than a stand-alone one, which is a shame as all involved here (including an all-too brief appearance from Susanne Sundfør) have obviously committed to this whole-heartedly.
M83 have made the mistake here of overtly focusing on the past rather than simply referencing it and bringing something new to the vintage wavetable.
---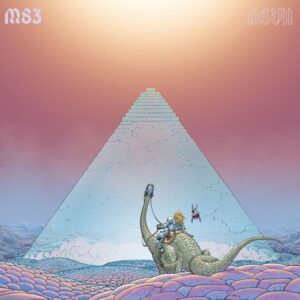 'DSVII'
is released via Naïve in double pink candy floss vinyl LP, CD and digital formats
https://www.instagram.com/m83music/
---
Text by Paul Boddy
2nd October 2019