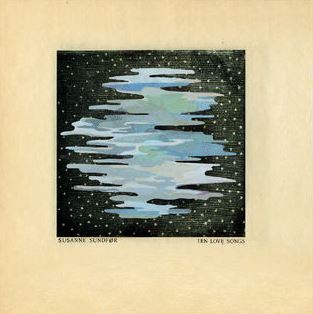 The profile of Norwegian singer / songwriter / producer Susanne Sundfør is probably at its career zenith right now, thanks to some quality collaborations with a number of high profile friends. Her last album 'The Silicone Veil' in 2012 was her UK debut and saw her experimenting more within electronica.
Since then, there has been her epic guest lead vocal on M83's 'Oblivion' for the theme song of the same titled Tom Cruise film, as well as key appearances with fellow Norwegians RÖYKSOPP and Swedish producer KLEERUP.
And that's without mentioning her remix of MAPS' single 'AMA', and production work for BOW TO EACH OTHER on their debut album 'The Urge Drums'. This all sets the scene nicely for Susanne Sundfør's new, eagerly anticipated solo album 'Ten Love Songs'
.
Largely self-produced, it is to an extent, a concept album: "To me, love isn't always what it seems" she said, "When I first started to work on the album, I wanted to make an album about violence, and then, as I was writing the songs, there were violent aspects, but they were usually about love or relationships, how you connect with other people. And in the end, that turned out to be 10 love songs".
'Ten Love Songs' also sees a move towards pop as Sundfør explained: "I wanted to be more mainstream. Not in the sense of the sound, but in terms of expression. There is something about pop songs that, to me, hits me more than any other types of song do. I've been a sucker for pop music since I was a little girl, and I've always wanted to make a pop record. So I guess this is my attempt!"
But although there are tunes, this is not exactly Taylor Swift's '1989' and 'Ten Love Songs' is still very much a compelling and tense leftfield record. This is best exemplified by the wonderful launch single 'Fade Away'. A three minute Nordic Noir drama with fabulous vocal layers, pulsing electronics and a terrific polyphonic synth solo that Sundfør says was inspired by QUEEN, there are rousing, almost gospel like qualities that set the tone for the album.
However, it all begins like a short church service with 'Darlings' where a harmonium accompanies Sundfør's mournful vocal, lamenting about the hopes and fears of love with that Nordic gospel flavour which was hinted at on 'Fade Away'. "So, it's definite, then…" announces Sundfør as she ponders the impending emotional gloom.
Hints of DEPECHE MODE's spiritual longing also emerge so when 'Accelerate' kicks in, it sounds exactly what the Basildon boys SHOULD be doing today musically.
In collaboration with BIG BLACK DELTA, solemn synths with a haunting Cold War spectre linger before a detour into some rumbling rhythmic aggression, the combination of live drums and machines providing a magnificent rhythmic surrealism.
Sundfør's voice is resigned one moment, then vicious the next. The chorus turns into a widescreen assault before some baroque organ interludes into the piercing climax.
The semi-acoustic 'Silencer' begins sparsely but when strings by the TRONDHEIMSOLISTENE chamber ensemble appear, things beautifully build like an Ennio Morricone soundtrack for a glacial Spaghetti Western with a Fjord as the scenic backdrop. 'Kamikaze' has a similar sparse introduction but then launches into a loose four-to-the-floor stomp. There's stabs of spacey synths, gunshots and war noises before a sudden harpsichord break for the conclusion… it is this kind of bizarre musical jigsaw puzzle that makes 'Ten Love Songs' such a fascinating experience that continually asks the question: "what's next?".
And what's next is the album's ambitious ten minute centrepiece 'Memorial' which sees Sundfør's partnership with M83 revisited. Again featuring strings by TRONDHEIMSOLISTENE, the tone is neo-classical in the mould of MUSE, but this is not surprising as the track was inspired by QUEEN; "I love Queen, and Freddie Mercury" Sundfør said, "I saw Live Aid when I was about 18, they broadcast it on one of the channels in Norway and I was just sucked towards the screen when he came on stage. His charisma was insane".
In three distinct movements, Sundfør's soaring vocal takes a breather for the middle section as a piano and orchestra take the limelight. 'Memorial' is a beautiful mini-drama and her cry of "You are heartless cos you took off my dress, and you never put it on again" captures an exposed and haunting vulnerability. These kinds of heartfelt theatrics have been attempted before by Sundfør on tracks like 'Meditation In An Emergency' from 'The Silicone Veil'
or 'Walls' from her self-titled debut, but not all together on this grand a scale.
Despite an eerie, droning intro with echoes of THE WALKERS BROTHERS' 'The Electrician', second single 'Delirious' thunders with some hard-edged electronics bolstered by more strings, coming over like THE KNIFE meeting DEPECHE MODE. With her moving vocal vibrato, our heroine announces "I'm not the one holding the gun"… this is love as a reluctant battle.
Things calm a little with 'Slowly', probably the most classic Scandipop song of the collection. Digital claps also give the track a more vintage feel but although comparatively lighter to the rest of 'Ten Love Songs', it is still richly swathed in melancholy.'Trust Me' exposes more of Sundfør's heartache as the sombre harmonium of 'Darlings' makes a return in a development of the opening track while she snarls "you cannot replace me…"
So with sinister swirls and a frantic techno rattle to finish, 'Insects' possesses a dark finality that is more aggressive than anything else the album.
As the machine gun drums attack, unsettling air raid sirens soundtrack an impending apocalypse. It is said that only insects will survive a nuclear holocaust, so this is a stark consequential reminder of what could happen in a world without love.
'Ten Love Songs' is one of those artistically accomplished albums that grows and gets better with each listen. Some components maybe unconventional, but the end results are still songs and therefore accessible in many ways. Accessibility is something THE KNIFE moved away from in their quest for experimentation… Susanne Sundfør though has successfully married the avant and pop approaches for an emotive commentary on the human condition.
"It is very taboo to be a vulnerable person" she concedes, "It's almost like the biggest weakness today is to be a human being, because everything around us is about perfection, as if we're trying to be like robots… If I listen to music or read books where people are saying 'I'm very human, I feel a lot of things, bad things, good things', that's what touches me."
---
With thanks to Debbie Ball at Create Spark
Quotes by Susanne Sundfør from the 'Ten Love Songs' album biography by Dan Cairns
'Ten Love Songs'
is released on 16th February 2015 by Sonnet Sound via Kobalt in CD, vinyl and download formats
https://www.facebook.com/susannesundfor
https://soundcloud.com/susannesundfor
---
Text by Chi Ming Lai
10th February 2015