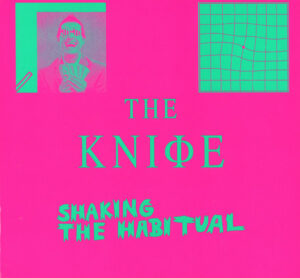 While Alison Goldfrapp has been the most influential female figure in electronic pop over the last ten years, it's been Karin Dreijer Andersson who has been the heroine for those seeking much darker, idiosyncratic values.
Other than the 'Tomorrow, In A Year' soundtrack collaboration, THE KNIFE have been relatively silent since 2006's 'Silent Shout', while Karin Dreijer Andersson's solo vehicle FEVER RAY has gained critical acclaim and fulfilled her more atonal aspirations with drones and sonic witchcraft emanating from the coven.
During that time, a variety of acts such as AUSTRA, THE HORN THE HUNT, NIKI & THE DOVE, IAMAMIWHOAMI, KARIN PARK, GAZELLE TWIN and to a lesser extent, GRIMES and LA ROUX have all appeared in Dreijer Andersson's wake, willing apprentices in the cause of hauntronica.
'Shaking The Habitual' sees Dreijer Andersson return to THE KNIFE in partnership with her brother Olof Dreijer and it has been quite evident following her FEVER RAY outing that further musicality experiments and aural challenges would beckon.
It throws caution to the wind with lengthier progressive numbers than the duo have attempted before like 'Full Of Fire' plus the almost near absence of any lines of acessibility that the siblings may have occasionally procured on tracks such as 'Silent Shout', 'Marble House', 'Pass This On', 'Heartbeats' and their ROBYN collaboration 'Who's That Girl?'. Neo-ambient interludes such as 'A Cherry On Top' and 'Old Dreams Waiting To Be Realized' also proliferate with the latter clocking in at around 20 minutes!
Pop music this most certainly isn't and THE KNIFE's loyal fanbase will adore the ritualistic development on 'Shaking The Habitual', 'A Tooth For An Eye' is a prime example of this more aggressive stance, percolating percussive textures and ethnic pipes accompanying Dreijer Andersson's impressionistic shrills. The electro-tribal 'Without You My Life Would Be Boring' continues the theme but the drum heavy 'Wrap Your Arms Around Me' and the stoic noise terrorism of 'Crake' or 'Oryx' will not be necessarily be welcomed by all ears.
More percussive mantras linger on 'Raging Lung', the deep vocal and fretless bass runs recalling JAPAN reunion project RAIN TREE CROW while 'Networking' is a most abstract electronic collage with clattering drum machine driving synth pulses and all manner of voice manipulations. 'Stay Out Here' is from the same family, similarly off-kilter but quite gruelling at nearly 11 minutes in length.
As things draw to a conclusion with another 10 minutes of transcendent empiricism in 'Fracking Fluid Injection' and the comparatively conventional but primal 'Ready To Lose', what is apparent is this album is not an easy listen and requires patience.
'Shaking The Habitual' pushes boundaries but is it self-indulgent? One individual's perception of self-indulgence is another's artistic enlightenment. Unsettling to the Nth degree, THE KNIFE have made a bold step to possibly becoming electronic music's RADIOHEAD.
---
'Shaking The Habitual'
is out now via Brille Records as a CD, double CD 3×12 inch vinyl or download
THE KNIFE play two sell out concerts at London's Roundhouse on 8th and 9th May 2013
http://www.facebook.com/theknifemusic
---
Text by Chi Ming Lai
11th April 2013