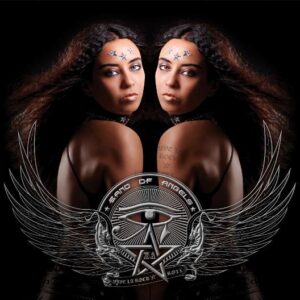 KELLI ALI is probably best known as the voice of SNEAKER PIMPS' hit singles 'Spin Spin Sugar' and '6 Underground'.
Their 1996 debut album 'Becoming X'has been held up as a landmark recording of the Trip Hop genre. While the original line-up of Ali, Chris Corner and Liam Howe made only one album, each have been successful in their chosen paths since.
Corner took the title of that SNEAKER PIMPS' debut quite literally and is now IAMX while Howe has carved out a career as a successful producer, working with most notably MARINA & THE DIAMONDS.
Following her own path of independence as a solo artist, KELLI ALI has released four acclaimed albums 'Tigermouth' (2003), 'Psychic Cat' (2004), 'Rocking Horse' (2008) and 'Butterfly' (2009) as well as a joint album 'A Paradise Inhabited By Devils' with Swiss pianist OZYMANDIS.
Her stylish, neo-gothic demeanour has also attracted the attention of willing collaborators as diverse as PAUL OAKENFOLD (with whom she penned the song 'Faster Kill Pussycat' for the late actress Brittany Murphy), BRYAN FERRY, MARILYN MANSON, MARC ALMOND and BOOTSY COLLINS.
Like her former colleague IAMX, KELLI ALI's new album 'Band Of Angels' has been crowd funded via Pledge Music, thus providing artistic freedom and connection with the audience in one fell swoop.
The result is a beautiful hybrid of electronic and classical music with Ali's distinctive voice as its emotional centre, expression that is reflectively KATE BUSH, GOLDFRAPP, BAT FOR LASHES and JULEE CRUISE in various measures.
'Band Of Angels' is an adventurous album too with MOTOR, CULT WITH NO NAME and occasional CLIENT collaborator KINDLE as co-conspirators in realising Ali's daydream vision of dark angels and vampire bikers, "a journey into the dark heart of a fallen angel" as she eloquently puts it.
A neo-industrial drama accompanying Ali's wispy layered vocals intros 'The Art Of Love' before orchestrations and mechanical rhythms kick in for a lush mini-opera. 'The Hunter' is sweet and mysterious in that KATE BUSH fashion, KELLI ALI's voice hitting angelic qualities as willowing piano joins in to add another resonant dimension.
KINDLE provides the first of his electro-metallic contributions to 'Silent Requiem' over a lovely building soundscape before the album suddenly blisters into a bit of techno! Here, MOTOR provide the electro stomp on 'Kiss Me Cleopatra' that was evident on their recent 'Man Made Machine' album which also saw DEPECHE MODE's Martin Gore and GARY NUMAN make guest appearances. It's a delightful lift that is still coherent with the earlier overtures, thanks to that consistent factor of Ali's spirited larynx which recalls 'Spin Spin Sugar' in all its frisky and passionate glory.
The laid-back mood returns on 'Falling' and while not a cover of JULEE CRUISE's 'Twin Peaks' hit, it does possess shades of those Lynch-ian snow capped atmospheres. But piano and string ballad 'Fear My Shepherd' has even more of a Twin Peaks vibe, Angelo Baladamenti's influence is all over it although closer scrutiny reveals it to be the work of the album's central producer Luke Battery around a hymn-like solo composition by the girl from Birmingham.
'In the House Of Love' ups the pace again and takes on a more aggressive stance as octave shifts, virtual Goth choirs and tinkling ivories join a positively feline delivery from Ali which gets filtered 'Felt Mountain' style to add a touch of extra eeriness. 'When Darkness Falls' is similarly feisty, swathed in synths and drones while driven by digital drum machine. Despite the melancholy, her falsetto vibrato is almost euphoric.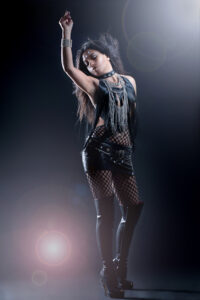 Post-punk electronic balladeers CULT WITH NO NAME appropriately are partners on the album's closing numbers 'Band Of Angels' and 'Eternity'. With Ali having sung on their 2012 album 'Above As Below', a reciprocal arrangement in recognition of their mutual appreciation society was inevitable. The title track is laid bare but Ali's voice shines over this, the most classically oriented piece on the album. A lengthy introduction to 'Eternity' sets the scene for the album's natural conclusion on a percussive ballad where Ali adds some more vibrato before a wonderfully expansive climax.
At ten tracks, 'Band Of Angels' doesn't outstay its welcome and the variation in sonic textures and tempos makes for an ambitious but cohesive listening experience. Full of depth and quality, it is worthy of time and investigation.
---
'Band Of Angels'
 is available as a download or CD
http://www.facebook.com/kellialimusic
---
Text by Chi Ming Lai
9th April 2013