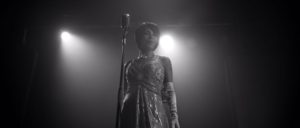 Kelli Ali first came to public attention as the lead singer of SNEAKER PIMPS. Their debut album 'Becoming X' featured the hit singles '6 Underground' and 'Spin Spin Sugar'.
Since her first solo album 'Tigermouth' in 2003, Kelli Ali has recorded a further four records in her own name.
There have also been collaborations with a number of noted artists such as Marc Almond, John Densmore, Marilyn Manson and Bootsy Collins.
Her most recent long player was the electro-friendly 'Band Of Angels'
, a musical journey into the dark heart of a fallen angel. Kelli Ali returns to the platform for 'Ghostdriver', "a joint album and film project. A noir thriller and love letter to London."
She kindly answered a few questions from ELECTRICITYCLUB.CO.UK about 'Ghostdriver' as well as reflecting on her career and continuing development as an artist…
You've described the 'Ghostdriver' album as "like no other album I have created before where Trip Hop, Electronic, Jazz and String elements will meet". How did the concept come about?
The album will be the soundtrack to the film, so it's been very much a matter of daydreaming my way into the story and then trying to create music (or ask others to help me as this is very much a collaboration) that brings the film to life even more.
Actually more than that – I'm trying to dream the album into being in a way. As I wrote the story and the characters, I know the heartbeat of the story.
Jazz is very much at the heart of the film and some of the musicians I'm working with are more electronic / trip hop in their approach, so I thought it would be interesting to marry these elements with a classical soundtrack style, to create an unusual vibe. I'm also enjoying singing a bit differently and exploring all kinds of new territory with this album.
You've said "'Ghostdriver' is a film and album from my deepest, darkest imagination, a noir thriller, a love letter to London". What idea came first, film or music?
The film vision definitely came first. As music is such a natural part of my creative process though, I was already imagining the music the moment I had the idea of making a movie.
Is there a pivotal song on the album you can tell us about?
I suppose 'LOVE' was the first song that I really felt captured the essence of 'Ghostdriver'. I'm still writing and recording so there may be others for different reasons. 'Smoke & Mirrors' is also quite an important track as it helped develop the mood for a key sequence of scenes in the film, which might not have come into being without that song.
You are recording the music alongside the film, with each aspect intertwining and influencing the other. How is that coming along?
It's going very well, thank you. I began the writing process some time ago, as experience has taught me that things always usually take about two or three times longer than one would reasonably imagine 🙂
I'm blessed with some amazing friends who are involved with the film and album and have been superb in understanding what is needed for the album and have been incredibly supportive. This has made everything feel very Zen and meant to be. Sometimes in the past, I have really had to struggle with projects to get them even started. But this film and record seems to be blessed with friendship and good people, eager to see both projects done and eager to really do what it takes to make this a thing of beauty.
Leigh from the Bit-Phalanx Music collective has been an incredible support and helped me reach out to some of the brilliant collaborators on the album and other great people in involved in the actual film. Because of his friendship, I haven't felt so alone in the whole process. Because I have a very clear picture of the film in my head, it is amazing to see it coming to life. Making the music alongside the film as it develops is actually a very interesting and rewarding process. I feel that the two things (record and film) are feeding off and into each other.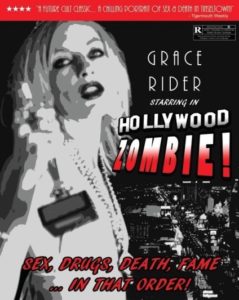 What are the challenges you've encountered?
Challenges are always usually financial or organisational! Making a film involves an incredible amount of work and planning and cash! My audience is beautiful but small so I can only ask for a certain amount from the Pledge Music funding process, a fraction of what it truly costs to make a movie and album. This means I have to make every shoot count and I have to think very deeply about the filming schedule and organization of both film and album. However, I love the way that the financial limitations actually force me to be much more creative in making the film, instead of a big Hollywood style film that has a huge team of people making everything happen and money to burn on locations and effects actors and costume etc.
I have been much more inspired by the Noir, 1960s British and Warhol / Paul Morrissey films. Most of the actors in the movie are my dear friends and some of the locations have even been set up in my home. We've stripped entire rooms down to make studio sets!
This takes much longer to do of course and is much more consuming than rolling up to a film set already created and hired. But because of this I feel that the film has an authenticity and humanity that, dare I say is lacking from the glitzy big budget films that so many new film makers seem to try and emulate.
Anyway, I think it's the challenges of a project that really teach you the most about life and who you are.
All art is a challenge, but in the luxurious sense. Not the same, obviously, as being born into a war zone or forced to join the army when still a child, or the many other challenges that life can throw at a soul.
Therefore, I try not to dwell on difficulties anymore and remind myself that my challenges as an artist are minuscule compared to human challenges that so many suffer through on a day to day basis.
You're noted for collaborating, who have you got lined-up up for 'Ghostdriver'?
COLOQUIX, ULRICH SCHNAUSS, DIGITONAL, ALEX DAI CASTAING and CHRIST. are my main collaborators so far…
You've collaborated in the past with a number of prominent artists like Marc Almond, John Densmore, Marilyn Manson and Bootsy Collins. What have each been like to work with?
Marc Almond was lovely.
THE DOORS were very influential to me as a teenager, so meeting John Densmore was quite a big deal, great to work with, very intuitive and relaxed.
Marilyn Manson was one of the friendliest, most fun and open people I worked with. I spent the most time with him and he was very generous with his time, taking me for breakfast and to some of his favourite record shops in New York.
Bootsy Collins was soooo gorgeous! He is a fascinating artist and a true legend. He has truly lived to see and learn so much and is incredibly giving and open. I was very fortunate to have worked with such a star and have very fond memories of our time in Germany, making the video for our single 'Play With Bootsy'. He even gave me his suite when he left the hotel which was so incredibly cool!
Some might not know that Paul Oakenfold recorded one of your songs 'Faster Kill Pussycat' with the late Brittany Murphy? What was the story behind that?
We wrote it together when I was in Los Angeles. A while later, Paul sent me a version of the song with Brittany singing it. I always loved her as I love the film 'Spun', she is so awesome in that film. So it was really cool.
This is not the first time you've used crowdfunding as you had a campaign for 'Band Of Angels'. What are the pros and cons of platforms such as this?
I've actually made a few projects using Pledge Music. 'The Art of Love' CD / DVD and 'Kiss Me Cleopatra' remix albums were also made through Pledge Music. It's been truly amazing to come together with my listeners to create these projects and without a platform such as Pledge Music, I have no idea if I could have continued to make records.
Pros are many, my listeners have a much better understanding of who I am as an artist, and how and why my work is created.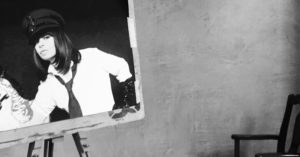 I can share so much more of the making of a project through the Pledge updates and there is a real sense of excitement and involvement with my listeners, that I never felt when I was on a label.
I can share the music and project with my true followers first and they know that they are experiencing something straight from me to them.
They allow me to follow these crazy visions like some kind of shaman so that they can experience an artist's journey and I love that. It's like, we all go on this journey together and at the end, we've all grown somehow because of our collaboration. I really couldn't create these things without their help.
Also they keep me encouraged. If I know that only even a small group of people really care about what I'm doing, it's enough to keep me happy in my work. I don't need or want fame, but to feel like I'm doing all this work if no one gave a damn, would probably mean an early retirement!
'Kiss Me Cleopatra' was a particular highlight, what was that about?
It's about gender and love and sex. The song is actually about a transsexual prostitute called Cleopatra. A praise to her beauty and the way that the tragedy of ostracism and prejudice can push people to the darker side of life, but how that can also enhance the beauty of a soul.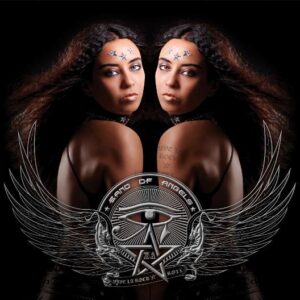 'Band Of Angels' was one of your more predominantly electronic albums. How do you look back on what it achieved for you artistically?
It was a massive turning point. It was the first time I had worked outside the comfort zone of working with a professional producer.
I ran into many challenges that I had not faced in my rather fortunate past of working with true professionals who made the technical aspects of making an album seem like a breeze.
In fact, I actually learned more about mixing and mastering through all the problems with the 'Band Of Angels' album, than a lifetime watching the masters could have taught me.
I had to mix and master that album twice. The last time I pretty much mixed it myself instructing the engineer at every step as no-one seemed to be getting the clarity or balance that I have come to expect from a record.
Having to really learn how to mix and listen from an analytical perspective as opposed to an emotional one was very hard for me at first. But it's necessary to achieve the sonic quality of a good record and I feel I learned a lot from what was one of the most difficult recording experiences I have experienced.
You will be showing the 'Ghostdriver' film at a cinema in London with a Q&A featuring yourself and the cast. When will that be happening and what are your hopes and fears for it?
I'm very excited about the launch and premiere of 'Ghostdriver'. I'm sure wherever we show, it will be a night to remember!
All the stars and musicians and friends and some listeners will no doubt be there, so it should be a very beautiful climax to this remarkable journey.
The location will of course be announced through Pledge Music closer to the date. However, for now I need to get on with making the film and album and focus just on that, in order to ensure my mind and heart are in the moment.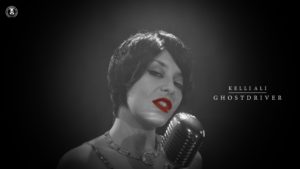 I have no hopes or fears, I am curious and open to follow this daydream of a journey wherever it takes me. It has its own life now and has already given me so much rich treasure of the heart.
Expectation and fear are very much illusory processes that are part of being human but better avoided if possible, where art is concerned.
It is enough that we are in the position to make something like this happen at all. I will do my very best, put my heart and soul into the work. Hopes and fears left my heart a long time ago.
---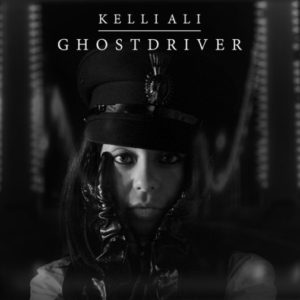 ELECTRICITYCLUB.CO.UK gives its sincerest thanks to Kelli Ali
The signed 'Ghostdriver' Original Soundtrack CD is available for Pre-Order with a special pay postage only Buy Option for those who pledged on the project via Pledge Music from http://www.kelliali.com/
https://www.facebook.com/kellialimusic/
https://www.instagram.com/kellialiofficial/
---
Text and Interview by Chi Ming Lai
8th May 2017, updated 13th October 2020