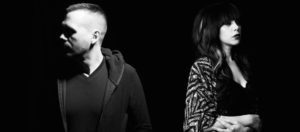 KATE BUSH's return to live performance this year has highlighted the debt owned to her by any number of female fronted musical projects. THE KNIFE take their lead from Bush's uncompromising stances while GOLDFRAPP's avant pop instincts show that while Ms Bush pushed boundaries, she had tunes as well.
More recently, the kooky demeanour of the lady who came up with 'Babooshka' has also been omnipresent in Sweden's IAMAMIWHOAMI but the more epic, gothic overtones of Bush's work have now appeared in a new Brooklyn based electro duo called AZAR SWAN.
Comprising of Zohra Atash and Joshua Strawn, AZAR SWAN's drum machine laden, synth and sample assisted template dominates their second album 'And Blow Us A Kiss'. The immediately appealing title track is a dance friendly death rattle with a beautifully feline vocal from Atash backed by string machine chills and sombre brass tones.
Meanwhile, the brilliant new single 'We Hunger' borrows melodically from GOLDFRAPP's 'Strict Machine' and adds some eerie exotic vocal timbres reminiscent of KELLI ALI, whose most recent album 'Band Of Angels' is possibly the one most comparable with 'And Blow Us A Kiss'.
AZAR SWAN's other cited influences include cult industrialists FRONT LINE ASSEMBLY and Essex's own sonic experimentalists THESE NEW PURITANS; this is quite evident in their cavernous sound. The tribal 'Bury The Sun' brings in contemporary sonic references such as GAZELLE TWIN and NIKI & THE DOVE while the exotic drama of 'Kiss Of Life' is a marvellously percussive number that comes over like a modern Bond Theme sans strings and even breaks down to percapella at various stages of the song. And with a detuned rhythmical backbone, the minimal 'Sugar' makes the most of Atash's passionate voice around some rich synthesizer moods.
Benefiting from a more streamlined compositional nucleus following the frustrations of multiple musicians slowing the writing and performing process in their previous band RELIGIOUS TO DAMN, the pair's mutually revived interest in electronic music and hip-hop has blended to form a dark but accessible hybrid that will be enjoyed by those who like their music to be brooding.
---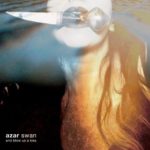 'And Blow Us A Kiss' is released by Zoo Music in CD, LP and download formats
https://www.facebook.com/AzarSwan
---
Text by Chi Ming Lai
29th November 2014