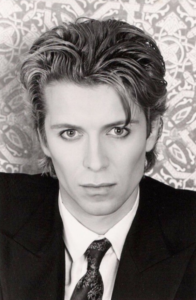 Born in Auckland to Danish parents, Zaine Griff possesses a musical CV that is impressive, reading like a Who's Who of popular music.
First a bassist and vocalist with Kiwi rock band THE HUMAN INSTINCT, he left in 1975 and moved to London where he had stints in BABY FACE and SCREEMER before going on to study mime under Lindsay Kemp alongside Kate Bush. As a result, he joined Kemp's production of a play written by Jean Genet called 'Flowers'.
In 1979, Zaine Griff launched his solo career with future film music composer Hans Zimmer and ULTRAVOX drummer Warren Cann among the members of his backing band for an appearance at the Reading Festival.
With his Aladdin Sane-inspired persona, he was soon signed by Automatic Records, a subsidiary of Warner Bros who brought in Tony Visconti to produce his debut solo album 'Ashes & Diamonds'
. It spawned the 1980 single 'Tonight' but it peaked at No54 in the UK Singles Chart, partly due to an already recorded appearance on 'Top Of The Pops' not being shown due to a Musicians Union strike.
It was during these recording sessions for 'Ashes & Diamonds' that David Bowie walked in to visit Visconti and was slightly taken aback by the resemblance between himself and Griff. Despite this, Bowie invited Griff be part of the band to record three new versions of his songs for an upcoming appearance on the 1979 Kenny Everett New Year Show.
One of them was 'Space Oddity' which later surfaced as the flipside to 'Alabama Song' while another was 'Panic In Detroit' that later appeared as a bonus track on the Ryko CD reissue of the 'Scary Monsters' album; the re-recording of 'Rebel Rebel' has yet to see the light of day.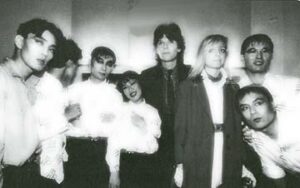 The second Zaine Griff album 'Figvres'
was released in 1982 and saw Hans Zimmer stepping up to the producer role.
It ultimately laid the groundwork for the German musician's eventual career in Hollywood. Also featuring on the album were Kate Bush and Yukihiro Takahashi from YELLOW MAGIC ORCHESTRA.
Around this time, Griff held an art exhibition of his drawings in London's Ebury Galley, to which his friend and contemporary artist Mark Wardel also contributed.
Meanwhile in 1983, Griff collaborated on six songs for Hans Zimmer and Warren Cann's ambitious HELDEN album 'Spies' which despite the independently released duet with Linda Allan titled 'Holding On' being issued as a single in advance, remains officially unreleased. After recording with Midge Ure and Gary Numan, Griff returned to New Zealand in 1984.
In 2011, Zaine Griff made a comeback with his third album 'Child Who Wants The Moon' and returned to the live stage. While he has continued releasing albums and touring regularly, his music was being discovered by a cool young audience, thanks to American rockers MGMT covering 'Ashes & Diamonds' during their concerts in 2018.
Then recently, there came the surprise announcement that Zaine Griff was to join Rusty Egan and 'Fade To Grey' co-writer Chris Payne to perform the songs of VISAGE in an audio-visual presentation at W-Festival in Belgium and the Human Traffic Live & The Pioneers of Electronica showcase in London this Summer.
To celebrate the 40th anniversary of VISAGE, founder members Midge Ure and Rusty Egan had deliberated for months as to who could take on guitar and lead vocals in a four man line-up with a nod to their original inspiration KRAFTWERK, eschewing the format of a lead singer fronting a band. With Ure committed to his own '1980' tour performing VISAGE and ULTRAVOX songs, the role was offered to Zaine Griff.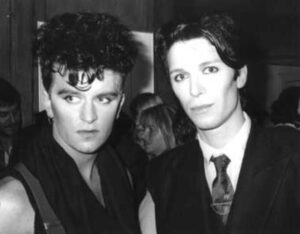 While Steve Strange was undoubtedly the flamboyant face of VISAGE and played a vital role in the collective's international visual profile, the many layers of backing vocals on the recordings were by Midge Ure and Rusty Egan, providing a crucial musicality to support Strange's more monotone lead voice.
Meanwhile, a fair number of tracks like 'The Dancer', 'Moon Over Moscow', 'Whispers' and the dance mix of 'Frequency 7' were instrumentals.
So as an associate of the New Romantic movement with connections to many key figures of the period, Zaine Griff is just the man for the job. He kindly spoke from his home in New Zealand to talk about his music career and the upcoming VISAGE 1980 x 2020 shows.
Your debut solo album 'Ashes & Diamonds' was produced by Tony Visconti, how did that come about?
Tony Visconti was brought in to produce my debut album 'Ashes and Diamonds' by my record company MD Nick Mobbs at Automatic Records which was part of Warner Bros. When Tony heard my demos, he wanted to work with me.
It was during the recording of the 'Ashes & Diamonds' album that you were introduced to David Bowie and he had a proposal?
I was introduced to David Bowie by Tony at Good Earth studios. David had just returned from recording the Berlin trilogy and was wanting Tony to produce some tracks for a TV show. He had heard what I was doing and asked me if we could back him.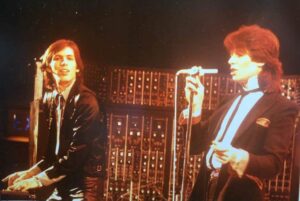 How did you run into Hans Zimmer and his batcave of synths?
Colin Thurston introduced me to Hans Zimmer when Colin brought Hans into Utopia studios to play keyboards on some demos I was recording there.
Everything from that session onwards, Hans played on. As Hans said to me only last year: "I was your keyboard player".
In fact, he was much more than that. All the live work, studio work, Hans was with me, as I was with him during his HELDEN project.
You were frequenting The Blitz Club, what appealed to you about its atmosphere and how did you find the characters you met there?
I met Steve Strange at Legends night club. My manager Campbell Palmer owned Legends. I met so many amazing artists at Legends, we would dance and hangout till day break, often we would go to The Blitz Club or The Embassy. Everyone seemed to know each other and were supportive of each other. This is how I met Rusty Egan and Midge Ure, Boy George, Marilyn and so on.
Did it take much to persuade Rusty Egan to appear in your 'Ashes & Diamonds' video for the single?
I wanted at the time for Rusty to drum for me and Gary Tibbs to play bass. Well, they performed in the video of 'Ashes & Diamonds' and then they both were doing other projects. I tried!!
How do you feel about the American indie rock band MGMT covering 'Ashes & Diamonds' on their 2018 live tour?
Fantastic! I would love to meet them one day. It's so cool when a younger generation plays your music in respect of the song and the composition. I was thrilled to say the least, I have followed them ever since.
Hans Zimmer had moved up to the producer role on 'Figvres' and it was to prove inspiring for his later soundtrack career?
I had to convince Nick Mobbs of Automatic Records to allow Hans Zimmer to produce my second album 'Figvres'. So much so that Nick allowed Hans to co-produce and Nick would allow us to complete the album based on the first two weeks of recording. He loved what he heard and gave us his blessing to finish.
Up until then, Hans had only produced a single for THE DAMNED. 'Figvres' was his first album production. And indeed he is entitled to a full production credit for everything he put into 'Figvres' and of course Steve Rance, Hans' engineer… what a team!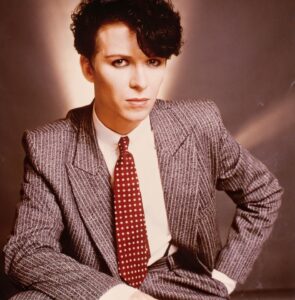 You had a good friendship with Warren Cann from ULTRAVOX who played on the 'Figvres' album too?
I heard ULTRAVOX on the John Peel show. I went out and brought 'Systems Of Romance' only because of the drummer. I had to meet this guy and work with him. I wanted Warren so much, I called Island Records, got his number, went to his flat and convinced him to play at the Reading Festival with me, and that's how Hans and Warren met in rehearsal for Reading Festival.
The song 'Flowers' was dedicated to the late Lindsay Kemp and had Kate Bush singing backing vocals, what was it like working with her?
Working with Kate Bush was beautiful. She and I had studied under Lindsay Kemp, so it was easy for her to understand the 'Flowers' song and the emotion of the composition.
'Flowers' the show was a massive inspiration. Nothing comes near 'Flowers'. So powerful, so dramatic and a huge inspiration to us both.
Hans Zimmer and Warren Cann formed HELDEN and you sang on the single 'Holding On', but the album on which you sang another five songs has never had an official release, do you consider it to be a lost classic?
I spent a whole year, most days and nights with Hans and Warren on the HELDEN project mainly at Snake Ranch Studios. I did a radio promotional tour with Hans. By then he was swept off his feet by film directors. Alas Hollywood.
What was the idea behind you recording a cover of ULTRAVOX's 'Passionate Reply' with Midge Ure?
Chris O'Donnell suggested I do some recording with Midge. He played me 'Passionate Reply' on an acoustic, I had not heard it before and I just loved it. We recorded in his Chiswick studio. We recorded enough material for an album and the masters were stored at Rock City Studios with Gary Numan's mum.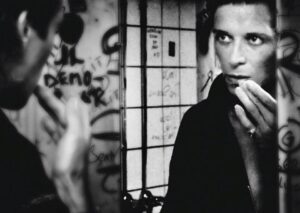 I loved working with Midge. I had known Midge from when he was in SLIK. The band I was playing with at the time were the support to SLIK. I knew then just how good he was.
Looking back, we were so naive to it all. ULTRAVOX was managed by Chris O'Donnell and Chris Morrison, they were my production management company and production company to VISAGE. See how close knit we all were? And of course they managed THIN LIZZY.
There was that TV appearance performing 'Passionate Reply' on 'The Freddie Starr Show'? What can you remember about that?
I was told I was to go to Manchester and do this show. All I wanted to do was not do it. Hated the whole tacky production. Still I stood up there alone and did it.
You recorded 'This Strange Obsession' with Yukihiro Takahashi and Ronny, that's quite an international combination?
I had worked with Ronny on one of my songs 'It's A Sin' with Hans producing her and Yukihiro approached me to write for him. I asked Ronny to join us. That was amazing working with Yukihiro. The translation barrier was understood with music.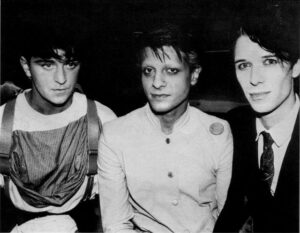 Although you never recorded together, there's a photo of you with Steve Strange and Mick Karn, what was the occasion?
That photo of Mick, Steve and I was at my art exhibition at the Ebury Gallery Victoria.
Gary Numan invited you to duet with him on 'The Secret' from 'Berserker', it has a good chemistry, how did you find working in the studio with him?
Gary Numan called me asked me to work on 'Berserker' just out of the blue. He was great to work with, I remember him doing takes faster than what I was used to; if he liked that take, that was it. Midge was like that as well. They knew what they wanted.
You returned with your third album 'Child Who Wants The Moon' in 2011, what was behind what appeared to be a lengthy hiatus?
It was a lengthy hiatus because I was burnt out, exhausted, not well, I had to go. I was not in a great space. I decided to try and get well again and stop wanting the moon… you know wanting the impossible.
You've released the albums 'The Visitor' and 'Mood Swings' since then and have returned to performing live again. Was that aspect something you'd missed over the years?
My problem is I cannot stop composing. I recorded 'The Visitor' and 'Mood Swings' purely for composition fulfilment. In the liner notes of 'Mood Swings', you can see the album is dedicated to Steve Strange.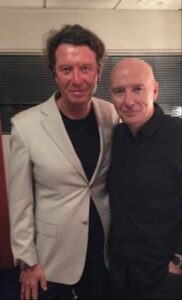 How did the upcoming VISAGE 1980 x 2021 gigs with Rusty Egan and Chris Payne come about?
I had a call from Rusty late last year. He had spoken to Midge and Chris Payne, and asked if I would be interested in the VISAGE 1980 x 2021 shows. I find this an honour and a privilege. This project is about the music of VISAGE, not the front man or side man, it is about the music VISAGE produced and created.
These VISAGE shows from my perspective are a celebration of 40 years since the VISAGE debut was released. For me, it will also be a 40 years celebration of my debut album 'Ashes & Diamonds'. It is also a celebration to Steve's life, Rusty, Midge, Chris and everyone involved in the making of VISAGE and all their incredible fans and followers.
Which are your own favourite VISAGE songs?
Songs like 'The Damned Don't Cry' are classic compositions of that time. Again, I love the energy they put in the studio, I don't believe they ever performed live. I have spoken to Chris but I haven't seen him since I sang on Gary Numan's 'Berserker' album… I can't wait to work with Chris and Rusty again.
What are your plans after these VISAGE 1980 x 2021 dates?
I will be doing some live shows later this year in London.
---
ELECTRICITYCLUB.CO.UK gives its warmest thanks to Zaine Griff
Special thanks to Rusty Egan
'Ashes & Diamonds'
and 'Figvres'
are still available via Mig Music on the usual digital platforms
Zaine Griff, Rusty Egan, Chris Payne and Dave Brooks perform the music of VISAGE 1980 x 2021 at W-Festival in Belgium on Saturday 28th August 2021 – tickets are available from https://w-festival.com/en/
https://www.facebook.com/Zainegriff.officialnews/
https://twitter.com/ZaineGriffOffic
https://www.instagram.com/zainegriff/
---
Text and Interview by Chi Ming Lai
13th February 2020, updated 29th December 2020