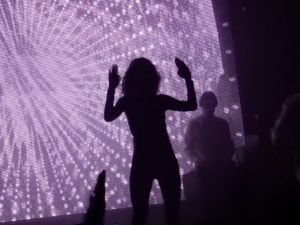 IONNALEE made her London live debut appropriately at Heaven and like her recorded work, it was a full-on audio / visual experience.
The vehicle of the mysterious Swedish singer / songwriter / producer / filmmaker Jonna Lee, the memorable presentation comprised of a powerful electronic soundtrack, engaging performance art and striking but unimposing visuals.
IONNALEE is both a new start and the continuation of a story that began with IAMAMIWHOAMI, her previous project with producer Claes Björklund which produced three enticing bodies of work in 'Bounty', 'Kin' and 'Blue'
. And although Björklund has been involved behind the mixing desk under his BARBELLE moniker for the acclaimed 'Everyone Afraid To Be Forgotten', it is Lee's debut long player as a solo artist.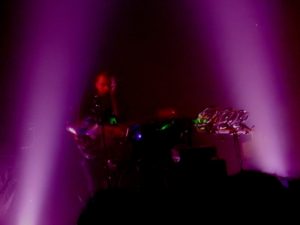 But before the main act, the eager audience were treated to a fine half hour set from MAN WITHOUT COUNTRY, the stage name of Welshman Ryan James. Operating in not dissimilar sonic territory to MAPS, his last album 'Maximum Entropy'
was in 2015.
However, the new single 'Remember the Bad Things' has acted as an enticing trailer for a new body of work 'Infinity Mirror' to be released in the Autumn.
Combining a mastery of synth, guitar and drums, James' set also included the percussive cacophony of 'Entropy', the dreamy but urgent 'Puppets' from his 2012 album 'Foe'
and an excellent rendition of 'Sordid Affair', his wonderful collaboration with RÖYKSOPP from their last opus 'The Inevitable End'
.
No stranger to collaborating with RÖYKSOPP herself, Lee began her show with the frantic oddball drama of 'Work' and 'Not Human', an electro-Eurovision tune that could be best described as ABBA's 'Summer Night City' on acid!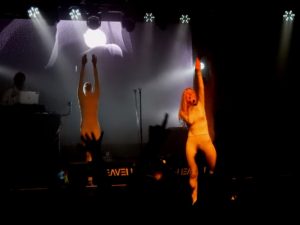 Delightfully odd in her white catsuit with many kooky exaggerated mime movements supported by a similarly attired girl / boy dance duo, the show enjoyably came over rather like Kate Bush at a rave, meeting The Man Who Fell To Earth.
A section of the IAMAMIWHOAMI catalogue was delivered via the widescreen air of 'Fountain', the moody 'Chasing Kites' and the rigid arty synthpop of 'T', each making fine use of Lee's characteristic Scandifolk vocal style.
Meanwhile 'Play' from 'Kin'
offered some enigmatic downtempo weirdness as an interlude to the space age discothèque format of the evening.
With IONNALEE being more upfront and less abstract than IAMAMIWHOAMI, guest contributions have been a feature of 'Everyone Afraid To Be Forgotten' with TR/ST and Jamie McDermott of THE IRREPRESSIBLES both figuring.

Quietly charismatic, McDermott quietly took to the Heaven stage to add his dulcet tones for the glorious duet 'Dunes of Sand' and after Lee's Nordic rap on 'Samaritan', returned to join her on the 'Bounty'
track 'Y'.
For the well-deserved encore, the CHVRCHES-like 'Gone' and the meditative wash of 'Blue Blue' marked the journey home before a brilliant funked up update of 'Goods', one of the highlights from 'Kin'
with its classic swirling synth attack.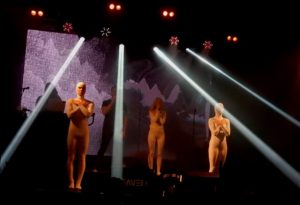 All-in-all, it was a terrific and unforgettable night of dynamic electronic pop presented as colourful and dramatic theatre.
And with change left over from twenty of your English pounds, IONNALEE is the perfect escapist tonic in these slightly more turbulent socio-economic times as the hottest value-for-money ticket of 2018.
---
'Everyone Afraid To Be Forgotten'
is released by To Whom It May Concern via the usual digital platforms and direct from https://ionnalee.bandcamp.com
The physical formats of the IONNALLE and IAMAMIWHOAMI back catalogue are available from https://shop.towhomitmayconcern.cc

The 'Everyone Afraid To Be Forgotten' tour continues throughout 2018, dates include:
Copenhagen Lille Vega (18 May), Stockholm Slaktkyrkan (19 May), Moscow Red Club (9 June),
Saint Petersburg Stereoleto (10 June), Cardiff Festival of Voice (16 June), São Paulo Cine Joia (23 August), Rio de Janeiro Queremos! Festival (25 August), Göteborg Statement Festival (31 August), Kiev Bel Letage (12 October), Prague Meet Factory (13 October), Berlin Berghain Club (17 October)
https://www.facebook.com/iamionnalee/
https://www.instagram.com/ionnalee/
https://www.facebook.com/manwithoutcountry/
---
Text and Photos by Chi Ming Lai
11th May 2018