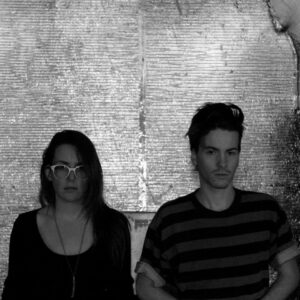 With AUSTRA returning following their acclaimed 2011 debut album 'Feel It Break', a side project during their hiatus originally featuring their drummer Maya Postepski has almost passed under radar but deserves recognition.
TR/ST started as a synth duo comprising of Postepski and Robert Alfons who released their debut album 'TRST' back in early 2012 on the Arts & Crafts label.
Formed in 2010 in Toronto, they released their debut EP 'Candy Walls' in 2011 on Brooklyn imprint Sacred Bones Records.
Like AUSTRA, the music is swathed in electro-gothic grandeur but differs in that it features predominately male vocals. The hypnotically sombre 'Bulbform' has been their calling card and features a grainy retro-futuristic video cut from archive fashion footage…
Meanwhile the album 'TRST' features a number of impressive tracks including the minimal 'F.T.F.' which features Postepski duetting with Alfons, her voice possessing the sinister spectre of LADYTRON's Mira Aroyo.
There's also the trancier synthscapes of 'Sulk' and the alternate Euro-disco of 'Dressed For Space' which comes over like a doom laden version of CAMOUFLAGE's 'Love Is A Shield' with Alfons' unsettling larynx dominating like Eeyore gone goth…
However, with AUSTRA releasing a new album 'Olympia' in June, Postepski has returned to the band while Alfons is currently completing a North American tour and working solo on a second TR/ST album.
---
'TRST' is available via Amazon, iTunes and the usual digital outlets
https://www.facebook.com/dressedforspace/
---
Text by Chi Ming Lai with thanks to Deb Danahay
10th March 2013