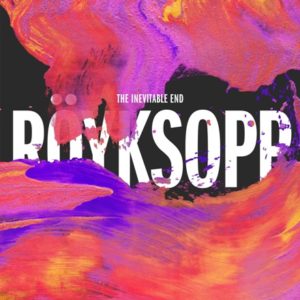 With a typical gap of 4-5 years between most of their albums, RÖYKSOPP fans would certainly feel like its birthday and Christmas arriving all at once with the release of 'The Inevitable End'.
The new collection comes hot on the heels of the ROBYN collaboration mini-album 'Do It Again'.  In the accompanying press release, 'The Inevitable End' (the clue's in the title) has been announced as the final RÖYKSOPP album, although one half of the duo Svein Berge explains that "We feel like this is a goodbye to the traditional album format… we're not going to stop making music, but the album format as such, this is the last thing from us".
So with that intriguing signing off statement, how does 'The Inevitable End' sound? The overture to the album 'Skulls' combines a swung rhythm pattern with spiky analogue synth percussion and unlike most of the other album tracks, relies exclusively on heavily vocodered vocals, almost an evil twin to those much loved by DAFT PUNK. 'Monument' first made its appearance on 'Do It Again' in an epic 10 minute incarnation featuring AIR-like textures and live sax, but the version here is more energized with an edgy octave-jumping bassline. The lyrics "this will be my monument, this will be a beacon when I'm gone" take on a deeper significance bearing in mind the intention of this being (potentially) RÖYKSOPP's swansong…
The MAN WITHOUT COUNTRY collaboration 'Sordid Affair' recalls THE BELOVED with its restrained and lush synthetic textures, the bitter-sweet lyrics recalling a doomed love affair, heartbreakingly soundtracked with a beautiful descending sixteen note melody. Jamie McDermott from THE IRREPRESSIBLES takes vocal duties on a third of the album tracks, 'You Know I Have to Go' is the aural equivalent of taking the central section of 10CC's 'I'm Not in Love' and stretching it over 7 and a half minutes, whilst the more uptempo 'I Had This Thing' introduces a 4/4 kick drum into the proceedings but again features another melancholic vocal motif over a chord progression recalling 'Do It Again'.
Susanne Sundfør, who vocalled RÖYKSOPP's superb cover of 'Ice Machine', guests on 'Save Me' which conjures up a blend of Giorgio Moroder's 'The Chase' combined with one of Timbaland's productions with his trademark gated "du-du-dah" synth chord present throughout.
'Rong', the other track to showcase ROBYN, is pretty bizarre, a short two minute track who's main vocal hook is "What the f*** is wrong with you?"… and at this point in the album (if you hadn't clocked it before) the realization kicks in that this really isn't going to be an uplifting party album. The other Susanne Sundfør song 'Running to the Sea', which was a single last year, is a more piano-led track which builds to a snare driven climax, yet still retains the overall wistful and downbeat atmosphere of the tracks that preceded it.
The album ends with the instrumental 'Coup de Grace' and then 'Thank You', the latter's vocoder eerily echoing 'Europe Endless' with the vocal hookline providing a fitting closing melody of gratitude to a person or person(s) unknown – it could be speculated this is parting gesture aimed at their fans, but the interpretation is left to the listener to make their minds up as to who the recipient is.
In summary, this is a VERY introspective album, if you are going through any sort of emotional turmoil, then 'The Inevitable End' is a pretty hard ride from start to finish. There are glimmers of light here, but the overriding ambience is that of despair, heartbreak and desolation, but wrapped up in some really beautiful downbeat electronic textures.
The 'Marmite' factor is also provided by Jamie McDermott's vocals, listeners will either love the downbeat crooning or will quite possibly be reaching for some LEONARD COHEN for some light relief… it will certainly be interesting to see what RÖYKSOPP do next.
They have certainly left behind a superb body of work, from their early chilled out selections through to the more electronic pop direction of their ROBYN collaborations. Whatever pathway they choose to take next, they will surely be followed by those with an interest in quality electronic music, and despite the downbeat album title, this may be 'The Inevitable End' of one era and the start of a new one…
---
'The Inevitable End'
 is released by Dog Triumph through Wall Of Sound and Cooking Vinyl in CD, vinyl and download formats on 10th November 2014
https://www.facebook.com/Royksopp
---
Text by Paul Boddy
3rd November 2014