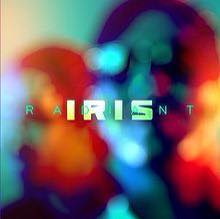 From Austin, Texas, IRIS are melodious synth pop as it should be.
Reagan Jones and Andrew Sega (who joined IRIS after Matthew Morris' departure following the release of their first album 'Disconnect') have had a strong musical presence on both sides of the Atlantic for a considerable while now. With the second album 'Awakening' and its resonant, rounded songs like 'Whatever', 'Unknown' and the lush 'Wait Move On', Sega pushed the boundaries into a more experimental, leftfield, electronic sound.
The albums that followed were 'Wrath' and 'Blacklight', each with progressive, empowering, architectural songs that received great reviews in the US and Europe alike. The newest project from the duo, 'Radiant' is released on Dependent Records, the same label as MESH and COVENANT. It's kicked off by the robust sounds of 'Another Way'.
In true IRIS style, the uptempo, full bodied melody is interspersed with synthy tones and Reagan's softly flowing voice. It's a marvellous way to open the album. 'Phenom' follows, with rather interesting, powerful notes, resonant with the velvety quality of Jones' vocals and an extremely atmospheric track, resembling those of 'Blacklight'.
'Wayseer' is another distinctive offering from the band with its celestial qualities and almost buoyant textures. 'In The Clear' and 'Sound Becomes Waves' are analogous with tranquil and mellow tones of IRIS' repertoire, with the latter culminating with compelling keyboard sounds, interspersed with eerie guitar. 'Don't Cry' and 'Infinite Yonder' come in with stimulating melodies, captivating clean and bright tones, all put together to achieve yet another set of climatic pieces.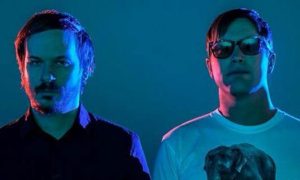 'Cries Of Insanity' resembles MESH at times, but with the definite IRIS stamp of uncluttered, harmonious purity. It is yet another dazzling gem, shining bright on this album. The first single from the record 'Rewired' is a magnificent use of synths, painting that distinguished IRIS sound, representing the duo so well with a booming, intense and climatic use of melody.
'Sight Unseen' follows and is a glowing example of what IRIS do best; rhythmic yet soft, rich yet warm. The mega atmospheric 'Life In A Forest' closes, a soothing, relaxing, rejuvenating and lush track, studded with real forest sounds; the perfect way to end the perfect record.
Yet again IRIS do not disappoint, the album leaves the listener in a tranquil, dream-like state (pardon the ERASURE pun), and involuntarily wanting more. Even though one could argue that nothing new has been provided to challenge the previous album 'Blacklight', this is a tight record, with constant, substantial tunes, sufficient to gain new blood as well as satisfy the hardcore IRIS fan.
As IRIS visit Europe frequently, having been a part of ASSEMBLAGE 23 and SEABOUND tours last winter / spring, it is hoped they will return to present the newest album live in the near future.
---
'Radiant' is released by Dependent Records on CD and available as a download album via the usual digital outlets
https://www.facebook.com/pages/Iris/55618397260
---
Text by Monika Izabela Goss
8th November 2014