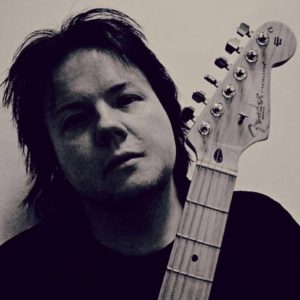 For fans of electronic music, the surname Froese really needs little or no introduction and Edgar's son Jerome has forged a musical career which has seen him partnering his father in TANGERINE DREAM between 1990-2006 before pursuing a solo project resulting in four of his own albums.
Following this came a teaming up with ex-TD member Johannes Schmoelling and Robert Waters as LOOM. On the near horizon is the much-anticipated collaborative work with PROPAGANDA's Claudia Brücken called 'Beginn'
.
Jerome kindly took time out to talk about subjects including his musical upbringing, his exposure to cutting edge electronic equipment and the contentious subject of the continuation of TANGERINE DREAM without Edgar's involvement.
To those that know your background, your musical upbringing might seem obvious, but could you describe how you got into music and some of your early experiences?
At first I was lucky enough to be brought up within a totally strange cultural environment! This was a concern to my parents as well as to the other band members and their circle of friends. Therefore almost all of their artistic activities were geared towards leaving well-beaten paths for entering an entirely new area of sounds and a completely different way of using instruments or things which hardly could be described as instruments.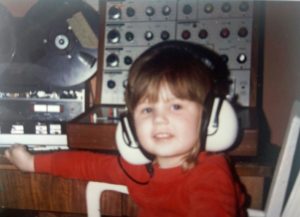 Ever since I can remember, I was a fan of soundscapes and Sci-Fi technology; so naturally I was very keen to play with all kinds of items which looked or sounded like that. That's why in the early 70s, an EMS VCS3 synthesizer may have been used by the baby of the family for other than its intended purpose!
Due to the fact that TANGERINE DREAM always wanted to be cutting-edge in terms of equipment, there was a lot of discarded stuff stored in a loft above our office in Berlin.
I'm remembering countless big units of Mellotron audio tape cartridges and many other curiosities which have filled the room to the brim for a certain time. Nevertheless, all the newest tech could always be seen at Chris Franke's huge studio which was located in an old cinema and was definitely a 'wow' moment for any 'electronic' musician!
Once there, you were able to find prototypes of synth and computer legends like the PPG Wave, Oberheim or the E-mu Emulator as well as the first Apple Macintosh or just some strange custom-built stuff.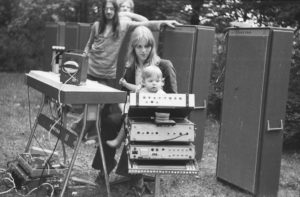 Chris was a real tech freak, putting his hands on any gadget which was accessible or could be game-changing in some kind of way.
Edgar was more pragmatic equipment-wise, selling his unneeded stuff after some time. Some years ago he told me that he only regrets the disposal of his Memory Moog and Oberheim 4 Voice. But I'm going off on tangents…
Were you surprised when you were asked to become part of TANGERINE DREAM?
No, because I slipped into it.
Do you feel that you joined TD at a high or low point in its overall history?
You must never forget that it's a matter of common knowledge that things went down after Chris Franke left 😉
Well, all right, joking apart. Due to the effect that equipment got smaller, cheaper and all at once widely used by many more artists at that time, it was also much more demanding to be in contrast with the electronic music scene. The days where TD could comfortably run ahead were over and the only choice was to look forward, change tack and create something else, which still is the sound for a certain attitude towards life.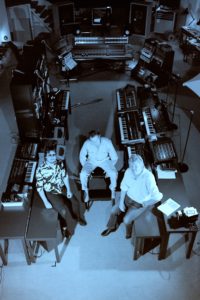 With regard to soundtracks, another strategy was necessary as well because TD's trademark pioneering film music from the late 70s to mid-80s became undertaken and copied by many local session musicians working at a lower budget and being available 24/7. "Can you please make a score which sounds like TANGERINE DREAM?" suddenly became a common phrase in Hollywood and manys the time we've heard that said!
After joining TD in early 1990, I found myself right in the middle of a rebuilding process with lots of ambitions for another approach to the whole musical concept of the band. I won't judge in public if this was a high or low point of TD, but six-digit sales of most 90s albums confirmed to us that there were still listeners out there.
Your growing up was anything but normal, what were the best and worst parts about having a touring / recording musician as a father?
That cannot be described easily. Certainly one of the best parts was that he encouraged me and others in making music with an abundance of patience and devotion. Edgar was really good in seeing and teasing skills out of people and when he was in a good mood it was always a pleasure to have him around but he could also be very possessive.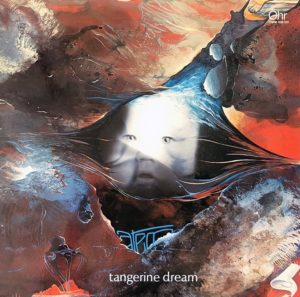 Your mother Monique created the wonderful sleeve designs for all of the early TD releases, how does it feel looking back at these and seeing your younger self featured in them?
Actually, it was my dad's idea to put me on the album covers. Then, most people didn't know what this was all about and because of my long hair, more than a few were asking: "Who is that little girl appearing on the covers!?"
Only once (for Edgar's second solo album 'Epsilon In Malaysian Pale' in 1975) did my parents arrange some kind of photo session with me for the inner sleeve.
After all, Richard Branson from Virgin liked that picture so much that he used it for the album's press campaign and he also hung the poster in his personal office.
You are quoted in a previous interview that you were unhappy about the adding of saxophone and live percussion within the group. What was it about this move that you disagreed with?
That's not totally true. I really like drums and percussion and I think that they were placed very well in most of TD's history. Especially in 1997 when our studio technician had the vision to build a custom made electric percussion set called Codotronics.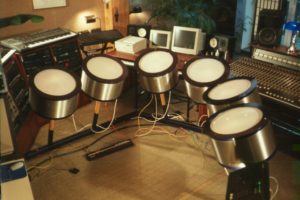 A huge set-up, that was based on MIDI-triggered microphones which were controlled by several sampling units.
Emil Hachfeld, the percussionist who played the whole thing, was an outstanding and charismatic musician who was able to set the house on fire. Unfortunately, he died of an asthma attack in 2000 and it became clear that for his replacement he was a really hard act to follow.
Saxophone is another story because I mostly don't like the sound of this instrument unless you really mess with it. When using a saxophone within instrumental music, you are quickly finding yourself on a razor's edge ride to muzak and I fear that some 90s TD tunes sounded a bit like that.
What factors influenced you into calling it a day with TANGERINE DREAM?
You know, being and working in a family business is a very special affair.
Quite often you're not in complete agreement with each other, but on the surface there is always some sort of clannishness.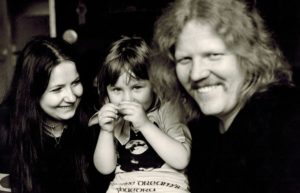 Unfortunately, our 'blood is thicker than water' concept completely turned upside down when my mother passed away in 2000 because she always managed to be some sort of an ombudsman within the family.
And that is how it came that some persons took their chance to enter our private and band life with an ambitious intention to blow up all family ties without a qualm.
It was clear from the outset that this wouldn't go well, so I left TD in late 2006 after 16 years and never had any regrets about my decision.
When it became apparent that TD were going to continue without the involvement of your father, what were your initial feelings about this?
As years go by, Edgar was asking me several times whether I would be interested in continuing with 'TD' at some date. Because I know that he would have wanted to ensure that the band will go on within the family. He was therefore rather disappointed when I refused his offer. I did so, out of respect for what he had built up over years. I mean it's a fact that one day the last light fades away.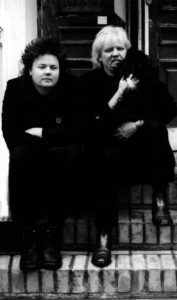 I can understand, that people do have persisting manners of sticking to old habits. This applies especially when one is getting older, when memories and fond habits take a fixed place in daily life. But here I feel to say that Edgar has never authorised or selected anybody to continue with TD without him in any shape or form nor gave consent to access his tapes or hard drives.
I really had lots of private 'father-son' conversations with Edgar until his death and he precisely told me that he wanted to take things somewhat easier and gradually withdraw from the everyday running of the band from 2017 onwards. Many of the fans knew he already wasn't in good shape any more. Originally, my aim was to protect his heritage from egotism and avarice from third parties but then everything turned out differently.
As for statements by the current regime and their subjects, I would only say that they have the right to talk such nonsense as they do, since talking rubbish is a human right as well.
If Peter Baumann had changed his mind and decided to rejoin, would this have changed your overall stance on TD still existing as a viable project?
No.
What made you setup your own record label Moonpop?
Back in 1998, we started TDI Music which was our first own label. At that time a huge part of our song catalogue was expiring from record companies and publishers, so we immediately took the chance to re-release all that music in our own way. After a short period of time we were pleasantly surprised about the possibility to open up new vistas. Having this in mind, I was encouraged to set-up another label for my solo projects, that's all.
Which of your solo albums are you most proud of and why?
I think this still has to be my debut album 'Neptunes' from 2005. Just because of the intense use of my favourite instrument, the guitar.
During the recordings I was finally able to work out a lot of tricks, sounds and atmos which I've created for a while. Shortly after I had the idea to call it 'Guitartronica' because my main goal was to develop a guitar sound differently from expectations.
Electronic / synthetic musical instruments and musicians have evolved incredibly over the last 40 years, but there seems to be a lack of development in innovative guitar technology (or guitarists willing to take risks), why do you think this is?
I wouldn't put it that way. There are many artists out there, creating great music while combining guitar sounds with weird or classic effects, synths and other stuff. It's just that they aren't omnipresent. For example: In 2006 I got an album from a band called HAMMOCK because we were label mates in the USA at that time and I really liked their spacey and dreamy guitars embedded in wide effect layers with the addition of colourful voices. Meanwhile they are a well-known name and just did parts of the score for Ubisoft's 'Far Cry 5' game and they didn't have to change their typical sound for that.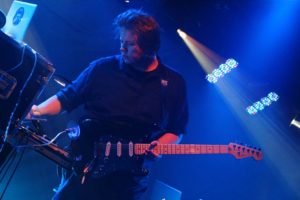 In comparison, synthetic musical instruments have evolved incredibly over the last 40 years but where are we now?
So many companies are re-releasing their old stuff in cheap or over-expensive boutique versions and tons of modular systems are congesting the market once again, hoping for a secondary breakthrough.
Don't get me wrong, I really like this kind of resurgence, especially in regard to better usability and capability and needless to say that I also like to hit step sequencing pads or modulating sounds on a tablet and so on.
But due to my family situation, it's just that I grew up with having a finger on the pulse of the time when this kind of gear has popped up for the first time, so I'm not going mental on new technology anymore! Nowadays, I only use what's really suitable for my needs and that is much less than some might think. I mean for guitarists, a campfire is already half the battle 😉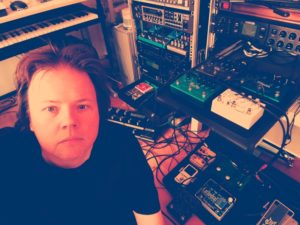 Taking a cursory look at your studio, you seem less obsessed with modular / analogue gear than many producers who create electronic music, is there a particular reason for that?
I'm a sound aficionado and if I do like what I hear I'm not judging about its origin. Digital, analogue, fictional, bulldog … I don't care. I think it's much more important where to put the sound in terms of room, modulation and its presence within a composition.
Talking to producers who are philosophising for hours and hours about their monophonic analogue basslines like a horny dog isn't really my thing!
I believe your studio and record label are based on two separate floors of an office block, when you go to compose / produce, does this not make it feel you are clocking into work?
No way, I really like to have all my needs at one place.
You've been Grammy nominated in the past, which musical achievement are you most proud of?
To take advantage of keeping my artistic integrity after all these years. Awards are nice but not important.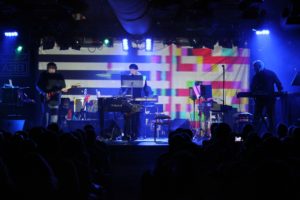 What is the situation with LOOM at present?
Calm. Unfortunately, the work on the second studio album has come to a standstill in 2017, so I kept my focus on other projects which were not all musically related. Basically LOOM was intended to be a line-up for live shows in the first place and maybe we'll reduce it to that in the future.
On your website, there is information about the other LOOM guys Johannes and Robert working with Moya Brennan from CLANNAD, will this collaboration see a release?
I guess so, but not under the LOOM brand as previously announced.
You have been working with Claudia Brücken in the studio on the upcoming album 'Beginn', what can we expect from that collaboration?
Well I know that expectations are always high, but do not wait for a PROPAGANDA-like album with TANGERINE DREAM influences! For years I always fancied recording an album were I could merge my own sound with vocals and corresponding lyrics.
When Claudia and I met back in 2014, I played her some early demos of eligible songs which she liked very much and so the whole project was about to begin(n). Quickly we both recognized that we were on very good terms with each other, which made this collaboration very joyful and instructive as well. While in production we better and better localised the direction and style where the music should go to.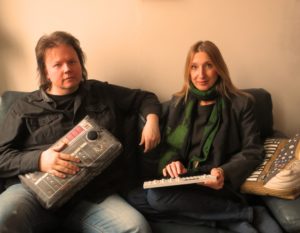 Anyway, after the first sessions here in Berlin, Paul Humphreys gave us the opportunity to use his London based studio for the final voice recordings while he was touring with OMD in the US for a couple of weeks. And to be honest, his studio was much better equipped for vocal takes than my place. After returning to Berlin, I entered a very intensive period of detail work on the album which lasted for quite a while. In the end it took a bit of time, but Claudia and myself are very happy with result and are now waiting eagerly until its release.
There's a couple of FLEETWOOD MAC covers on the vinyl edition of the album, this is very intriguing!
Yeah! In the early stages of the production Claudia asked me about my opinion regarding the recording of some cover versions and I noticed that she is an admirer of Stevie Nicks as I am. Then I told her that TANGERINE DREAM were in contention for producing Mrs Nicks 1989 album 'The Other Side Of The Mirror' and that we've met her in L.A. around that time.
And so it happened that we both were digging out our FLEETWOOD MAC faves which were 'Sara' (Claudia) and 'Gypsy' (Me). The only condition was to give these compositions a bit of our own trademark. While 'Gypsy' is a bit more upbeat, we managed to create an almost ambient version of 'Sara'.
If you weren't a successful musician is there any other career that you would aspire to?
Maybe a pilot or at least to have a job at an airport to live out my wanderlust!
---
ELECTRICITYCLUB.CO.UK gives its grateful thanks to Jerome Froese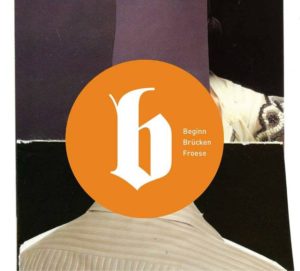 The album 'Beginn'
with Claudia Brücken is released by Cherry Red Records on 15th June 2018 in CD, digital and limited edition double vinyl LP, pre-order the latter from https://www.cherryred.co.uk/product/brucken-froese-beginn-limited-edition-gatefold-sleeve-2lp-vinyl/
https://www.facebook.com/jeromefroese
https://twitter.com/jeromefroese
https://jeromefroese.bandcamp.com
---
Text and Interview by Paul Boddy
Photos © Jerome Froese Archive
9th May 2018