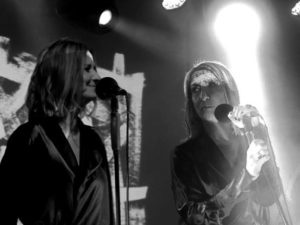 PROPAGANDA's 'A Secret Wish' is often hailed as a classic album of the electronic era which heralded the advent of sampling and digital synthesis. 
Among its fans were the likes of Martin Gore, John Taylor and Jim Kerr; over the years, 'A Secret Wish' has grown in stature with its influence felt on Michael Jackson's 'Bad' produced by Quincy Jones. Meanwhile, the quartet of Claudia Brücken, Susanne Freytag, Ralf Dörper and Michael Mertens dubbed "ABBA in hell" were a forerunner of acts such as LADYTRON.
But it all ended acrimoniously and despite attempts to reform PROPAGANDA over the last 30 years, they have all come to nought, although the quartet performed together at the 'Produced by Trevor Horn' celebratory concert for The Prince's Trust in 2004, while Freytag and Dörper joined Brücken for her career retrospective show at The Scala in 2011.
More recently, Claudia Brücken and Susanne Freytag have teamed up with Stephen J Lipson, producer of 'A Secret Wish' and have been using social media to introduce their new project named D:UEL; so it was something of a surprise when it was announced that the pair would be playing two London shows performing 'A Secret Wish' billed as xPROPAGANDA.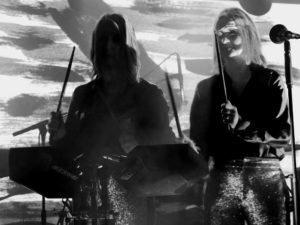 Despite the online protestations of Michael Mertens, the two shows quickly sold out and it was interesting to see Ralf Dörper at the bar as an interested observer to hear how the songs he co-wrote with Mertens would come over in the 21st Century.
Squeezed onto the comparatively small stage at The Garage, Brücken and Freytag were joined by Stephen J Lipson on guitar, famed ZTT percussionist Luis Jardim, regular CB sidemen James Watson and Philip Larsen, drummer Paul Jones and Sam Tate on flugelhorn.
Performing 'A Secret Wish' in order, it was Freytag who took centre stage first with 'Dream Within A Dream', her spoken Germanic tones reciting the stark poem by Edgar Allen Poe. With Brücken on vibraphone, the pair were backed by a progressive soundtrack of hypnotic bass guitar from Watson and some synthetically layered drama from Larsen. While Lipson's transient soloing maintained the tension, the solid dual percussive backbone of Jones and Jardim were unable to recreate the frenzied attack of the original's middle section.
The machine rhythm of 'The Murder Of Love' welcomed Brücken's first lead vocal of the evening with an enthusiastic response from the audience, although whether they appreciated Lipson's jazz guitar work was debatable.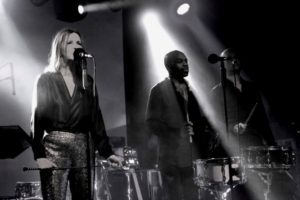 'Jewel' brought Brücken and Freytag into an appealing shouting match as a barrage of aggressive textures sourced from the original album were brought into play, before Freytag left the stage for Brücken to give a spirited rendering of 'Duel', joyfully accompanied by the crowd.
A supreme pop song, Stock Aitken & Waterman loved it so much that they recorded a version of it with Mandy Smith in 1988, while Sophie Ellis-Bextor covered it in 2007!
Freytag returned to offer her shade next to Brücken's light on 'Frozen Faces' before the volume went up a gear for a magnificently powerful rendition of 'P: Machinery'. The electronic cover of JOSEF K's 'Sorry For Laughing' continued the power trip before the unsettling cinematic glory of 'Dr Mabuse'; it seems amazing now that this slice of avant pop noir could have even entered the Top 30 of the UK singles chart in 1984, but it was a much more open-minded and visionary time back then… to close the main set, Brücken and Freytag playfully bashed Simmons drums side-by-side to the coda of 'The Chase' before departing to the haunting endsay of 'The Last Word'.
After a short interlude during which the love could clearly be felt in the room, Freytag returned for the encore brandishing a whip for the welcome performance art of 'Disziplin'.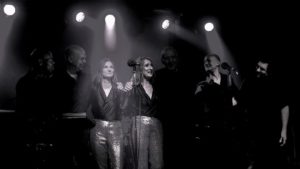 Acknowledging the contribution of Ralf Dörper, Michael Mertens and late founder member Andreas Thein to PROPAGANDA in her introduction, 'Disziplin' was once presented live on 'The Tube' back in the day; inspired by THROBBING GRISTLE's rather stern 'Discipline', it was Dörper who wrote some new German lyrics and the demo got PROPAGANDA signed to ZTT.
Brücken swapped places with Freytag and for her encore contribution, she performed a fabulous version of 'Femme Fatale', the Lou Reed song originally voiced by German chanteuse Nico for THE VELVET UNDERGROUND's debut album produced by Andy Warhol, which was the B-side to 'Dr Mabuse'. With all the classic line-up PROPAGANDA material now performed, there was a reprise of 'Duel' to end proceedings on a nostalgic high.
Brücken and Freytag will have a busy year as they take xPROPAGANDA out on the road opening for HEAVEN 17 as well as playing select European festivals in the summer. But while Claudia Brücken celebrates her past, there is the mouthwatering prospect in June 2018 of her new collaborative album 'Beginn' with Jerome Froese (son of the late TANGERINE DREAM legend Edgar Froese) which is set to include electronic reimaginings of two FLEETWOOD MAC songs, 'Sara' and 'Gypsy'.
Whether working in the past or present, another hope feeds another dream…
---
xPROPAGANDA open for HEAVEN 17 on 'The Luxury Gap' 35th Anniversary Tour, dates include:
Northampton Roadmender (Friday 9th November), Norwich UEA (Saturday 10th November), Bournemouth O2 Academy (Friday 16th November), Birmingham O2 Institute (Saturday 17th November), Glasgow O2 ABC (Friday 23rd November), Liverpool O2 Academy (Saturday 24 November), London O2 Shepherds Bush Empire (Friday 30th November), Bristol O2 Academy (Saturday 1st December), Manchester O2 Ritz (Friday 7th December), Sheffield O2 Academy (Saturday 8th November)
https://www.facebook.com/propagandamabuse/
https://www.facebook.com/claudiaandsusanne/
http://www.claudiabrucken.co.uk
https://www.facebook.com/ClaudiaBruckenMusic/
https://twitter.com/ClaudiaBrucken1
---
Text by Chi Ming Lai
Photos by Richard Price
29th March 2018