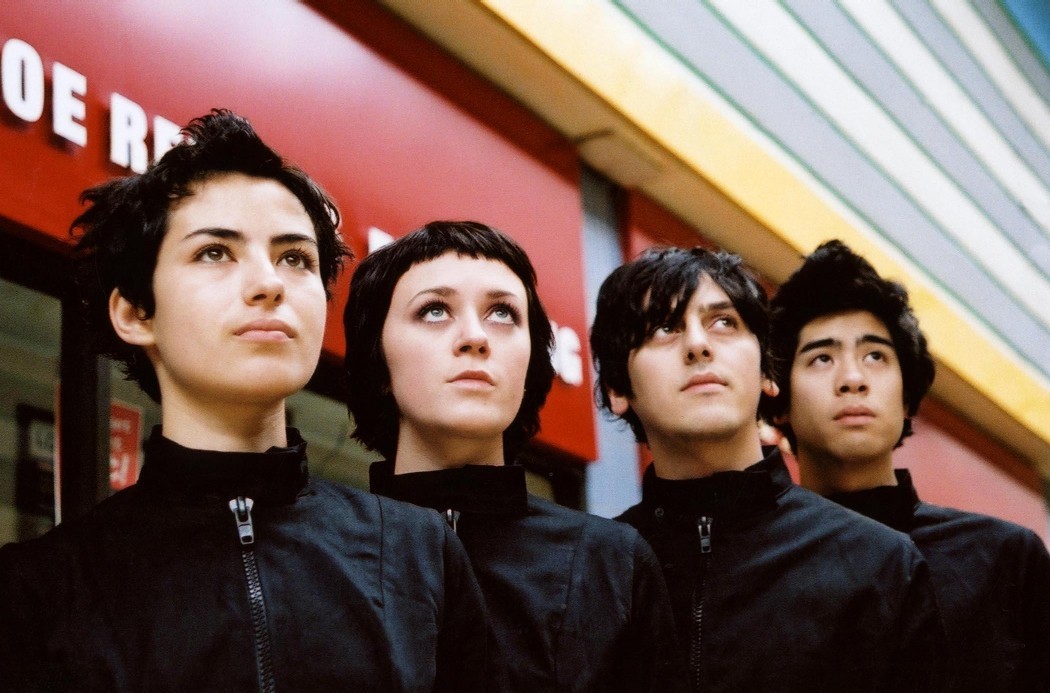 In this new age of electro, there is much for synth fans to celebrate. 
However, at the end of the 90s, the music scene was very different. The UK was suffering the hangover from Britpop and guitar-based indie was still ubiquitous.
Thankfully in 1999, four musicians hailing from Liverpool, Glasgow and Bulgaria came together with a passion for vintage synths and a collective desire to buck the musical trend, and LADYTRON was born.
Four albums later, the quartet comprising Helen Marnie, Mira Aroyo, Daniel Hunt and Reuben Wu are celebrating their first decade together with the release of '00-10′, a compilation spanning their career to date. The album is available in two formats. The standard one-disc version covers most of the singles up to and including the recent 'Ace Of Hz' plus brand new track 'Little Black Angel', whilst the deluxe two-disc edition also offers a selection of album tracks and rarities, including the B-side and live favourite 'USA vs White Noise'.
'00-10′ showcases a diverse and remarkable body of work, and traces a clear evolution of sound across LADYTRON's four albums. Their debut album, '604', was completely electronic, quirky and pulled off the clever trick of sounding both retro and ahead of its time. Early singles 'Playgirl' and 'Discotraxx', both included here, exude an old-school charm with their syndrums and handclaps, whilst simultaneously heralding the return of the synthesizer to the mainstream.
Second album 'Light & Magic' saw the band's songwriting take a collective step forward, with highlights including the seminal track 'Seventeen'. The lyric "They only want you when you're Seventeen. When you're twenty-one, you're no fun" has been the subject of much speculation over the years. Is it a satire on the modelling industry, an attack on the vacuous 'Pop Idol' culture or simply about old men chasing inappropriately young girls?
Also included here is the psychedelic-tinged single 'Blue Jeans', the dancefloor-friendly 'Evil' and the album's magnificent title track, 'Light & Magic'. on which Helen Marnie's vocodered tones have an alluring glacial edge.
Perhaps the biggest shift in LADYTRON's sound came with 2005's 'Witching Hour', which was notable for the introduction of guitars and live drums, resulting in a more organic sound inspired by their live set-up. The album gave rise to the band's biggest anthem to date, 'Destroy Everything You Touch'.Several of the album's finest tracks are included on the two-disc compilation, including the haunting 'International Dateline' and the dreamy opus 'Beauty*2'. For their most recent album, 2008's 'Velocifero', LADYTRON called in Alessandro Cortini for co-production duties. Cortini, who is best known for his work with NINE INCH NAILS, sought to 'butch up' the LADYTRON sound.
The result was an enjoyably bombastic affair, with big synth riffs and distorted drums, and a string of the band's strongest songs to date. 'Black Cat', with Mira Aroyo's vocal in her native Bulgarian over a dystopian soundscape, set the dark tone for 'Velocifero'.
Other highlights include the glam-rock influenced 'Ghosts' and infectious single 'Runaway'. By way of contrast, the wistful and rather lovely 'Versus' features a rare vocal duet between Daniel Hunt and Helen Marnie.
Over the last decade, LADYTRON have built a devoted fanbase thanks to their consistently innovative output and compelling live shows.
The band have defied all media attempts to label them, whether as electroclash in their early days, or as part of the shoegazing scene circa 'Witching Hour'. They also pre-empted the wave of female-fronted synthpop by several years, and even today, when the likes of LITTLE BOOTS and LA ROUX have made girls on synths more commonplace, LADYTRON remain in a class of their own.
LADYTRON's Mira Aroyo took time out answer a few questions put to her by ELECTRICITYCLUB.CO.UK about their glorious career which has successfully been maintained through sticking to their principles and avoiding being pigeonholed.
LADYTRON is now 13 years old, how has the journey been for you?
Well it's actually only about 11-12, but still quite a while. Feels like a life time really, pretty much our whole grown lives. It has been an amazing trip in every sense of the world. I never imagined we would still be here talking about LADYTRON 11 years ago. We have seen a lot of weird and wonderful places, and met and played to a lot of weird and wonderful people. We have developed a lot as people and as musicians as you would probably expect. The world has moved on too. When we started out the term 'Social Media' didn't exist and downloading music was impossible.
The debut '604' was very much a square peg in a round hole on its release as you embraced the synthesizer in an era of indie rock. What was your motivation to take up an electronic based sound, especially when at the time Liverpool's idea of a great band was THE CORAL or CAST?
We had amassed a collection of synths from flea markets and also studios. They were not anywhere near as expensive as nowadays and we loved the sounds they produced, the way they looked and how tactile they were.
Also at the time, three of us were DJ-ing and we wanted to play a certain type of music and there wasn't much of it around so we started making it. We were never concerned with what people did around us, but we realised we stuck out at the time and that journalists had problems classifying us.
Was it a conscious decision to have female lead vocals, because it was unusual at that time within electronic music?
We all like girl-fronted pop such as Nancy Sinatra, Francoise Hardy, Bobbie Gentry, Stevie Nicks and many many more like BLONDIE and ABBA. But also we got together; Helen and I were obviously girls and had very distinct and different vocals that worked well together so we used them.
You must have been sick of being labelled '80s' during this period just because you used synths? '80s' is a most horrible tag isn't it?
We kind of got a bit tired of it as we were not particularly into '80s' music. We liked and were influenced by all sorts of music, but mainly we wanted to make our own music and find our own sound. We were never interested in recreating and fetishising anything. At the same time, people heard synths used in pop and since that rarely happened at that time, people assumed it was '80s'. Nowadays, synths are all over the mainstream and people see that sound as 'current' as opposed to '80s'.
And you outlived electroclash too?
We felt filed under that label strange too, seeing as we didn't actually know any of the other musicians who were lumped in together. In a way, it was kind of a fashion cult movement I guess and people expected it to go mainstream but it didn't at the time. It didn't die either thoughƒit just mutated into New Rave etc and then it got a bit more successful. We never really fitted into that as the music we made was not really aimed at the dancefloor and we were a band making albums as opposed to DJ/singer combos who made more club orientated tracks. By the time 'electroclash' hit the news, we were sitting by the pool in LA working on our second album. Now we are about to release our fifth.
'604' appeared to have been recorded in bits over a period of several years. Why was this and when was it that the four of you could actually concentrate on being a band full-time?
We didn't really know how things were going to go and had no plans. The first few singles and EPs we released were recorded sporadically and were self funded. We were surprised with the praise they received from the media, all 4 of the singles of '604' were 'Single Of The Week' in NME.
We then got some money from a Japanese indie label to make a mini LP. Steve Pross, the A&R of Emperor Norton heard it and gave us some more money to record a few more songs and make our first LP. We all had full time jobs at the time too and were doing all of this in our down time. We went full time after we recorded out second album, 'Light & Magic', and saw that we would need to start touring if we wanted to promote it.
How did your parents feel about you taking up a music career?
Naturally they were a bit scared and sceptical at first, but they knew it made me happy and that we were taking it seriously so they ended up being supportive.
You took a great bleep forward with 'Light & Magic' sounding much grittier…
I'd say we took an even greater leap with 'Witching Hour'. The reason for that was that after 'Light & Magic', we started playing live a lot more and actually became quite good at it and enjoyed it. Before, we were a studio band who reluctantly appeared every now and again. Playing live taught us a lot about the kind of sounds and dynamics we enjoy and that seeped through on subsequent albums. I'd say that has been one of the most important influences on our sound.
You've had your fair share of record label upheavals. Telstar went under and Island appeared to be unsure about what to do with you. It seemed to be virtually impossible to buy the special edition of Witching Hour either in a shop or on-line at the time of release. It should have been the major label breakthrough with a potentially huge hit single in 'Destroy Everything You Touch', but it didn't happen. Any thoughts?
'Destroy…' is still a song that sounds like a hit and a lot of people heard it and got introduced to our music through it. So in that way, the record upheavals didn't matter. Also we had a fan base at the time and didn't let logistics mess with our plans. We just carried on touring and playing to more and more people. We would have sold more records and probably got bigger advances had the records been released properly when they were planned to, but it didn't stop people from hearing them on line. That enabled us to go and play to large audiences all over the world, from Columbia, through Russia to China.
So was it straightforward despite the different labels to get the tracklisting on the compilation as you wanted it?
Yes reasonably, as we own a lot of our back catalogue.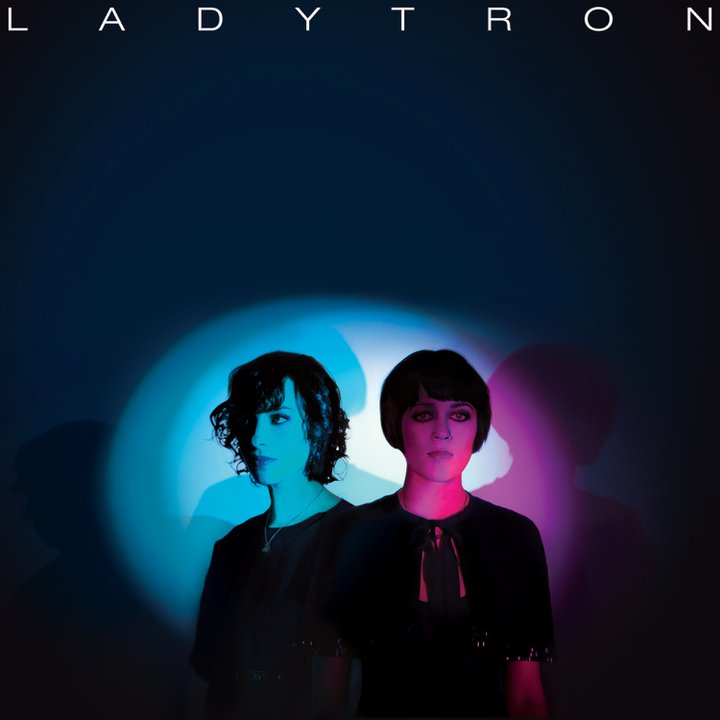 How did you choose the songs and were there any difficult decisions as to what to leave out?
We wanted to strike a balance between singles and fan favourites from the albums. It was really hard actually and we went through many variations. I think we ended up with something very representative so that if people bought it and had not heard of us before, they would get a good idea of the kind of music we make.
The release of the singles compilation has enabled you time to take stock of your career. Which period do you feel most proud of?
I know which period was most exciting for me. It was when we started doing these sell out tours around North America. It is an amazing place to cover by road and doing it in a tour bus. Playing to all these different people who knew our songs and could sing along was quite mind blowing.
Live, LADYTRON have a comparatively conventional band set up with guitars, bass and drums alongside the vintage synths. Do you think that ever surprises people who come to see you for the first time?
I think people are still more surprised by the amount of synths we have on stage. On the other hand, our records are probably a bit more clinical and cleaner than when we play them live. We don't try to completely recreate them as that would be impossible because we cannot reproduce all the sounds that we recorded. Instead we go for capturing the essence and the vibe of them and making them work on stage. It's a different approach.
You worked on two songs 'Little Dreamer 'and 'Birds of Prey' for Christina Aguilera's album 'Bionic 'which ended up as bonus tracks on the final release. Have you had time to reflect on whether you found the experience worthwhile and are you pleased with the end result?
Yes we are. We also seem to have gained more fans because of it and are very happy that she chose to work with us because she was a fan of our music, rather than someone from her label deciding they liked our sound and getting a more commercial songwriter to write her song in that vein.
What is the collaborative process between the four of you now and has it differed from when you first started?
It is more collaborative than when we first started. With '604', Danny was the main writer and albums have become more collaborative as time went on. There is no process though. Each song is different. Some are written by one person and then other people add different lines and layers.
In other songs the music is written by one person, the vocal by another. Some are even more collaborative and songs are developed and built up between a few people.
Are the two new recordings 'Ace Of Hz' and 'Little Black Angel' that you've recorded for the compilation reflective of LADYTRON's future direction?
Not really. They are more like closure. They fit in more with our old material. They were done a while ago. One of the songs is however on our new record too along with a more current alternate version of it. It is like a bridge. With the compilation we are closing a chapter.
'Velocifero' was quite a noisy album. What can we expect from LADYTRON's next album proper?
I think I know what you mean. It was quite uptempo and in your face. The new album is less so. It is more atmospheric, I think.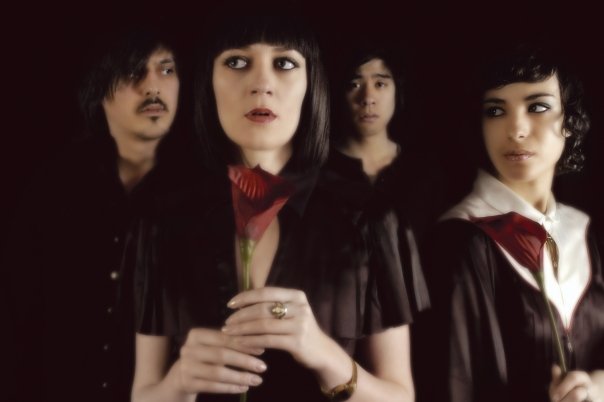 And what next for you as a band? Will you do any shows in support of the compilation?
We are going to be doing a lot of DJ shows and then closer to the summer and the release of the new record, we shall do some live shows too. In the mean time we are hoping to be working on more soundtracks for video games and hopefully films and we are interested in writing and producing other artists too.
---
ELECTRICITYCLUB.CO.UK gives its warmest thanks to Mira Aroyo
Special thanks to Sarah Richardson at Anorak London and Tim Husom at Red Bird Management
'00-10′
will be released on March 28th 2011 through Nettwerk Records. The 2CD deluxe version features 33 tracks and an 80-page photo booklet while the single CD version has 17 tracks.
https://www.facebook.com/ladytron/
https://twitter.com/LadytronMusic
---
Interview by Chi Ming Lai
Additional Text by Steve Gray
4th March 2011, updated 3rd February 2019