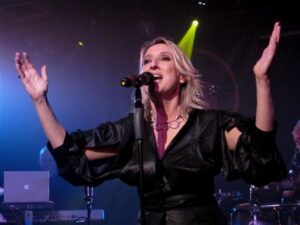 "Sooner or later, one has to take sides in order to remain human" CLAUDIA BRÜCKEN 2005
Claudia Brücken is the original first lady of cinematic electronic pop. Successfully maintaining an icy but approachable aura that draws from Germanic divas as varied as Marlene Dietrich, Nico, Nina Hagen and Gina Kikoine, one aspect that stands out about her is how she's maintained her values and artistic integrity over the years.
For her, it is all about quality rather than quantity. She could so easily have been trudging around the dreaded 'Here & Now' and 'Rewind' circuit singing 'Duel and 'Dr. Mabuse' accompanied by an unsympathetic house band. But thankfully, she is much better than that.
Her varied back catalogue as a solo artist and with PROPAGANDA, ACT and ONETWO (as collected on her recent retrospective 'ComBined') has captured the essence of her thoughtful imagination and focussed aspirations. It's a testament to the strength of her musical reputation that she's been able to gather the ComBinations of very special guests who join her tonight to celebrate her illustrious career.
The list reads like a who's who of avant pop: Paul Humphreys, Glenn Gregory, Martyn Ware, Andy Bell, Susanne Freytag, Ralf Dörper, Andrew Poppy. And together, they gather to perform a cross section of her Eurocentric classics for an eager audience that has waited years for a solo CLAUDIA BRÜCKEN concert.
Taking to the stage, the glamorously attired Claudia is joined by her ONETWO partner Paul Humphreys who acts as the evening's musical director plus the regular live band of guitarist James Watson and MANHATTAN CLIQUE's Philip Larsen. With the addition of one time PET SHOP BOYS percussionist Dawne Adams, they are the core musicians for this unique live event.
The loyal Claudia faithful, who have travelled far and wide to here on this cold March night, are rewarded with 'Kiss Like Ether' as the show's opener, its squelchy 'State Of Independence' bass driving alongside the ethereal voices of Claudia in harmony with backing singers Melissa D'Arcy and Dave Watson.
'Sequentia' follows and fills The Scala with the chilling widescreen spectre of the ASSOCIATES. Many have said Claudia duetting with the late Billy MacKenzie would have made a dreamboat pairing. Both songs act perfectly as a two movement overture to the stylish proceedings.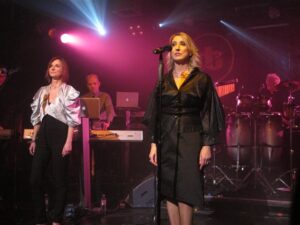 The first guests of the night arrive in the shape of a three quarters reunion of PROPAGANDA for 'Dr Mabuse'. Ralf Dörper reprises his stern role from the original while Susanne Freytag completes the trio by concurring with Claudia in her distinct Teutonic tone.
Watching this reunion reminds everyone that not only were the Düsseldorf based quartet the "ABBA in Hell", but they were also the proto-LADYTRON. 'Dr Mabuse' sounds magnificent and loses none of its mystery and magic.
It's all lovingly recreated using laptops and Roland Fantom workstations… and to think this could have only been produced in 1984 using Trevor Horn's £40,000 Fairlight… a new Toyota MR-2 (as emblazoned on the cover of LA ROUX's 'In For The Kill') would have cost around £10,000 then! How technology has moved on!
The only disappointment is that the mics cut in and out with Susanne Freytag particularly being unable to be heard at times. Apart from this slight glitch, the music comes over loud and clear throughout the evening. Interestingly, 'Absolut(E)' almost steals the show in this early section, the beefy house rhythms that drive it are further enhanced by some finely tuned programming and a crystal sound.
Despite the all-star cast, one person who doesn't appear tonight is DEPECHE MODE's Martin Gore. On his co-write 'Cloud Nine' though, James Watson acts as a worthy substitute recreating Gore's distinct six string rhythm textures before finishing with a layer of pretty infinite guitar to enhance one of the highlights from 'Instead'.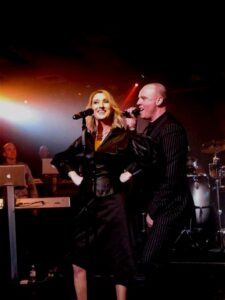 Claudia then introduces HEAVEN 17's Glenn Gregory who returns the compliment of Claudia's appearance at last year's triumphant Sheffield Magna gig to take over Thomas Leer's vocal duties on ACT's 'Snobbery And Decay'. Poor Thomas was unable to take part due to a hospitalised illness and was sadly missed. But Mr Gregory did a superb job on one of the great lost ZTT singles that lyrically has now become relevant again, thanks unfortunately to a return to the unpleasant social economic climate of 1987.
Following on, Martyn Ware joins his erstwhile HEAVEN 17 colleague to tackle the demo version of 'Temptation'. Much starker than the soul fusion of the famous hit single, Claudia gives it a sexy deadpan delivery over the backing like a more sinister electronic take on SOFT CELL's version of 'Tainted Love'.
HEAVEN 17 remain for the debut recital of country and western cover 'When Your Heart Runs Out Of Time' from the film Insignificance. This cult favourite narrowly missed inclusion on 'ComBined' but was luckily dusted off for inclusion on ZTT's 'The Art Of The 12 Inch' collection. Tonight, it soars with its synthesized instrumentation arranged like an ULTRAVOX ballad, almost in tribute to the recording's producer Midge Ure.
Everything takes a breather when ZTT's arch minimalist Andrew Poppy accompanies Claudia on solo piano for a stark cover that was first premiered on their 'Another Language' album. The audience are respectfully attentive as the pair tackle a touching rendition of KATE BUSH's 'Running Up That Hill' before following with an emotional take on ROY ORBISON's 'In Dreams'.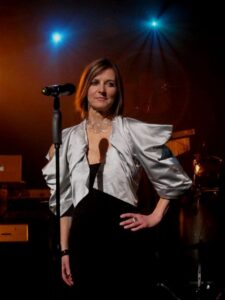 Claudia then steps out of the spotlight for a moment as Susanne Freytag re-emerges next to the microphone stand and announces "all that we see or seem is but a dream within a dream".
Written by Edgar Allan Poe in 1849, that segment of poem initiates an unexpected but breathtaking rendition of the epic opener from 'A Secret Wish'. Textured with real trumpet, it is magnificent and brooding with the incessant backing sounding like a cross between PET SHOP BOYS and prime SIMPLE MINDS that builds to the massive percussive break.
Dawne Adams is a total star here, frantically doing justice to original exponential template on this most special of moments.
The audience then get even more secret wishes as Ralf Dörper returns and shouts "PROPAGANDA" over some bleepy mechanics to launch 'P.Machinery'. The second instalment of the 3/4 reunion is full of motor, power, force, motion and drive. The machine funk and synthetic brass stabs are all faithfully recreated, testament to Paul Humphreys' engineering and programming skills.
'Night School' is the first of Claudia's new songs tonight and the groove laden shuffle keeps the momentum going. "What are you waiting for?" monologues Claudia during the song… it turns out it's actually Susanne Freytag who almost doesn't make it on stage for 'Light My Way' when it inadvertently starts without her! But it turns out to be a fine live debut of what in 1993 was originally the first recorded return of the PROPAGANDA ladies since 'A Secret Wish'.
The brilliant 'Home (Tonight)' from ONETWO's 'Instead' appears in blistering remix form steered by Philip Larsen to compliment the superb collection of dancier numbers that make up this second half of the show.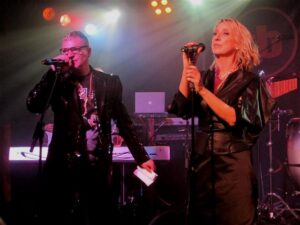 Andy Bell arrives fresh faced for their energetic duet 'Delicious' with the playful chemistry between Claudia and himself very apparent on stage. Friends since collaborating on his 2005 MANHATTAN CLIQUE produced solo debut 'Electric Blue', Andy Bell stays on for a superb airing of ACT's 'Absolutely Immune'. Amusingly requiring a lyric sheet and a trendy pair of spectacles to complete the task, he is on good form throughout and all bodes well for Mute's Short Circuit 2011 concert at The Roundhouse in May and the new ERASURE album due later this year.
For the last song 'Duel', Claudia's best known song is joined by Susanne Freytag on keyboards while Paul Humphreys does rather a good job hammering away for the song's mad piano solo!
Meanwhile, Melissa D'Arcy treats everyone to a marvellous dance routine in semi-literal fashion that sparkles and shines. 'Duel' is such a classic, it can't do any wrong and is a fitting end for the main set.
Sending a little sign of Claudia's continued excellence after over 25 years in the business, the encore is the Stephen Hague co-write 'Thank You'. Like A-HA's 2009 hit single 'Foot Of The Mountain', 'Thank You' brings Claudia's sound up-to-date while retaining all the classic qualities of the past. It acts as a perfect finale with its JOHN BARRY-esque vibes and wonderfully moody percussive textures.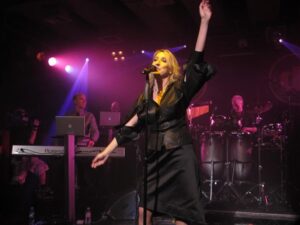 This was a once in a lifetime experience. With a well paced set, the song choice tonight couldn't be faulted. Love and a million other things could certainly be felt with Claudia quite visibly moved by an ecstatic response from the crowd.
In fine voice throughout, she captured the hearts of all who were present and was humbly appreciative in return. It was an outstanding evening, delightfully performed and presented… almost perfect in fact.
---
For those who missed this special occasion, the concert was filmed and is due to be released on DVD later this year.
'ComBined' is released by ZTT/Salvo and available now
http://www.claudiabrucken.co.uk/
https://www.facebook.com/ClaudiaBruckenMusic
https://twitter.com/claudiabrucken1
---
Text by Chi Ming Lai
Photos by Richard Price
13th March 2011