'Credo' is THE HUMAN LEAGUE's first new body of work since 2001's 'Secrets'.
Produced by Dean Honer and Jarrod Gosling of I MONSTER, the nucleus of Philip Oakey, Susanne Sulley and Joanne Catherall are ably supported by long standing sidemen Neil Sutton, Rob Barton and David Beevers.
'Night People' and 'Electric Shock' have already been showcased live with the latter sounding like what would have happened if Philip Oakey had actually recorded with Giorgio Moroder in 1977 instead of 1984.
And in the early days when it was Phil talkin', he always remarked how THE HUMAN LEAGUE never aspired to be KRAFTWERK but actually wanted to be Donna Summer! With the haunting tones of 1995's 'These Are The Days' lurking in the background, 'Electric Shock' cleverly fuses past, present and future.
'Never Let Me Go' is a marvellous opener which sees an auto-tuned Susanne Sulley take lead vocals on a piece of dancey electro that sounds like CLIENT gone funky or 'Crash' gone right.
The excellent 'Get Together' has poptastic potential and launches into a classic League chorus with plenty of lovely synth action while the 'Credo' closer 'When Stars Start To Shine is a fun', off-beat number which rhythmically echoes Thomas Dolby's Europa & The Pirate Twins. Alongside Philip's deadpan chants of "keep on moving!", this ditty even sounds in places like their former sparring partners HEAVEN 17!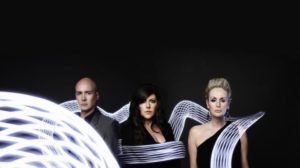 'Credo' is a welcome return for THE HUMAN LEAGUE and will be enjoyed by all lovers of electronic pop who have waited a long time for the realisation of this rather lively opus.
So all you 'Night People', "listen to the sound, there is movement all around!"
---
'Credo'
 is released on 11th March 2011 by PIAS in Germany, Austria and Switzerland while the UK release will be on 21st March 2011 through Wall Of Sound.
http://www.thehumanleague.co.uk/
https://www.facebook.com/thehumanleague/
---
Text by Chi Ming Lai
11th March 2011