Liverpudlian duo CHINA CRISIS are probably the most under rated band of their generation.
Gary Daly and Eddie Lundon formed the band in 1979 as they were leaving school.
While Daly played bass and Lundon the guitar, their interest in Brian Eno, particularly his 'Before & After Science' album and collaborations with David Bowie and Jon Hassell, led to their first synth purchase, a Yamaha CS10 before later adding an Octave Cat and Roland SH2 to their armoury.
Continuing their fascination with Eno, the pair became influenced by TALKING HEADS which resulted in the first magnificent single 'African & White'.
Beginning with a stutter from a Boss Dr Rhythm, tribal rhythms played by Dave Reilly formed the backbone as an infectious bassline and haunting synth complimented an insightful political observation.
Released in 1981 by the local independent Inevitable Records, who had issued early recordings by WAH! and DEAD OR ALIVE, 'African & White' gained CHINA CRISIS critical acclaim and a deal with Virgin Records; the label's advance underwrote the acquisition of further equipment including a Korg PolySix.
Caroline International reissue the first three Virgin era albums 'Difficult Shapes & Passive Rhythms, Some People Think It's Fun To Entertain', 'Working With Fire & Steel – Possible Pop Songs Volume 2' and 'Flaunt The Imperfection' as expanded deluxe CD editions including band's superb B-sides and previously unreleased BBC Radio sessions.
This early period of CHINA CRISIS saw them compared with their label mates JAPAN and OMD, but while the synthesizer was an important aspect to their sound, they also utilised a variety of traditional instrumentation with lots of melody and a subtle rhythmic backbone.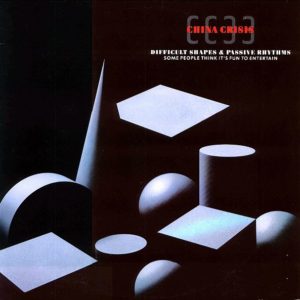 While CHINA CRISIS are best remembered for their soulful art pop, it's quite strange to think now that when they first emerged, they were quite uptempo and percussive with post-punk influences such as MAGAZINE and SIMPLE MINDS, who they were to open for on the 'New Gold Dream' tour.
And with the success of SOFT CELL and DEPECHE MODE, they were also flirting with pure mechanical synthpop, as the heavily drum machine driven John Peel session recording of 'This Occupation' from April 1982 included in the fabulous extras for this batch of reissues shows.
Their second single 'Scream Down At Me' saw a band still trying find to their feet and it displayed a frantic funk tension that was never to be repeated by the band. As a result, it was not included on the first CHINA CRISIS album 'Difficult Shapes & Passive Rhythms, Some People Think It's Fun To Entertain' but now appears on its 2CD reissue. So it was the pretty 'No More Blue Horizons' with its memorable trumpet theme that launched CHINA CRISIS' debut long player
in Autumn 1982.
Split into Difficult and Entertainment sides, the latter comprised of sweetened up demos that the duo had recorded in an eight track studio with Gil Norton, later to produce THE PIXIES! 'Red Sails' and 'Temptation's Big Blue Eyes' were highlights that made the most of Daly's afflicted but passionate vocal style, while the closing 'Jean Walks In Fresh Fields' showcased CHINA CRISIS' prowess in ambient instrumental forms.
Meanwhile, the Difficult first side was produced by Steve Levine and Peter Walsh; it saw the band experimenting with Linn Drum Computers, Simmons Drums and bass sequencers as well as fretless bass played by Andy Pask of LANDSCAPE. The latter was to prove crucial to the haunting 'Christian', a song about the fate of soldiers in the trenches during World War One.
'Christian' was as unlikely a hit single as 'Ghosts' by JAPAN was, but in a far more open-minded and diverse period in pop music than today, acts with a less obvious rock 'n' roll bent were generally in with a chance; it reached No12 in the UK singles charts.
It was a promising debut, but 'Difficult Shapes & Passive Rhythms, Some People Think It's Fun To Entertain' was a something of a mish-mash, with its eleven tracks involving no less than four different producers.
The second album 'Working With Fire & Steel – Possible Pop Songs Volume 2'
released in Autumn 1983 was to be more cohesive and produced under the auspices of Mike Howlett, fresh from working with OMD, A FLOCK OF SEAGULLS and BLANCMANGE.
Featuring Daly's newly acquired Roland Jupiter 8 as well as bass guitar by Gazza Johnson and new sticksman Kevin Wilkinson, the long player was a maturer pop statement with a distinct English resonance, thanks to the addition of woodwinds from Snowy Levy.
The template was still synth friendly, as affirmed by the politically driven title track and the propulsive 'Animals In Jungles', but songs such as 'Tragedy & Mystery', 'The Gates Of Door To Door' and 'When the Piper Calls' exuded an almost folky feel despite the surrounding technology.
However, it was the album's brilliant Emulator laced third single 'Wishful Thinking' that was to become CHINA CRISIS' major breakthrough as their only UK Top10 hit in early 1984; the pair later joked that it was a "housewives' favourite". The success had been unexpected as the song featured Lundon on lead vocals while on the John Peel session recorded the year before, it appeared nothing more than a possible album track at the time.
Indeed, the stand-outs from that particular Peel session had been 'A Golden Handshake For Every Daughter' which ended up as a B-side and 'Here Come A Raincloud', which displayed more rhythmic tension than the disappointing album cut that eventually appeared.
With 'Soul Awakening', the atmospheric synth textures and ethereal piano made a perfect closer to 'Working With Fire & Steel – Possible Pop Songs Volume 2', but the tune had previously appeared on a Kid Jensen radio session in a quality instrumental arrangement.
From an earlier Jensen session, a sparkling wordless wonder called 'Reflections' makes its first formally sanctioned appearance, while two further instrumentals from the period come with this lavish 3CD edition of the album that both rank among some of CHINA CRISIS' best work.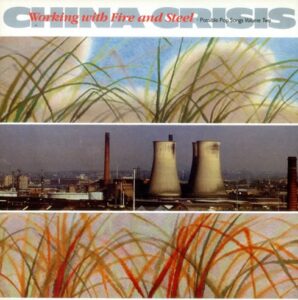 Daly and Lundon often recorded a variety of instrumental sketches to relax prior to formal writing sessions for albums and 'Dockland' was a sublime slice of nautical transience inspired by Liverpool's once vibrant docks lying wasted in a period of high unemployment.
It was captivating and emotive, as was more the more guitar focussed 'Forever I & I', recorded by Daly alone on a Portastudio in Lundon's bedroom!
One song that was recorded with Mike Howlett but never made it onto 'Working With Fire & Steel – Possible Pop Songs Volume 2' was 'It's Never Too Late'.
Probably dropped from the album on account of it sounding like a more steadfast 'Wishful Thinking', it finally emerged, tucked away on the limited edition 12 inch of 'Black Man Ray'. And this lost jewel is one of the bonuses on the expanded 2CD edition of 'Flaunt The Imperfection'
, the band's biggest seller which even cracked the US Top200.
It would be fair to say that if 'Working With Fire & Steel – Possible Pop Songs Volume 2' was CHINA CRISIS' English album, then 'Flaunt The Imperfection' was their American one. The material was recorded with much more of a live soulful feel as on 'Gift Of Freedom' and 'Bigger The Punch I'm Feeling', while reggae inflections appeared on songs such as 'Strength Of Character' and the outtake 'Animalistic'.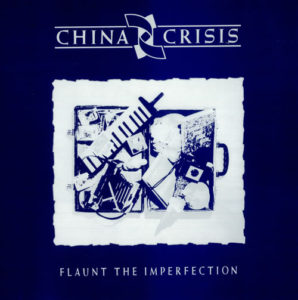 Produced by Walter Becker of STEELY DAN, the influence of his band on 'Flaunt The imperfection' was more than obvious on 'You Did Cut Me'.
Shades of ABBA could also be heard on 'Wall Of God' with the bridge taking an obvious lift from the verse of 'As Good As New', a track from the Super Swedes' disco flavoured album 'Voulez-Vous'.
But it was the more classic CHINA CRISIS songs augmented by synths and drum machines like 'Black Man Ray' and 'King In A Catholic Style' that secured another two UK Top20 hits.
Sadly though, they were to be Daly and Lundon's last. While improving as musicians and songwriters, they were perhaps becoming less artful and interesting, as indicated by album's overall FM friendly vibe, use of noted session musicians like PINK FLOYD live guitarist Tim Renwick and the live recordings included as extras with the 'Flaunt The Imperfection' set.
With the world now turning a bit SIMPLE MINDS in the wake of Live Aid, the next CHINA CRISIS albums were to be more conventional and Trans-Atlantic friendly. The fourth album 'What Price Paradise' produced by Clive Langer and Alan Winstanley was a disappointment despite the wonderful singles 'Arizona Sky' and 'Best Kept Secret', while the band parted with Virgin Records after poor sales for the largely Walter Becker steered fifth album 'Diary Of A Hollow Horse' in 1989.
1994's 'Warped By Success'
and 2015's 'Autumn In The Neighbourhood' may be new additions to the tradition, but it is the melodic inventiveness of the first three albums that mark CHINA CRISIS as an important band of the Synth Britannia era.
CHINA CRISIS have been surprisingly influential in modern synthpop where elements of their sound have re-emerged in acts such as MIRRORS and VILLA NAH; just listen to 'Visions Of You'
by the former and 'Love Chance'
by the latter for some conclusive documentary evidence.
Today, CHINA CRISIS continue to play live, touring the world and it is testament to this highly enjoyable period in their history that they are still able to do this.
---
'Difficult Shapes & Passive Rhythms, Some People Think It's Fun To Entertain'
, 'Working With Fire & Steel – Possible Pop Songs Volume 2'
and 'Flaunt The Imperfection'
are released as expanded deluxe CD sets by Caroline International on 15th September 2017
CHINA CRISIS 2017 live dates include:
St Albans The Horn (5th October), Worcester Huntingdon Hall (6th October), Middlesbrough Longlands Club (7th October), Sheffield Greystones (14th October), Dundee Clarks (19th October), Stirling Tolbooth (20th October), Kincross Backstage (21st October), Glasgow Wood End Bowling Club (22nd October), Hilversum Podium De Vorstin (26th October), Zoetermeer De Boerderji (27th October), Bedford Esquires (9th November), St Helens Citadel Arts Centre (10th November), Bishops Cleeve Tithe Barn (12th November), Shrewsbury Henry Tudor House (13th November), Huddersfield The Keys (17th November), Nottingham Rescue Rooms (18th November), Bury The Met (24th November), Coventry Catch 22 Lounge (25th November), Wolverhampton Robin 2 (26th November), London Putney Half Moon (30th November), Hertford Corn Exchange (1st December), Hornchurch Fairkytes Arts Centre (2nd December), Liverpool The Cavern (14th-15th December), Glasgow Oran Mor (16th December)
https://www.facebook.com/chinacrisisofficial/
https://twitter.com/ChinaCrisisUK
https://www.instagram.com/chinacrisismusic/
---
Text by Chi Ming Lai
4th August 2017