After a recorded absence of over 20 years, Liverpudlian duo CHINA CRISIS release 'Autumn In The Neighbourhood', their first album since 1994's 'Warped By Success' which was issued on their own Stardumb imprint.
Although Gary Daly and Eddie Lundon have maintained a continued live presence since that time, other than a cover of Michael Halliday's 'Starry Eyed' for the 'Liverpool Number Ones' charity album in 2007 which also featured OMD, new material has been notable by its absence.
But 'Autumn In The Neighbourhood' sees the return of the melodically inventive pair who have seen elements of their sound re-emerge in acts such as MIRRORS and SIN COS TAN. From the synth friendly leanings of 'Christian', 'Wishful Thinking', 'Black Man Ray' and 'Arizona Sky' to the more organic, STEELY DAN inclined 'You Did Cut Me', 'Sweet Charity In Adoration' and 'Everyday The Same', CHINA CRISIS possess a fabulous if underrated catalogue of work with their Virgin era albums 'Working With Fire & Steel – Possible Pop Songs Volume 2' and 'Flaunt The Imperfection' both being key career highlights.
With their humourous, down-to-earth nature, CHINA CRISIS are well placed to reach their cult audience in today's virtual world.
So it has been no surprise that 'Autumn In The Neighbourhood' has been released via Pledge Music with special offers to visit Anfield with Eddie Lundon or commission portraits painted by Gary Daly among the extras available.
But while there have been all these exclusive experiences, what of the music? The campaign was launched with 'Everyone You Know' as a free download to all Pledgers. Pleasingly, it was classic CHINA CRISIS; a little bit synthy and a little bit guitary, but with lots of melody and a subtle rhythmic backbone.
With Daly's distinctive afflicted lead vocal supported by Lundon's harmonies, they are a distinctive dual characteristic in the same way that DEPECHE MODE's Dave Gahan and Martin Gore or HEAVEN 17's Glenn Gregory and Martyn Ware are to their combos.
Certainly, technology has also played its part in this album, but while as Daly's trusty Jupiter 8 has been recommissioned, this is still very much a traditional songwriter's work, with sophisticated arrangements of woodwinds, brass and live percussion very much in the mix.
Also involved are previous CHINA CRISIS sidemen Brian McNeil, Gazza Johnson and Kevin Wilkinson who sadly passed away in 1999, indicating that some of these songs may have been conceived quite a while ago.
Incidentally, all but three of the songs on 'Autumn In The Neighbourhood' have been solely penned by Gary Daly. So as the genre classification in iTunes says, 'Autumn In The Neighbourhood' is eleven brand new smoothly produced slices of "adult contemporary soulful art pop…"
Opener 'Smile' begins with a light chamber recital before a fuzzy bass synth interjects. "What kind of love is this?" asks Daly in his inimitable tones to announce the recorded return of CHINA CRISIS.
Following on, the beautiful melodic melancholy of 'Down Here On Earth' with its subtle synthesized chorals is a classic Trans-Atlantic pop standard punctuated by horns, oboe and colourful drums for that sunny FM radio feel. The album's title track drifts in with a steadier groove, the swimmy string machine and subtle vibes placing the listener suitably "up here in the clouds".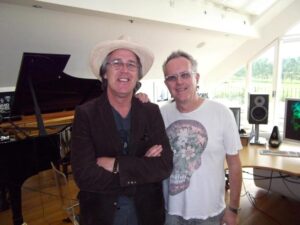 Meanwhile, the steel guitars on the piano driven 'Because My Heart' showcase the Americana direction that Gary Daly has been exploring over the past few years with his occasional solo excursions like 'The Visionary Mindset Experience'.
The less frantic tempos continue with the laid back 'Bernard' featuring their long time friend and colleague Howard Jones on piano and the gently shuffling mood of 'Joy & The Spark'.
But just as the album's demeanour might be getting a bit too understated, as if by magic, the joyous pretty pop of 'Being In Love' appears, conveying a lovely "head over heels" feeling that is both bright and breezy.
Providing an additional uptempo kick is 'Fool', probably the song that harks closest to the glory days of the Walter Becker produced 'Flaunt The Imperfection' LP and in particular, 'You Did Cut Me'. As a solo composition by Eddie Lundon, it features his traditional album lead vocal and of course, it was he who voiced 'Wishful Thinking'. The blend of detuned synths and woodwinds, along with the STEELY DAN infused backing, makes this the most immediate song on offer.
Brushed percussion and accordion shape the thoughtful, folk inspired 'My Sweet Delight' before the album heads into the home straight. The concluding two numbers have a gentle 'Nashville' vibe with the xylophone laden near instrumental 'Tell Tale' and the very acoustic 'Wonderful New World', both featuring the pedal steel twang of occasional CHINA CRISIS collaborator Stuart Nisbet.
Those expecting 'Flaunt The Imperfection 2' might be a bit disappointed, as 'Autumn In The Neighbourhood' is more akin to the mature listening experiences of 1989's 'Diary Of A Hollow Horse'.
But this is a welcome return for Messrs Daly and Lundon. With their upcoming live appearances, this stature of this album will only be enhanced over time.
---
'Autumn In The Neighbourhood' is available in CD and vinyl LP formats from Music Glue at https://www.musicglue.com/chinacrisis/
https://www.facebook.com/chinacrisisofficial/
https://twitter.com/ChinaCrisisUK
https://www.instagram.com/chinacrisismusic/
---
Text by Chi Ming Lai
11th June 2015, 11th July 2020