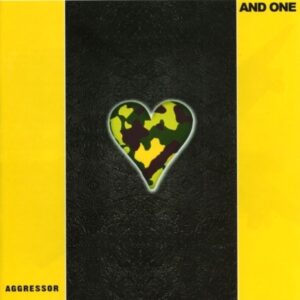 Much can be said and speculated about German-based AND ONE, a band with many releases to date and a cult-like following.
The founder, Steve Naghavi, a long standing EBM and DEPECHE MODE fan, is simply despised to the same extent as he is loved. But AND ONE's input into the German electronic music scene cannot be denied or diminished.
The group has had many incarnations since its beginnings in 1989, Naghavi being the only original member now, rehashing couple of the pervious band mates.
Meanwhile the other founding hero, Chris Ruiz has enjoyed the company of another ex-AND ONE pal, Gio van Oli in his 2011 project THE PACT, after they stomped out of AND ONE.
It has to be agreed that since 'Anguish', AND ONE's first release in 1991, all through 'Flop!', 'Spot', 'I.S.T.', 'Nordhausen', '9.9.99.9 Uhr', and 'Virgin Superstar', the band had displayed a rare variety of tastes and changeability, all of the above clearly coming through on those albums, with a rather decent singing style and diverse use of sounds.
Less can be said about more recent productions, such as both 'Bodypop' albums, 'Tanzomat' and the 'Zerstörer' EP, not to mention the post-Ruiz 'S.T.O.P.', which couldn't even be saved by the collaborations with the likes of Douglas McCarthy of NITZER EBB on 'Get it!' or Eskil Simmonson of COVENANT on 'Low'; both songs were actually really good, but somehow lacked the soul and repeated the boring-by-now AND ONE sound. The most recent album trilogy 'Magnet', 'Propeller' and 'Achtung 80' has been a total flop, receiving rather harsh reviews in the electronic music circles. It has been, indeed, criticism well applied for the overuse of the same old base drum beats, overfamiliar sequences and Naghavi's never changing vocals, which once sexy, are now sounding rather mundane and in the past.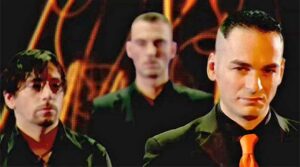 To the weathered AND ONE fanatic, it would have become quite clear by now, that one of the albums hasn't been mentioned as yet… Yes! THE ALBUM! The last production that the band released for Virgin Schallplatten, before they moved onto Out Of Line in Europe and Metropolis in the USA, was the all-German 'Aggressor'.
2003 witnessed a brave move into twelve songs performed in the group's mother tongue, with the all-necessary harshness and roughness associated with the German language. This courageous step proved to hit the spot, not only in their native Germany, but throughout Europe.
The album flows, in a way that 'Black Celebration' progresses for a DEPECHE MODE fan, with exquisite track joining sequences, leading one powerful tune into another, skilfully placed to achieve the top of greatness, the heights of confidence and the depths of dominance. 'Kein Anfang' opens with the rather familiar signature AND ONE sound, which is best imagined as the sounds one would hear during a severe ear infection. (This is not a derogatory comment by any way)…
'Schwarz' rules from the start, with the beat so catchy, you wish you had paid attention to your German at school a little bit more, so you could sing along with Naghavi. The track is as "black" as its follower, 'Krieger', which was released as the first and, surprisingly, only single from the production. A "Warrior" indeed, stompingly exquisite and layered with gentle female backing vocals over the harsh beat. 'Sternradio', named after a nightclub in Berlin, accurately described as containing "a chipmunk voice", is racy and driven, sung by Steve Naghavi with a smirk in his voice… it is both catchy and sexy.
Then the gutsy 'Speicherbar' enters. Is life really "storable"? Clever lyrics are intertwined within a gentle, yet daring melody. Ear infection comes round again with 'Fehlschlag'; it's not a "failure" at all, but a melancholy-lined, well arranged track that is very political for AND ONE, and superb in its meaning. 'Für Immer' has religious and existential elements in the lyrics and marvellous synth basslines with its very militant character and bearing industrial elements.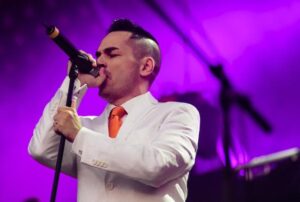 An instrumental, 'Einstieg' introduces the superbly powerful 'Strafbomber'.
This is a roar of menace and scream of violence that has also lends itself perfectly during AND ONE's many live performances. Chris Ruiz takes the vocals over on 'Fernsehapparat' briefly, a forward track once more, with elements of bumpy synth and a wholesome beat.
Different in feel and possibly the weakest song 'Tote Tulpen' somehow doesn't fit the album, but inserts an eclectic element into it, leading onto the last track, cleverly titled 'Kein Ende'. However, it is a rather poor instrumental and certainly doesn't lend itself as a finish to this, otherwise superb, album.
What the future holds for AND ONE nobody knows, their back catalogue is a rather eclectic mix of the great, good, not so good and dreadfully bad. Steve Naghavi's handsome looks and fantastic stage presence have always added well to the mix and the fans have not been put off by the poorer releases or band arguments alike.
All this said, the electronic music scene would kill for another 'Aggressor', or anything with a good dose of the oomph that AND ONE have been known for. Maybe one day… for now, get your army boots on, your uniform pressed, and march to the 'Aggressor' once again; it is, after all, next to impossible to sit still while this masterpiece is on! Deutsche Musik vom Feinsten!
---
'Aggressor' is still available on CD via Virgin Schallplatten
https://www.facebook.com/ANDONEoffiziell
---
Text by Monika Izabela Goss
13th June 2015