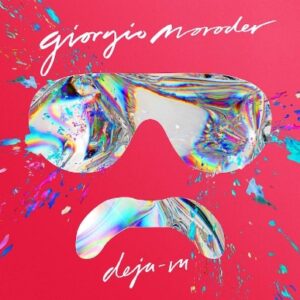 At 74 years of age, GIORGIO MORODER has nothing more to prove, he's back because he wants to be.
Da Maestro's 21st Century musical return was launched in 2013 when he was commissioned by Google Chrome for their online game 'Racer'. It was like the history of electronic dance music compressed into 4 minutes. But as these ideas have been mostly borrowed from Moroder anyway, it was only right for him to grab it all back. it showed the pretenders once again how electronic dance music should be done, and without stooping down to Guetta level.
Then at the backend of 2014 came Moroder's statement of intent, '74 Is The New 24'. "Dance music doesn't care where you live. It doesn't care who your friends are" he said, "It doesn't care how much money you make. It doesn't care if you're 74 or if you are 24 because… 74 is the new 24!" – distinctly Giorgio, it featured hints of his own 'Chase' from 'Midnight Express' as well as his defining productions for DONNA SUMMER, JAPAN and SPARKS.
'74 Is The New 24' comes in halfway through 'Déjà Vu', GIORGIO MORODER's first album bearing his name since his 1985 collaboration with Phil Oakey from THE HUMAN LEAGUE. Although a vocalist in his own right on his solo material like his first single 'Stop' in 1966 to his 1977 UK hit 'From Here To Eternity', the Italian's best known work has generally been in collaboration and in particular, with female vocalists. Thus 'Déjà Vu' is heavily biased towards an impressive roll call of well-known pop princesses such as SIA, BRITNEY SPEARS, KYLIE MINOGUE, CHARLI XCX, FOXES and KELIS.
First things first… 'Déjà Vu' is not a cutting edge club record, it is very much a Pop album with a capital P. Beginning with the wordless '4 U With Love', it's archetypal, thrusting Moroder although it also recalls ROGER SANCHEZ's TOTO sampling 'Another Chance'. It acts as a sparkling introduction to say "I'm back" before the title track fronted by the enigmatic Antipodean singer SIA. With rhythm guitars chopping away in the manner of CHIC's Nile Rodgers, it is a good tune that LADY GAGA would be proud of.
Following on, CHARLIE XCX has certainly come a long way since ELECTRICTYCLUB.CO.UK first saw her in 2008 propping up third on the bill at a Popjustice showcase evening. Back then, she was a feisty Hertfordshire teenager with a Darth Vader obsession but now, she is rubbing shoulders with one of the most influential record producers of the last 50 years. Her appropriately titled 'Diamonds' is frantically paced, wobbling electro that comes over a bit like Marina on Quaaludes.
To tell the truth, the effervescent 'Right Here, Right Now' could be any one of KYLIE MINOGUE's appealing electropoptastic numbers over the last two decades. But since 'Light Years' in 2000, the Australian pop pixie has been mining the Moroder treasure box, culminating in the Musicland meets Kling Klang amalgam of 'Can't Get You Out Of My Head'… so in reality, everything has just come full circle.
Staying on the dancefloor, 'Wildstar' featuring the kooky Louisa Rose Allen aka FOXES enjoyably parties like its Studio 54. Along with a soaring chorus, there's some throbbing synthbass and robot voices working in tandem for the middle eight. The stomping 'Back & Forth' sees KELIS processed to an almost masculine demeanour for an energetic slice of Europop, while Swedish chanteuse MARLENE adds a touch of Nordic soul to proceedings on the album's most R'n'B leaning tune, 'I Do This for You'.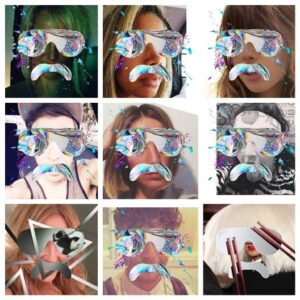 The surprise of the collection is 'Tom's Diner' featuring BRITNEY SPEARS. The original by SUZANNE VEGA was given a club treatment by DNA back in 1990 but here, not only does Moroder work some pulsing magic for the former teenage pop siren, he even adds a new bridge section featuring his deadpan vocodered phrasing alongside Miss Spears' autotuned larynx.
However, the album's two token male vocalists MIKKY EKKO and MATTHEW KOMA don't fare so well, both sounding like generic boy band fodder on 'Don't Let Go' and 'Tempted' respectively, with the former being the least irritating of the pair.
'La Disco' bookends 'Déjà Vu' with another instrumental in that classic Moroder-esque vein and when it finishes, it's as if Da Maestro has never been away… the album does have a degree of familiarity to it and that's because he more or less invented today's format of modern dance friendly pop.
As the album title suggests, there are references to Moroder's past glories… so listen out for those 'Flashdance' derived synth sounds! But overall, the various guest vocalists he has directly or indirectly influenced are the dominant players. Even in his absence, his sound has been around the ether. It's a shadow that can't be escaped now, so why fight it? 'Déjà Vu' is the sound of GIORGIO MORODER enjoying himself.
---
'Déjà Vu'
is released via Giorgio Moroder Music LCC under exclusive license to RCA in CD, deluxe 2CD, vinyl LP and download formats
https://www.giorgiomoroder.com/
https://www.facebook.com/GiorgioMoroderOfficial
https://twitter.com/giorgiomoroder
https://soundcloud.com/giorgiomoroder
---
Text by Chi Ming Lai
Photos from Giorgio Moroder's Facebook page
14th June 2015