Everybody Calls Me Giorgio
There has been a resurgent interest in the work of GIORGIO MORODER thanks to his own life story being appropriately set to music by DAFT PUNK for the song 'Giorgio By Moroder' on the helmeted duo's new album 'Random Access Memories'. But it was DONNA SUMMER's 'I Feel Love' that brought the legendary producer to the world's attention.
Born Hansjörg Giovanni  Moroder in 1940, the Italian began his career as a solo artist in Germany before immersing himself in production with musical partner Pete Bellotte at Musicland Studios in Munich. In 1973, they came across an American singer who had been touring in a theatre production of 'Hair'.
That singer was Donna Summer and together they went on to record the unforgettably orgasmic 'Love To Love You Baby'. It was submitted to Casablanca Records boss Neil Bogart who loved it so much, he kept playing it continuously at a party he was hosting. Bogart later contacted Moroder to make it longer. The final album version clocked in at over 17 minutes, but the edited single became Moroder and Summer's breakthrough international hit in 1975.
Sometime later while recording a historical concept album with Donna Summer which showcased various musical styles through the ages called 'I Remember Yesterday', Moroder wanted to feature a track that represented "the sound of the future".
Most of Moroder's previous work had utilised conventional instrumentation and orchestration, save the odd texturing using string machines or Minimoog.
But employing the Moog Modular system with an 8-step analogue sequencer plus a triplet delay to create the pulsing synthesizer lines and metronomic beat, the resultant song 'I Feel Love' changed the course of music when it hit No1 around the world in 1977. It was dance music without the funk, which at the time was quite unusual as it had been one of the main constituents of disco. Incidentally, Summer's hypnotic, almost Arabic falsetto was an accident as inadvertently, 'I Feel Love' had been recorded in a key outside of Summer's usual range.
It was a year which also saw electronic hits in the UK by Jean-Michel Jarre, David Bowie and SPACE.
Bowie was at this time resident in Berlin recording 'Heroes' with Brian Eno and remembered: "Eno came running in and said 'I have heard the sound of the future'. He puts on 'I Feel Love' by Donna Summer and said 'this is it, look no further, this single is going to change the sound of club music for the next 15 years', which was more or less right."
1977 also saw the release of KRAFTWERK's 'Trans Europe Express' album which had a big effect on the New York dance scene. Although KRAFTWERK had a big international hit single with 'Autobahn' in 1975 and there had been HOT BUTTER's 'Popcorn' before it, both were considered novelty records at the time and did not indicate the start of any burgeoning movement. For that reason, 1977 can effectively be considered as Year Zero in modern electronic pop. So for 'I Feel Love' alone, GIORGIO MORODER's place in music history is assured.
Relocating to Hollywood after his music for 'Midnight Express' won him an Oscar, the huge success of 'Flashdance…What A Feeling' for IRENE CARA in 1983 led Moroder to lucrative commissions such as the 1984 Los Angeles Olympics. This resulted in the massive, but totally dreadful AOR hit 'Reach Out'. He was then asked to contribute the love theme for an aviation action film called 'Top Gun'.
Moroder has recorded many significant pieces of work; so here are twenty pieces of interest that tell the story of the pioneer's creative journey in electronics with a nomination restriction of one track per project, but also omitting some of his more obvious hits which the world already knows and loves such as 'I Feel Love', 'Call Me' 'Flashdance…What A Feeling', 'The Never Ending Story' and the inevitable 'Together In Electric Dreams'…
---
GIORGIO Son Of My Father (1971)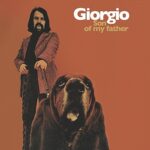 Featuring a distinctive Minimoog line and solo, Moroder's first widely known composition with guitarist Pete Bellotte was actually his fourth German solo hit single. With catchy but bizarre lyrics, 'Son Of My Father'
was a schaffel stomper coated with assorted effects such as phased drums from Keith Forsey. The prototype of the electro glam template later popularised by GOLDFRAPP, CHICORY TIP's copycat cover with future SEX PISTOLS' producer Chris Thomas playing the Minimoog part was a UK No1 in 1972.
Available on the GIORGIO album 'Son Of My Father' via Repertoire Records
https://www.discogs.com/artist/4205-Giorgio-Moroder
---
GIORGIO From Here To Eternity (1977)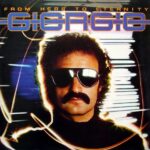 On a roll from his pioneering work with Donna Summer, his first solo album for Casablanca Records centred around this throbbing electronic disco number. Almost trance-like, 'From Here To Eternity' featured vocodered and conventional voices. Often mistaken for being KRAFTWERK, it actually prompted the Kling Klang quartet to move towards a more computerised sound for their 1978 album 'The Man Machine'… Moroder's influence can be clearly heard on 'Spacelab' and 'Metropolis'.
Available on the GIORGIO album 'From Here To Eternity' via Repertoire Records
https://soundcloud.com/giorgiomoroder/
---
DONNA SUMMER Working The Midnight Shift (1977)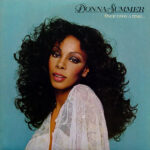 From an ambitious double album called 'Once Upon A Time' consisting of four distinct approaches, 'Working The Midnight Shift' formed part of an all-electronic three song segued suite entitled 'Act2' that took up one side of vinyl. Developing 'I Feel Love' to the next level, Summer's wispy falsetto was supplemented by raspier gospel-like harmonies and a grander cavernous setting within which the rhythmical electronics and descending synth riffs took a heavenly hold.
Available on the DONNA SUMMER album 'Once Upon a Time' via Casablanca / Universal Records
https://www.facebook.com/OfficialDonnaSummer/
---
GIORGIO MORODER Chase (1978)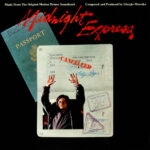 Driven by an intense slamming and syncopated by popping pulses, 'Chase' was commissioned by director Alan Parker for the graphic prison drama 'Midnight Express' who wanted some electronic accompaniment to the crucial chase scene of the film in the style of 'I Feel Love'. Working with Harold Faltermeyer who was later to find fame in his own right with 'Axel F' and as producer of PET SHOP BOYS' 'Behaviour' album, the bassline from Moroder's own 1976 cover of 'Knights In White Satin' was reappropriated.
Available on the soundtrack album 'Midnight Express' via Casablanca Records / Universal Records or the compilation 'The Best Of Giorgio Moroder' via Repertoire Records
---
GIORGIO MORODER Evolution (1978)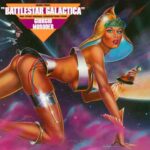 Moroder's composition for the original 'Battlestar Galactica' film was a prolonged battle between man and machine, rather like the film itself. Wobbly treated bass, symphonic synths, and heavy rock guitar were augmented by the simple percussive style of Keith Forsey who was noted for being able to play a kick drum for up to 15 minutes at a time without fluctuating his beat… that skill was quite handy for this lengthy instrumental that took up an entire side of the album.
Originally on the GIORGIO MORODER album 'Music From Battlestar Galactica & Other Original Compositions' via Casablanca Records. Now available on the GIORGIO album 'E=MC2' as a bonus track via Repertoire Records
http://www.imdb.com/name/nm0002380/
---
MUNICH MACHINE Introducing CHRIS BENNETT It's For You (1978)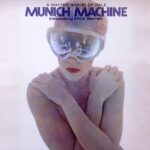 Rumoured to be using songs written for Donna Summer but rejected by Casablanca label boss Neil Boggart, MUNICH MACHINE was one of the many outlets for the extremely prolific Moroder. Fronted on the second album by jazz singer Chris Bennett 'It's For You' was the standout song on an album that combined electronics, flutes and orchestrations with a coy playfulness. The album was noted for its depiction of a naked Bennett posing with two pre-'Transformers' robots on the back cover.
Available on the MUNICH MACHINE album 'A Whiter Shade Of Pale' via Casablanca Records
---
GIORGIO What A Night (1979)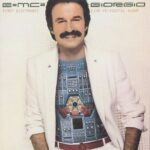 Having acquired Roland's new System 700 modular and an MC8 Micro-composer to control it, work started on 'E=MC2' which was touted as the first "electronic live-to-digital" album with "music programmed as bursts of energy". This concept allowed for an uptempo funkiness previously unheard on sequencer based music to come into play. And with the electronically treated vocals and euphoric energy of the marvellous 'What A Night', the sound of DAFT PUNK was inadvertently being invented!
Available on the GIORGIO album 'E=MC2' via Repertoire Records
https://www.facebook.com/pages/Giorgio-Moroder/108533245891626
---
JAPAN Life In Tokyo (1979)
The bridge between growly funk-rock JAPAN and the more familiar artier and mannered version of the group, David Sylvian submitted 'European Son' for the session in Los Angeles but it was rejected by Moroder. Instead, the Italian offered several of his demos, of which, Sylvian picked the one he considered to be the worst so that he could stamp more of his own vision for JAPAN's developing synthesized sound. Ahead of its time, unbeknown to Moroder and Sylvian, they had just conceived DURAN DURAN!
Available on the JAPAN album 'The Very Best Of Japan' via Virgin / EMI Records
---
SPARKS No1 Song In Heaven (1979)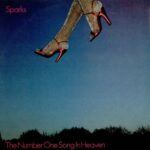 In a creative rut following their massive UK success in the glam-era, the Mael Brothers had found 'I Feel Love' awe inspiring. A journalist friend put SPARKS into contact with Moroder who had aspirations to work with a band and set to work with them immediately. The first result was the tremendous 'No1 Song In Heaven' where Russell Mael's flamboyant falsetto fitted well with the electro-disco sound, while the programmed backing meant Ron Mael could maintain his image of doing nothing.
Available on the SPARKS album 'No1 in Heaven' via Repertoire Records
---
DONNA SUMMER Our Love (1979)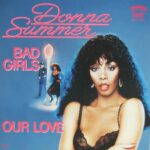 Every wondered where NEW ORDER got that iconic rapid-fire drum machine intro for 'Blue Monday'? Then look no further than the brilliant 'Our Love'. Not content with inventing Hi-NRG, Moroder thought he'd formulate Italo disco as well! Working closely with Harald Faltermeyer and Peter Bellotte, there was a distinct edge to the synthesizers too with the tight sequences synonymous with the Moroder sound considerably beefed up for a harder club impact.
Available on the DONNA SUMMER album 'Bad Girls' via Casablanca Records
---
GIORGIO MORODER Night Drive (1980)
Essentially a funky instrumental version of BLONDIE's 'Call Me'
in 4/4 time but without the chorus, the cool dramatics blended with slithering synth sweeps on 'Night Drive' could be seen as the forerunner of COLLINS and tracks such as KAVINSKY's 'Nightcall' which coincidentally was co-produced by DAFT PUNK's Guy-Manuel De Homem-Christo. Incidentally, both 'Night Drive' and 'Call Me' from the Richard Gere film 'American Gigolo' were variations of a Moroder demo entitled 'Man Machine'.
Available on the soundtrack album 'American Gigolo' via Polydor / Universal Records
http://www.imdb.com/title/tt0080365/
---
DAVID BOWIE Cat People (1982)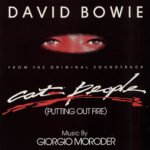 With a moody slowed down introduction, the Dame croons over his only collaboration with Moroder before some gothic rock elements and female gospel backing singers take hold, before a powerful burst of tribal drumming from Keith Forsey. Fittingly as the song was for an arthouse horror movie, this now sounds like a blueprint for 'More' by THE SISTERS OF MERCY! Incidentally, 'Cat People' was one of Forsey's last recordings with Moroder before moving onto his own production career with notably Billy Idol.
Available on the soundtrack album 'Cat People' via MCA Records and the DAVID BOWIE album 'The Best Of 1980/1987' via EMI Records
---
DEBBIE HARRY Rush Rush (1983)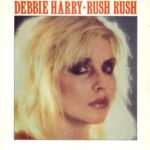 With Forsey and Faltermeyer flying the nest, Moroder employed new sidemen Richie Zito on guitar and Arthur Barrow who could handle anything thrown at him from slap bass and synths to Linn Drum programming! Having worked with Moroder on 'Call Me'  DEBBIE HARRY returned for the soundtrack of the Al Pacino gangster flick 'Scarface' for 'Rush Rush'. Premiering a new style that pushed a rockier energy, Moroder avoided using the Fairlight CMI to keep his productions as distinct as possible.
Available on the soundtrack album 'Scarface'
via Geffen Records
---
BERLIN No More Words (1984)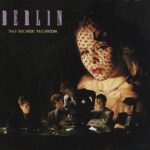 BERLIN were one of the first American new wave acts to be inspired by European bands like KRAFTWERK and ULTRAVOX, so it was natural that they would aspire to work with Moroder. By 1984, both were keen on achieving a more FM friendly sound following their synthpop beginnings. The Linn driven synth rock fusion resulted in BERLIN's first Top 30 US hit single 'No More Words' which sounded not unlike HEART fronting ULTRAVOX! It was the start of a relationship that would ultimately end the band.
Available on the BERLIN albums 'Love Life' or 'Best Of Berlin 1979-1988' via Geffen Records
http://www.berlinpage.com/band
---
FREDDIE MERCURY Love Kills (1984)
Moroder acquired the rights to the cult Fritz Lang film 'Metropolis' and colourised the film with a contemporary MTV friendly soundtrack. The launch single 'Love Kills' featured QUEEN's lead vocalist over a starkly percussive electronic track with an operatic rock fusion and neo-baroque interludes. The song's guitar solo is often mistaken for Mercury's bandmate Brian May but is actually Richie Zito who does the fret work. The title became sadly poignant when Mercury passed away in 1991.
Available on the soundtrack album 'Metropolis' via Columbia Records
http://www.queenonline.com/en/the-band/members/freddie-mercury/
---
GIORGIO MORODER Ivory Tower (1984)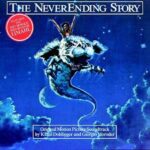 The B-side of Limahl's international hit 'The Never Ending Story' was a wondrous solo Moroder offering set at 6/8 called 'Ivory Tower'. Also from 'The Never Ending Story' film based on a German fantasy novel by Michael Ende, this uplifting and rousing instrumental was also used as incidental music for the grid positions summary at the start of each F1 race during the BBC's 'Grand Prix' programme… now Moroder and racing, that's an interesting concept!!
Available on the soundtrack album 'The Never Ending Story' via EMI Records
http://www.imdb.com/title/tt0088323/
---
PHILIP OAKEY & GIORGIO MORODER Now (1985)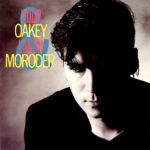 Despite the worldwide success of 'Together In Electric Dreams' in late 1984, the ever morose Philip Oakey was quite ambivalent, considering the music to be slightly old fashioned. However, it did better than anything from THE HUMAN LEAGUE's lukewarm 'Hysteria' album. Virgin Records swiftly despatched Oakey to record an album with Moroder. 'Now' was an epically stabbing song with Oakey's heartfelt commentary on economic corruption with mighty backing from Moroder sidekicks Barrow and Zito.
Available on the album 'Philip Oakey & Giorgio Moroder' via Virgin / EMI Records
http://www.thehumanleague.co.uk/
---
BERLIN Take My Breath Away (1986)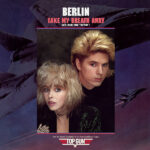 Moroder and Terri Nunn got on very well during BERLIN's 'Love Life' sessions so he asked her to sing on a ballad he had written with his Ferrari mechanic Tom Whitlock entitled 'Take My Breath Away'. With its distinctive fretless bass line played on a DX7, heartfelt lyrics and unforgettable key change, it was a No1 around the world but the success was bittersweet. The song was unrepresentative of BERLIN's previous work and the band fell apart. Meanwhile Moroder won his third Oscar!
Available on the soundtrack album 'Top Gun' via Columbia Records and the BERLIN album 'Best Of Berlin 1979-1988' via Geffen Records
http://www.imdb.com/title/tt0092099/
---
SIGUE SIGUE SPUTNIK 21st Century Boy (1986)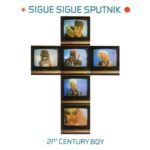 The hype surrounding SIGUE SIGUE SPUTNIK and an alleged million pound advance from EMI caused much resentment in the press. Developing the Cyberpunk sound which crossed frantic rockabilly with modern technology like SUICIDE on speed, Moroder threw in the kitchen sink on the quintet's debut album 'Flaunt It'. '21st Century Boy' was the superior younger brother to the slightly formless collage of 'Love Missile F1-11', even if to the untrained ear, the two songs sounded virtually identical!
Available on the SIGUE SIGUE SPUTNIK album 'Flaunt It' via EMI Records
---
DAFT PUNK Giorgio By Moroder (2013)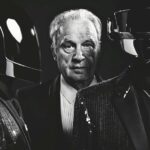 In an unusual collaboration, Moroder recorded some autobiographical monologue for DAFT PUNK to build a musical homage around. Although influenced more by the conventionally flavoured disco of his 'I Wanna Funk With You Tonight' and 'Love To Love You Baby' period rather than his pioneering electronic phase, 'Giorgio By Moroder' possesses a wonderful groove assisted by all manner of machines, freeform drumming, guitar solos and some jazzy improvisation over its 9 minutes.
Available on the DAFT PUNK album 'Random Access Memories' via Columbia Records
---
GIORGIO MORODER Racer (2013)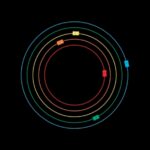 With his story being told to a brand audience courtesy of DAFT PUNK and his DJ services being sought after around the world, Moroder returned with a new solo recording. Commissioned by Google Chrome for their online game 'Racer', the piano line is like ULTRAVOX gone disco while the whirring synths, octave shifts, robot voices and trancey gates are like a history of electronic dance music.  Moroder is making club music today that is as vital as any young pretender with a set of double decks and laptop.
Available free via https://play.google.com/store/music/album/Giorgio_Moroder_Racer
https://twitter.com/GIORGIOMORODER_
---
Text by Chi Ming Lai
23rd July 2013, updated 1st May 2018