In their prime, BERLIN only actually recorded one mini-LP and two albums with the nucleus of Terri Nunn and John Crawford. Although not the original vocalist, Nunn joined multi-instrumentalist Crawford to become partners in life and music with BERLIN.
Although DEVO and OUR DAUGHTER'S WEDDING had featured electronics in a more artful fashion, BERLIN's 1982 independent mini-LP 'Pleasure Victim' was one of the first occasions of an American pop act embracing the synthesizer which had changed the face of music in Europe.
It led to a deal with Geffen Records and notoriety with the deviantly fuelled breakthrough single 'Sex (I'm A…)'. At this point, mainstream USA was still getting excited about macho rock posturing like JOURNEY, TOTO or JOHN COUGAR (as the man born Mellencamp was then known)!
BERLIN's brilliant songs such as 'The Metro' and 'Masquerade' with their motorik drum machines and Teutonic pulses were a far cry from the way instruments made by Sequential Circuits, Moog and their sisters were being used Stateside.
"We were first inspired to create our sound from a couple of European bands ULTRAVOX and KRAFTWERK that were using these new kinds of keyboards that created very different sounds than those of a standard keyboard or piano." said Nunn, "It created a whole new dynamic that we fell in love with". Meanwhile, the title track with its pretty synth melody showed how emotive such instrumentation could be, even in songs that were perceived to be AOR ballads.
Featuring an expanded line-up including David Diamond (keyboards and guitar), Ric Olsen (guitar), Matt Reid (keyboards) and Rob Brill (drums) plus an array of devices such as the ARP Quadra, Memory Moog, Prophet 5, Pro-One, TR808, OBX-a, DX7 and Fairlight, Nunn and Crawford delivered their first full-length album together in 1984 called 'Love Life'. With this, BERLIN enhanced their reputation and planted the seeds that led to them becoming household names for a short while.
Produced mostly by Mike Howlett who had worked with OMD, A FLOCK OF SEAGULLS, BLANCMANGE and MARTHA & THE MUFFINS, he brought his interest in German experimental music and experience as a seasoned musician with GONG to combine Eurocentric electronics with a Trans-Atlantic flavour that was perfect for the MTV generation. The revenge themed 'Now It's My Turn' was the ultimate culmination of that, a mysterious monochrome verse counterpointed by a belting chorus that sounded like HEART's Ann Wilson fronting ULTRAVOX.
Opening number 'When We Make Love' soared vocally and accompanied by some rousing modern backing, provided the cinematic mood for the rest of the album which was dressed in a sleeve picturing Nunn as a vintage film starlet. 'Touch' had a similar feel but was slightly more frenetic with synths and guitars blending to produce a unique sound for the time. However, despite starting side two, 'Pictures Of You' was really just a pedestrian rock retread of 'The Metro'.
Taking the pace down, 'Beg Steal or Borrow' was BERLIN having fun in the vein of ALTERED IMAGES gone electro while 'In My Dreams' was melancholic but dreamy pop. With its atmospheric sweeps and chiming guitar lines, 'For All Tomorrow's Lies' recalled A FLOCK OF SEAGULLS' 'Transfer Affection' before the album closed with the lovely John Hughes' movie romance of 'Fall'.
The end product resulted in BERLIN sounding neither entirely European or American, walking an enjoyable fine line between FM rawk and New Romantic. Despite the US Top 30 success of 'Love Life', the band fragmented, leaving only Nunn and Crawford plus Brill to continue…
By way of a musical prophecy, the album's Top 30 US hit single 'No More Words' was to be the undoing of the close if tempestuous bond between Nunn and Crawford. That song and another album highlight 'Dancing In Berlin' were produced by Giorgio Moroder and the blueprint of the Linn driven synth/rock fusion later developed further on his album with THE HUMAN LEAGUE's Philip Oakey.
Moroder and Nunn got on very well during the sessions so he asked her to sing on a song he had written with his Ferrari mechanic Tom Whitlock entitled 'Take My Breath Away'.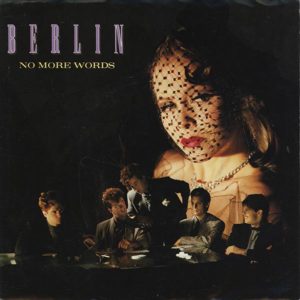 It had already been demoed by Martha Davis of cult new wavers THE MOTELS who had a couple of US Top 10 hits including 'Only The Lonely'.
The Oscar winning 'Take My Breath Away' became a No1 around the world in 1986 having been featured in the film 'Top Gun' but the success was bittersweet.
While it was the ultimate guilty pleasure, the song was unrepresentative of BERLIN's previous work, especially as it only featured Nunn with no input from Crawford who had been the band's main songwriter.
Despite an extensive tour supporting FRANKIE GOES TO HOLLYWOOD, the accompanying rock oriented album 'County Three & Pray' (produced largely by Bob Ezrin) did not sell well despite the inclusion of 'Take My Breath Away' and another great single 'You Don't Know'. With confusion over their musical direction and deteriorating personal relationships, BERLIN fell apart, ironically three years before the actual city's wall did!
The majority of the 'Love Life' line-up including John Crawford were persuaded to reform for VH1's 'Bands Reunited' programme in 2004 but today, only Terri Nunn remains, touring regularly under the BERLIN name having bought the name from Crawford and occasionally recording.
Sadly, their original Geffen back catalogue is difficult to obtain outside of North America and inferior re-recordings appear on various 'Greatest Hits' and 'Live' CDs.
It's a shame because although they were plagued by the legacy of a massive hit song they didn't write, BERLIN are worthy of recognition as American electronic pop pioneers for a sound that had been alien to most of their countrymen pre-MTV. For this reason alone, their work from this imperial period deserves to be heard.
---
'Love Life'
is available as a CD via Rubellan Remasters at https://www.rubellanremasters.com/online-store/Berlin-Love-Life-Expanded-Edition-p179552492
https://www.facebook.com/berlinofficialband/
https://twitter.com/realterrinunn
---
Text by Chi Ming Lai
7th July 2012, updated 21st March 2020