'The E-bay Queen Is Dead' is a fantastic collection of rarities, covers and unreleased tracks from the MARSHEAUX archives.
Although the artwork pays tribute to THE SMITHS' 'The Queen Is Dead', content wise, the album probably has more in common with the Manchester foursome's 'Hatful Of Hollow'.
Housed in two different vinyl replica gatefold sleeves featuring Marianthi and Sophie in that iconic pose made famous by Alain Delon, these CDs are worth the purchase price for that alone…but what about the content?
As can be expected from the Athens synth maidens, the quality is top notch. 'Do You Feel?' and 'Inside' aka 'Thirteen/True', which were recorded during the sessions for their upcoming new album 'Inhale', are a fine indicator of what could be expected from this highly anticipated fourth long player. Previewed online earlier this year, they reveal the high standards of MARSHEAUX's output even though this pair will not be included on the final tracklisting.
The 'Breakthrough' B-side 'How Does It Feel?' is a suitably strange mechanised addition to the tradition with its wobbly effects and chopped up breathy samples. 'Sadly' is another fine tune originally recorded for their second album while there is also the brilliant FRONT 242 influenced 'Bizzare Love Duo' which was previously a vinyl only release coupled with 'Ghost'.
Meanwhile, 'Ghost' itself makes an appearance in the form of a great Smash Up with FOTONOVELA's 'Hammer', turning the song into a more dance laden cocktail. And despite being a slightly more throwaway offering, the ironically titled 'Fischerprice' is good fun although unlikely to win any songwriters awards.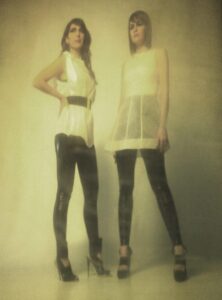 MARSHEAUX are known for their charmingly delightful synthpop covers and THE HUMAN LEAGUE's 'Empire State Human', BILLY IDOL's 'Eyes Without A Face' and a solo interpretation of OMD's 'She's Leaving' are all present and correct.
However, their version of DEPECHE MODE's 'New Life' from Undo's 'A Greek Tribute To Depeche Mode' CD is absent and would have been preferable to the shortened stripped down alternate strings mix of NEW ORDER's 'Regret' from 'Peek ABoo'
Of the little heard archive recordings included, the electroboppy instrumental 'Now & Never' is a very promising demo that would make Vince Clarke proud while the two short variations of a theme entitled 'Fly Away' and 'Cosmogirl' indicate the potential for a magnificent full length composition.
'The E-bay Queen Is Dead', despite the disparate sources of the tracks, delivers a mostly cohesive listening experience and will become a highly collectable artefact. So don't hesitate… if you see it, buy one. Or two if you fancy owing the set!
---
'The E-bay Queen Is Dead'
is released by Undo Records and will be available as a CD and download
For the girls' liner notes on the tracks, please view their blog entry at: http://marsheaux.wordpress.com/2012/05/22/e-bay-queen-is-dead-but-sophie-says-she-isnt/
http://www.facebook.com/marsheaux
---
Text by Chi Ming Lai
9th July 2012