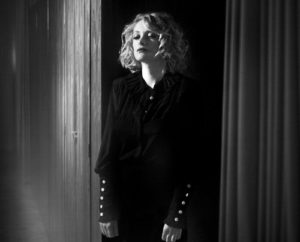 GOLDFRAPP have returned to the lush orchestrations and enigmatic oddness of their beautiful 2000 debut 'Felt Mountain' for their forthcoming long player 'Tales Of Us'.
But whereas 'Felt Mountain' combined Germanic folk and cabaret traditions with chilling Sci-Fi themes such as genetic engineering plus the greatest ditty ever written about oral sex 'Lovely Head', the first track to be debuted entitled 'Drew' has captured a more haunting film noir quality.
Recorded in the English countryside, Will Gregory's romantic string arrangements recall the work of soundtrack composer Michel Legrand on 'The Thomas Crown Affair' and in particular 'The Windmills Of Your Mind'. Meanwhile, Alison Goldfrapp's voice is as exquiste as ever. The beautiful accompanying video directed by Lisa Gunning is a stylish nouvelle vague masterpiece that features all manner of ambiguous monochromatic imagery and artistic nudity…
More organically textured, 'Tales Of Us' is quite obviously a reaction to the synth AOR of previous album 'Head First'. While it was an immediately enjoyable MTV styled romp with great songs such as the stomping 'Rocket', the ABBA-esque title track and the beautiful electronic disco of 'Dreaming', Alison Goldfrapp was later quite public in her artistic dissatisfaction. This was despite being obviously more relaxed on stage when performing this material than at any other time of her career.
However, with happiness in her personal life, a sense of inner peace appears to have been brought into the occasionally prickly Goldfrapp personality. 'Tales Of Us' could well be her most personal work to date with all but one of the album's song titles being a person's name.
Whether 'Tales Of Us' will soar to the stratospheric magnificence of 'Felt Mountain' or be more like the less satisfactory folktronica of 'Seventh Tree' remains to be seen. So far, reports of the album's live premiere at Manchester Albert Hall have been very positive; the non-name number 'Stranger' captures a serene Morricone-esque quality while 'Anabel' is mostly stripped bare. It's not electronic work but this album is awaited with interest.
---
'Tales Of Us' is released by Mute Records on 9th September 2013
GOLDFRAPP Autumn 2013 tour dates include: Amsterdam Paradiso (21 October), Brussels Ancienne Belgique (22 October), Berlin Heimathafen Neukölln (23 October), Paris Le Trainon (25 October), Zürich Kaufleuten (26 October), London Hammersmith Apollo (1 November)
https://www.facebook.com/Goldfrapp
---
Text by Chi Ming Lai
22nd July 2013